Well done, 'love experts'.
Not only have none of the assigned couples on Married At First Sight stayed together this year, they've all started swapping partners, too. First there was Troy and Carly, then Tracey and Sean, and now… Ashley and Justin.
Yes, Ashley and Justin are apparently knocking each other's socks off, after fans spotted them on what appeared to be a date together.
But it gets even weirder – Ashley, 28, was partnered with Troy, 34, while Justin, 41, was partnered with Carly, 32. Maybe they bonded over seeing their exes playing tonsil hockey together.
Or maybe they're just out for revenge, because being publicly humiliated by your ex changes people and makes them do dark things.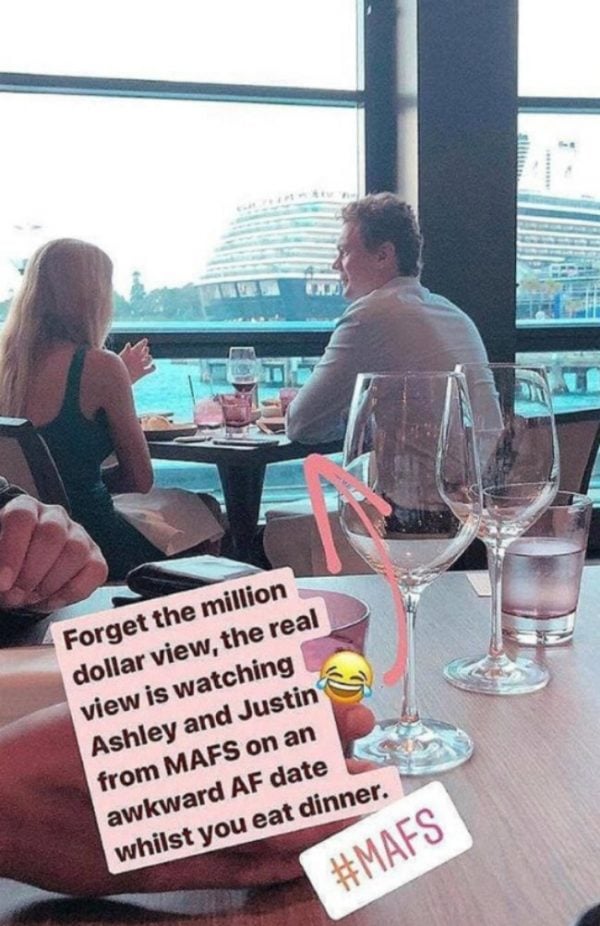 Either way, OK! magazine reported Justin had picked up Ashley from Sydney airport last week, before whisking her away to the Park Hyatt.
A fan later caught the two of them sharing a romantic dinner in the hotel's restaurant, and snuck a photo like a goddamn ninja, which they shared on Instagram for the rest of us to froth over.
"Forget the million dollar view, the real view is Ashley and Justin from MAFS on an awkward AF date whilst you eat dinner," they captioned it.
Is Married At First Sight problematic? Post continues below.
And apparently food wasn't the only thing on Ashley and Justin's minds, if you catch our drift.
"They were flirty. They touched each other a lot," a source told OK!, as reported by News.com.au.
Ashley was earlier linked to Ryan, after they were seen shopping together, but he confirmed to The Canberra Times that he is "definitely single" and just decided  to visit Ashley while he was helping his dad with a building job.
Seriously though, when did Married At First Sight turn into Wife Swap?! Who's next, Nasser and Sarah? Patrick and Melissa?
The only thing we know for sure is that the so-called love experts should be hanging their heads in shame right now. You had one job, John!