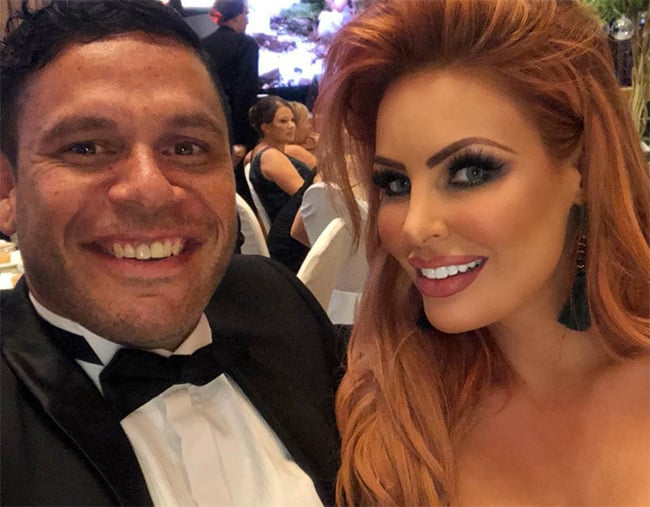 OK so we know yesterday we said Married At First Sight's Sarah and Telv are finito, but this morning the MAFS cast just reunited on radio and now we're more confused than ever.
On Friday morning's The Kyle and Jackie O Show, MAFS contestants including Nasser Sultan, Gab Bartlett, Troy Delmege, Dean Wells and Tracey Jewel were rounded up to fight/bicker/spill secrets.
Oh, Sarah Roza dialled in too, which is when we found out that her and Telv Williams maybe are still together?
After Nasser claimed this season's favourite couple are definitely not still together, Kyle and Jackie O asked Sarah point-blank to confirm or deny the rumours for herself.
And she did. Kind of.
Listen to Sarah talk about whether she and Telv are still together in the video below.
"I wouldn't believe a thing that Nasser says," Sarah said.
"Believe it when we say it, it's purely Telv's and my relationship so when we feel comfortable to say we're together/not together or whatever we will."
"So that means you're not together," quipped Kyle, to which Sarah replied, "Oh no, no. I have a lot of respect for Telv and he has a lot of respect for me so we don't want to talk about it."
Despite hearing from Sarah herself, Nasser continued to insist she and Telv are not together.
"I'm 100 per cent sure they're not together, well yeah [I've spoken to Telv]. I'd put my house on it."
Davina is INCAPABLE of saying sorry and we need to talk about it. Post continues after audio.
On Thursday, former contestant Ryan Gallagher confirmed Sarah and Telv are no longer together, despite their attempts at keeping up appearances after filming stopped.
Speaking to OK! Magazine, Ryan said they were categorically "not together".
"They've both got their demons. He's in Melbourne now, but they're not together," he said.
"They're still talking and they're civil to one another, but they've got a lot of baggage between them … I don't think they see eye-to-eye on a lot of things."
Yeah. We're really confused too.
Sarah? Telv? ARE YOU TOGETHER YES OR NO?
Ugh.