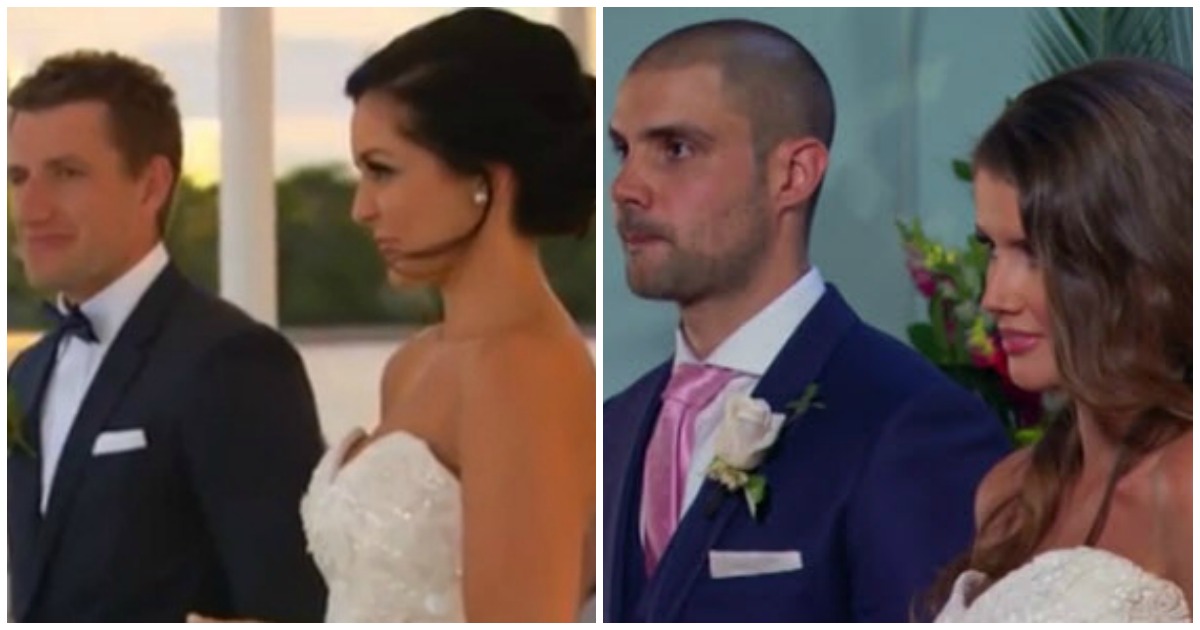 While Christie and Mark's wedding didn't exactly go to plan, Married at First Sight contestant Erin was pretty chuffed to have been matched with 31-year-old business analyst, Bryce.
Last week Sam Frost assured media that there is absolutely no opportunity for things to get hot and heavy on the the set of The Bachelor, but evidently the opposite is true of Married of First Sight, which premiered on Channel 9 last night.
After their initial pre-'wedding' nerves and awkwardness, things appeared to move in a positive direction for Bryce and Erin. Doors were shut and cameramen booted out of the honeymoon suite as the couple headed into the bedroom.
The episode was followed with media and fan speculation about whether or not the pair had taken things to the next level, but  fuel was really added to the 'did-they-or-didn't-they' fire this morning when Erin appeared on The Kyle and Jackie O show.
"I'm a lady so I'm not gonna kiss and tell," she told the hosts when they asked about whether the 'marriage' had indeed been consummated.
Initially keeping schtum, Erin was very complimentary of her new 'husband'. "I do believe he was a good pick [for me]. I think the experts did a really good job," she said
"And I can't give away too much obviously," Erin teased, "you guys are going to have to watch the show."
But the 26-year-old only managed to keep her cryptic answers going for so long before she let slip that Bryce was a "solid 10" in the bedroom.
Before walking down the aisle, Erin was clearly in a panic. Muttering to herself,  "What the **** have I done? Do I have to? Let's just get this **** done."
But after Erin's initial swear-fueled nervous outbursts, things must have gone well.
"I think you can tell from the show that I was quite worked up," she told Kyle and Jackie O. "And as soon as I met him I was a lot more calm."
If you're a fan of Married at First Sight, or the small screen in general, be sure to check out Mamamia's TV podcast- The Binge:
Apparently Bryce is also acting as a culinary influence, with Erin telling the KIIS FM duo, "I actually can [cook a few more things now] and you'll see a lot of that in the coming weeks."
"I'm a domestic goddess now!" she said.
We're only one episode in to the controversial dating show, but things seem to be going well for the couple so far.
You can check out the promo for season 2 of Married at First Sight here:

***Images: Screenshot via Channel 9