EXCUSE US BUT WE ARE VERY EXCITED PLS.
We've been baited all week by the ads and we cannot.
You guys, it's Scarlett. And Andrew. And the runaway bride is back. And the guy who repeated, "… as an entrepreneur" for four episodes before texting someone else's wife.
We've succumb to the fact that this show will never end, and tbh, we're fine with it.
Kelly Glover and Jessie Stephens recap Married at First Sight on The Recap. Post continues below. 
Because we forgot things. And these people's lives just keep going. For example, Deb still exists. That's important.
OH GOODNESS. After approximately 42 minutes of flashbacks, people are starting to arrive at the final (??) dinner party. Jonathan tells John he's "all loved up," and when Scarlett arrives moments later, John passes on that information. She seems… jealous. Which is frankly ridiculous because he is obviously lying.
The dynamic is awkward. But more importantly: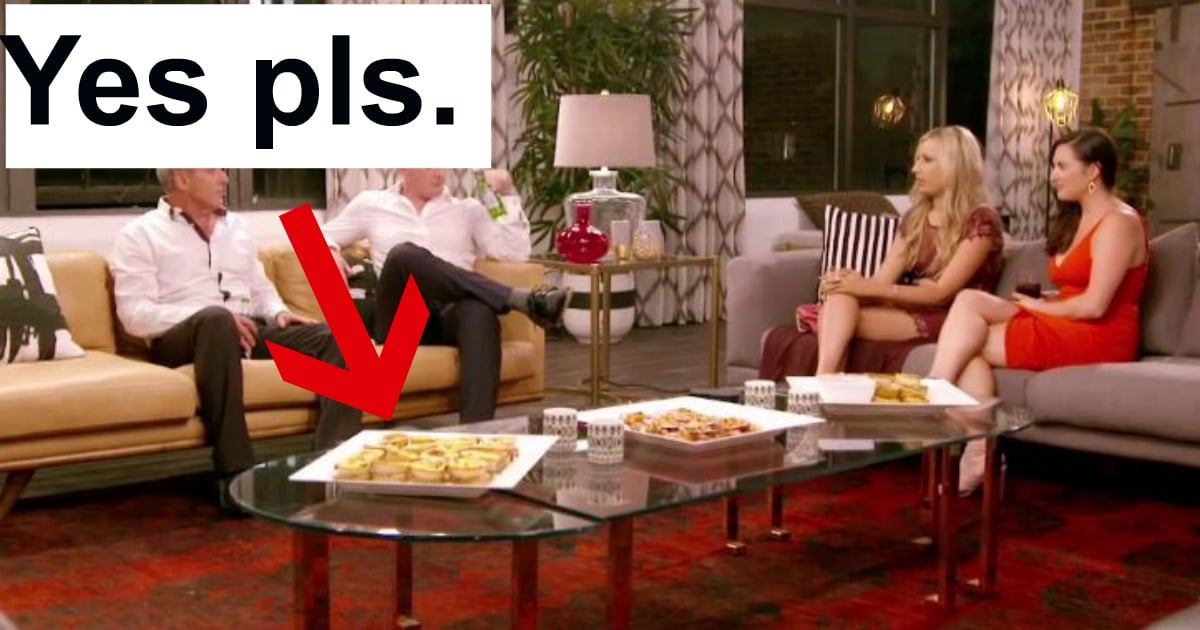 Andrew is on his way and says he's, "not looking for any drama," which is both absurd and untrue.
SHHH IT'S DEB SHE'S HERE.
When she walks in she asks John, "aren't you going to kiss me?" but... Deb. You divorced each other, after a very uncomfortable fake marriage in which you blatantly told him he wasn't Polynesian enough, which isn't a thing you can say. She's also annoyed he didn't get her a drink, and when he points out she didn't ask for one, she says she "shouldn't have to". HOMG we forgot Deb's so passive aggressive that you think she's joking but she's really not. At all.
F*CK WE'VE MISSED YOU DEB.
When Susan arrives, not long after Sean, she tells the others how they're going on an overseas trip together, because Sean has never been overseas.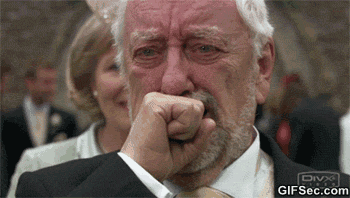 But something else is going on and it's unsettling. It's Scarlett. She's flirting with Andrew. And we don't like it one bit (we love it).
Neither of them say anything particularly funny, yet they both keep yelling, "YOU'RE HILARIOUS".
Cool.
Nick and Sharon are the first couple to arrive together and Jesse can't with the excitement.
"I think he still feels like part of the group," Trisha says, which is a) patronising and b) completely true.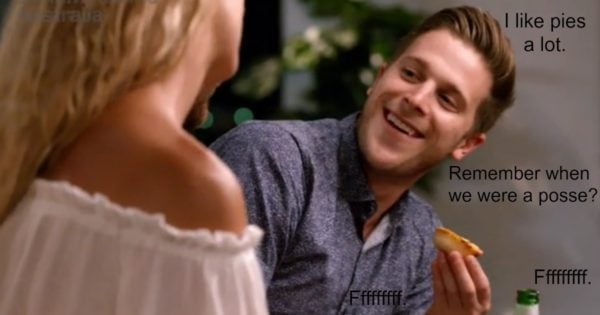 CHERYL IS COMING EVERYONE CALM DOWN.
"This is going to be a f*cking crackup," Jonathan says to no one.
He then approaches Cheryl to say hi, and she kisses everyone around him before saying, "Oh, hey, how are..." but the rest of her sentence is inaudible because she is legit three metres away by that point.
Meanwhile, Scarlett is telling Andrew that she'll stand in front of him "when the bullets come," and tries to joke, "third times a charm". Scarlett, pls.
OOFT. Lauren (the bride who went missing for 48 hours and no one thought to check her apartment) has arrived and she's talking to Andrew. Scarlett gets weirdly jealous so decides to instead go and speak at Michael about all the ways in which she is his dream wife.
"YOU GOT ME TO THE GYM," she says a little too loudly, and then reveals that she has started what she thinks might be a "million dollars business". Also, she's moving to Perth which is where Michael lives, a decision which she most definitely made in the last 20-30 seconds.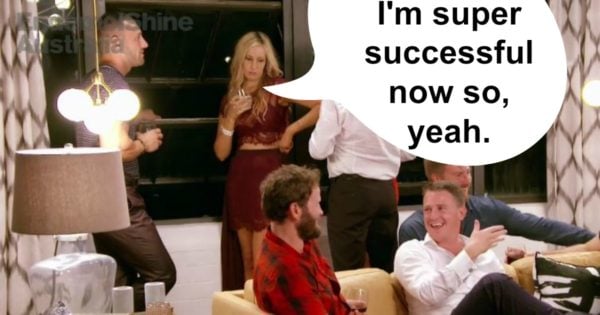 Well, ah, that was all of us when we see our ex for the first time in three months. And it, um. Look it wasn't cool and we don't want to talk about it anymore.
NADIA JUST WALKED IN AND THE DOOR IS CLOSING AND THERE IS NOBODY BEHIND HER WHERE IS ANTHONY WE ARE HYPERVENTILATING PLS.
Holy. Holy f*cking sh*t.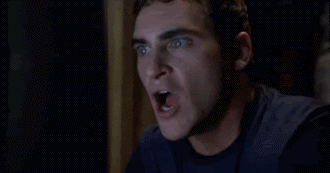 At first, we think she be trollin'. But then Anthony... doesn't... come. 
Nadia walks over to the girls, and says, "As soon as the cameras stopped rolling he dropped me like a hot cake."
NO. Nadia, NO.
Her snake dream was right all along and she never should have second guessed it. He was always the black snake who was going to kill her dog. Always. 
"He dragged me along," Nadia says, and explains that after her Sydney visit Anthony told her, "my feelings haven't grown for you."
WE KNEW HE JUST WANTED TO WIN MARRIED AT FIRST SIGHT. And once he spent all the prize money he went back to abusing Telstra workers who cut off his wifi...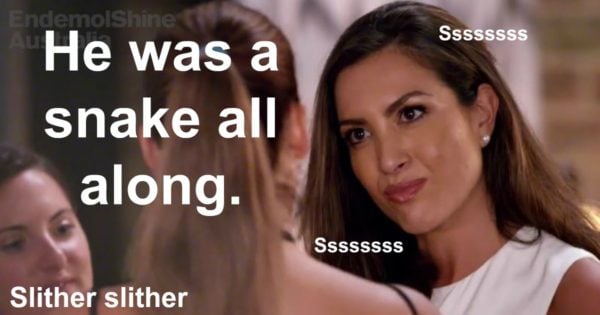 No.
All Nadia wanted was gossip. That's all. And she was willing to overlook everything in order to get it. It's never been her drama she's interested in. Oh, no. It's everybody else's. And now her drama is distracting from everyone else's drama and NADIA WANTS TO DIE.
They all sit down to eat, and Jesse and Michelle are being nice to each other, and Sean and Susan are mere seconds away from humping on the table.
EVERYONE STOP ANTHONY HAS ARRIVED AND WE NO LONGER CARE ABOUT ANYONE ELSE.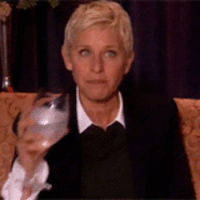 Why... why is everyone clapping? Ew.
He approaches Nadia and says, "Hi Nadia, how are you?" and NO. You cannot say Nadia in that tone anymore. No more 'Nadia'.
"There was nothing warm about it - it was rehearsed, it just felt empty," Nadia says and YES we agree. He is cold... like a snake. 
Moments after eating, at what we assume to be 8:23pm, Michael decides to leave, and in our opinion it's a) rude and b) disruptive. Like... do you have somewhere to be?
He mutters something about having had only three hours sleep and our response is simply; why?
That's... that's not our fault. So why are you punishing us? Just stay for the duration of the event like a normal person. YOU'RE NOT BETTER THAN US.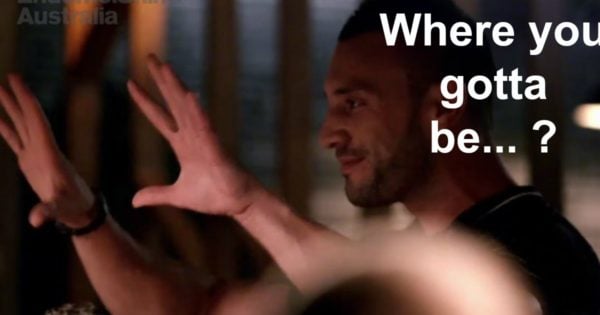 Oooh. Anthony pushes Michelle out of her seat so he can talk to Nadia who in no way wants to be spoken to.
"I'm sorry, now that I have the opportunity, that things didn't work out between us," he says and omg shut up you obviously had the opportunity before you were on camera.
He tries to make small talk and Nadia is literally like, "get away from me - you're talking over the gossip."
Anthony then heads over to tha boiz, and says "Yeah she's disappointed," and explains that it was full on but he's "relieved for it to be over."
Nadia can literally hear everything and she has one word for all of this KERFUFFLE: bullshit.
She's definitely a little bit drunk but that's okay. 
"HE'LL SAY EVERYTHING BECAUSE OF THE CAMERAS," she says.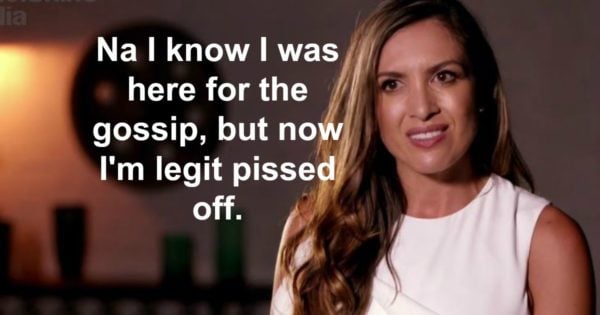 "The man I want to be with doesn't make a woman cry. Doesn't make a woman question who she is as a person..." Oh GOODNESS. The man you want to be with probs wears socks too. And doesn't describe women as frigid. Or say their name 41 times in a row like he's speaking to a three-year-old.
Oh. Now there are cupcakes.
Nadia is offered one, and we really like that she takes two. It says a lot about her mental state and we respect that.
John tries be a gentleman because he's been getting sh*t from Deb all night, and says "Have a cupcake Deb!"
She responds, "I can't eat wheat," because it's John's fault she's gluten intolerant. We can't believe with all this chemistry it didn't work out between them. Shame.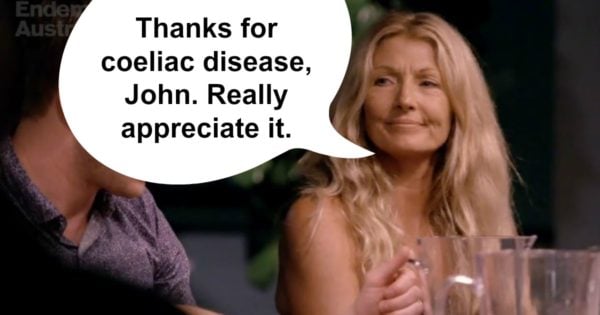 IT'S CHERYL. She's taking Scarlett aside. Yes more tension pls...
It's very important that Cheryl brings up the time Scarlett was texting her fake husband. It was never resolved, and given these women have no interest in ever being friends, it's important they fight about it on national television.
Cheryl tries to talk about 'Gordo', who is not a person we have ever heard of. She means Jono but like... close enough.
"Okay maybe get the guys name right," Scarlett says. "That's why this conversation is a bit stupid but anyway..."
Then the two just start yelling "SWEETIE" and "DARLING" but we think that maybe they're not saying it in a nice way IDK.
This just went from zero to Real Housewives real quick and we're not mad.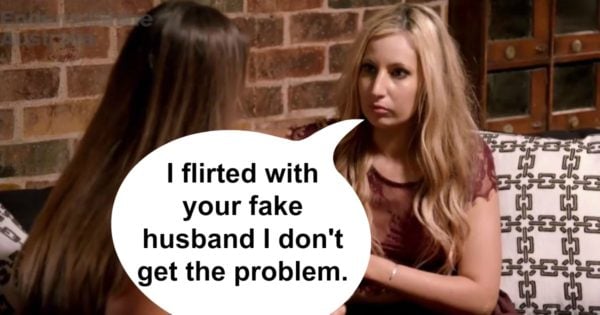 Scarlett storms out even though the conversation hasn't begun, and tells Cheryl "You're the fakest girl I've ever met," which is the same insult she gave Michael like three months ago. Hehe.
When she walks back into the dinner party she tells Gordo, "She is such a psycho!" and then starts recounting an event that did not occur.
"She said you've run off with Jonathan you're such a bitch..." Scarlett explains and it's awkward because the whole ordeal was filmed.
She decides she wants to go home and exclaims, "Where's my purse?"
Yeeeeahhh... so a producer definitely stole her purse.
Scarlett eventually storms out and we're still not quite sure why.
Back at the dinner table, Lauren is shutting Andrew down a) because he's acted like a d*ck and b) because she's had a bottle and a half of wine.
"Guess what? You're a cocky little prick. That's why it didn't work out," she slurs. It's all very exciting.
SPEAKING OF EXCITING THE TEASER FOR TOMORROW NIGHT MADE US NEARLY WEE WITH ANTICIPATION THE BOIZ NIGHT FOOTAGE AND JOHN AIKEN SAYIN "DOES THAT REFRESH YOUR MEMORY" ARE ALL OUR DEEPEST FANTASIES COMING TRUE.
Until tomorrow night... (please God nah seriously let this be the end or we give up).
You can follow Clare and Jessie Stephens on Facebook, here.