Excuse us, but this show continues to be more interesting than both our lives put together.
We open tonight on all the couples waking up the morning after the dinner party, and all we want is for John Aiken to go completely rogue, gather them all together and SHOW THEM WITH THEIR EYES the footage of Andrew at tha boiz night.
Please, John. Pls.
Andrew is in a separate apartment to Cheryl, further indicating that neither party are even moderately adhering to the experiment, and are just desperately trying to get their money's worth.
Listen to The Recap: The podcast to listen to after you've watched Married at First Sight. Post continues after audio.

You can't just go on Married at First Sight, not be married, stay in separate apartments and quite literally hate each other and not be thrown out. Do they sign contracts? Like… at all?
Anywho, Andrew is complaining about Cheryl, and then picks up a black sock and intensely sniffs it on national television.
Cool.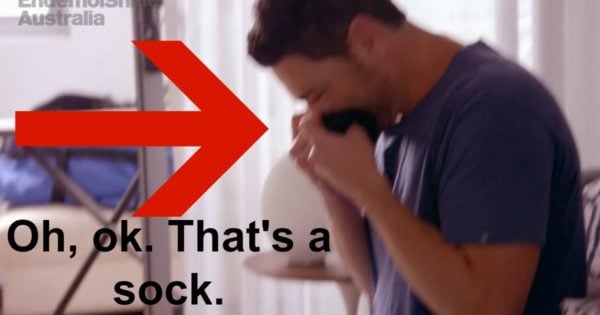 He is then pictured drinking a Corona at what legitimately looks like 11am.
Sean and Susan on the other hand, are growing more and more madly in love and are only a little bit here for the free apartment.
Susan is in awe of how Sean stood up for Cheryl last night and says his "values shone through".
They are everything that's good about the world and if we talk about it anymore we'll cry.
Over in Michelle and Jesse's apartment, a crisis is unfolding. Michelle doesn't know what's more important; her own happiness/being honest with herself/meeting the right person/respecting Jesse, or beating Sharon. So far, the latter has prevailed.