We open with some very bizarre and erratic piano music that sounds like it's been pulled from Psycho. And it's oddly fitting.
We're told it's been over a month since the couples got married which is strange because at our last count this show had been running for at least 73 weeks.
But whatever.
The experts can't be expected to keep track of these sorts of silly details.
Listen to Clare Stephens and Kelly Glover discuss tonight's episode on The Recap. Post continues below. 
Tonight, we get to see the men visit their wives' home towns, and honestly the "moving around" thing is becoming excessive. In four weeks they've been married, gone on a honeymoon, lived in Sydney, and visited each other's places on opposite sides of the country. That IN AND OF ITSELF would be stressful.
First up, it's Simon's turn to visit Alene's home in Western Sydney. She lives in a granny flat precisely six footsteps from her sisters house which, let's be honest, is the dream.
She doesn't have a dining table and that is absolutely fine.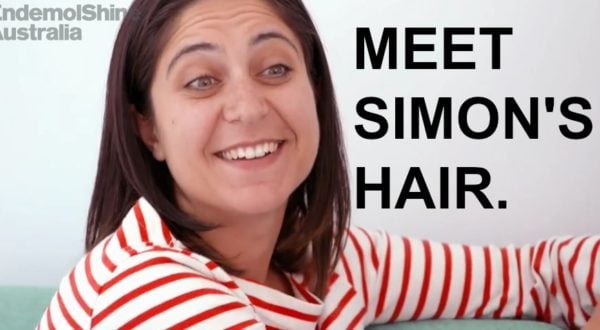 Alene's sister interrogates Simon about whether or not they've been "intimate" and goodness gracious, on behalf of Australia we'd like to extend our sincerest thank you. It could be considered slightly inappropriate given there is a literal child in the room, but it's also exactly what we need in our lives right now.
They evade the question and we're p*ssed off.
Meanwhile, Anthony is visiting Nadia's home town of Brisbane, and we are perpetually surprised (but mostly impressed) by what lengths Nadia will go to for access to gossip.
In the car she says he's going to check out her 'hood' and Anthony obviously makes a rude jibe about her acting like she lives in the Bronx.
LOOK NADIA IS J-LO AND WE FEEL LIKE WE ALREADY KNEW IT OKAY.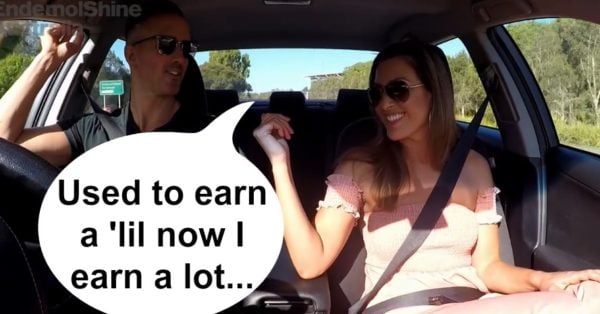 Anywho, Anthony has taken to narrating Nadia's behaviour, and describes her as "giggling like a school girl," before commenting that she seems relaxed in Brisbane, which "we don't see often with Nadia."
Er, no. Anthony pls. You're not John f*cking Aiken. You're meant to be her fake husband. Stick to the script.
Immediately Anthony has a problem because Nadia still lives with flat mates, and if he had it his way (ummm... this week is literally about you not having it your way) he'd be in a hotel.
Apparently the fact he lives alone indicates he's "ready," as opposed to Nadia who shares... which definitely has nothing to do with the cost of rent in this godforsaken country. 
In a television first, we even see Anthony complaining about the lack of Brisbane traffic. Wtf is even happening anymore.
He's becoming just straight up... rude. He criticises her small living space and says "you accumulate shit. That's what girls do."
Cool.
He's judgy that they don't have Foxtel which is frankly stupid because you can watch Real Housewives online and everyone knows that so why would they even need it.
In Perth, Susan and Sean are at Susan's suburban home, just hanging as friends.
You can almost sense the production team twitching as they hold back their urge to yell THIS ISN'T MEANT TO BE A FREE HOLIDAY. YOU'RE MEANT TO STAY FAKE MARRIED IF YOU WANT TO CONTINUE. BUT WE DIDN'T PUT THAT IN THE GODDAMN CONTRACT BECAUSE WE DIDN'T THINK WE NEEDED TO.
Speaking of staying fake married for reasons other than love, Michelle continues to try and beat twin sister Sharon at Married at First Sight. 
The four are meeting Sharon's mum, and Trisha Stratford (who's been a bit light on the narrating tbh) says, "when couples start to compare each other it's unhealthy."
Trish, pls. You are literally completely responsible for this situation.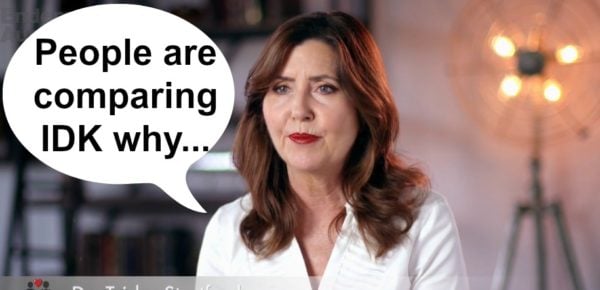 Sharon and Michelle's mum has made little paddles and pasted 'yes' on one side and 'no' on the other, and the imagery of that process, her printing 'yes' and 'no' out of the computer and then purchasing paddles to play a fun game at the dinner table is too much right now.
She asks if they're having good sexy time and everyone gets weird which is ridiculous because they've been married for a month now. IF YOU'RE NOT HAVING SEX WHAT ARE YOU DOING? HOW DO YOU PASS THE TIME?
Not that Michelle is competing or anything, but Sharon is definitely winning, and she's struggling with that. Michelle says, "I feel like I want to escape right now..."
Hmmm. If only there was a way. Like a weekly commitment ceremony whereby you have to decide to leave or stay in front of a panel of experts...
Ah well. Maybe next season.
We then cross to Nick saying "Happy wife happy life," and NO.
WE'VE HAD ENOUGH.
THAT IS THE EIGHT HUNDREDTH TIME THIS SEASON HE HAS SAID IT. NO.
Next are Vanessa and Andy who, tbh, are contributing very little to this season. Just as we were discussing this, Vanessa asks "are you going put honey in your tea?" and he responds, "a bit," and holy moley they actually decided to air that conversation.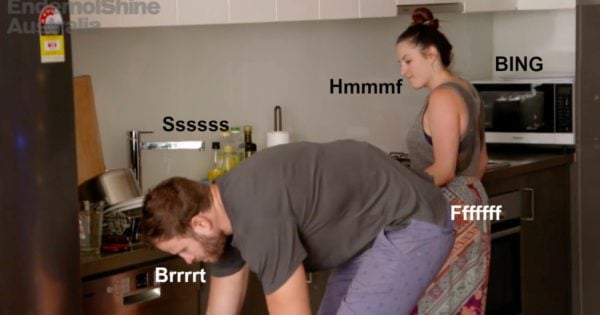 Andrew is going with Vanessa to meet her family, but she's concerned he's too quiet and doesn't add enough to social situations.
But seriously, a man who doesn't speak is literally the best outcome one could hope for out of this show, and Vanessa should be beyond grateful.
With Vanessa's family, Andy is substantially less quiet than she expected, but she still thinks he's too quiet.
Riveting.
OH WHAT THE PSYCHIC BRIDESMAID IS BACK.
In Sydney, Simon is going to meet Alene's friends, including her bridesmaid-zilla who predicted Simon's name before anyone even met him. We like her, yes.
Upon seeing Simon again, psychic bridesmaid AKA Amanda instantly starts fan girling about his hair. "Who knew you had that face?!" she says, and it's rude but also true.
Amanda grills Simon about 'intimacy' with Alene and whether there's a spark, and he gets defensive. She pushes and pushes until he eventually talks about the fact that he was sick for seven years in his 20s, and had to relearn to string a sentence together. Jesus. If we've learnt anything from this season, it's just leave Simon the f**k alone.
He's been through some sh*t.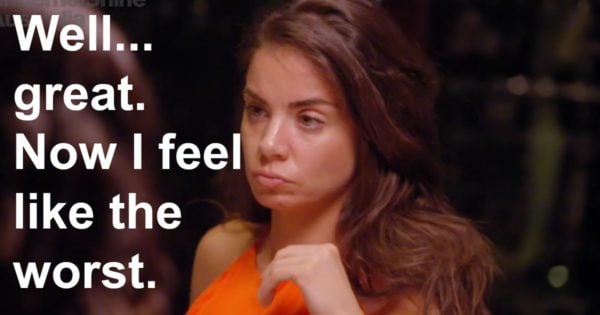 Amanda realises she's just pressed a guy who had brain surgery, so ultimately, Alene's friends end up liking Simon, mostly because of his haircut.
EUGH Sharon has decided to do something romantic for Nick by blindfolding him and taking him back to where they got married... ONE MONTH AGO.
That's not... that's not an anniversary. Everyone is very familiar with where the wedding was. You were both there, very recently. As were we. Pls.
Meanwhile, Michelle is desperately seeking permission to break up with Jesse and no one will give it to her. She's talking to her close friend Jason about her relationship, and he's clearly been told by the producers to encourage her to "stick with it," and "finish the experiment."
She wants to die and we would like to formally give Michelle permission to leave Jesse approximately three weeks ago.
In Brisbane, Nadia's introducing Anthony to her many jobs. She takes him to the local pool where she works as a lifeguard, and no one has ever been more judgemental and less impressed than Anthony in this moment.
She makes him a coffee and he says it's "alright," which is ridiculous because Nadia would make excellent coffee.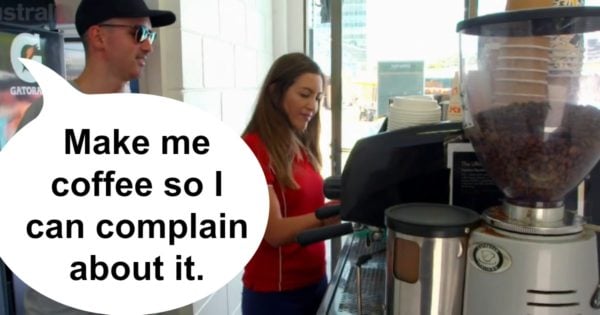 Nadia is trying to make conversation about the buoyancy of the pool, and Anthony laughs and replies "'I believe you. It's a pool."
Omg. He is actually patronising towards a pool. Which we didn't even know was possible.
Nadia then takes him to her other job, which is modelling clothing for Instagram. He just makes fun of her the entire time and watches racing on his phone.
YOUR HOBBY IS STUPID ANTHONY.
Sorry.
In Perth, Michelle has arranged a bonding experience with Jesse, which is bizarre given she doesn't like him.
She decides they're going to get spray tans together, because she doesn't like his white legs.
Before we know it we are confronted with a man in a g-string on prime time television. It's not even 9pm what is going on.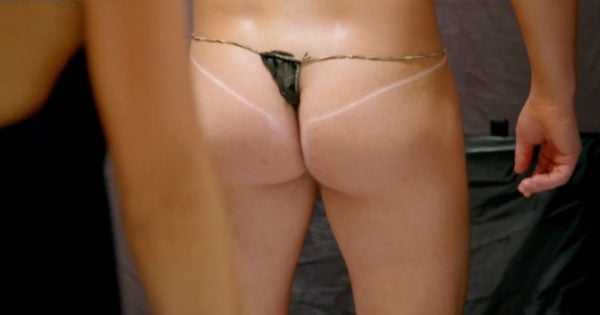 Following the tan, Jesse leaves the salon in just his underpants, which we are fairly certain is illegal.
He is uncomfortable and humiliated, and Michelle has never had this much fun in her life. Ever. Literally this is the happiest she has been in this entire season.
Andy and Vanessa are bike riding so we check our phones... BUT... conflict emerges out of nowhere. She says "you need to talk more about it," even though it's unclear what 'it' is.
Andy says "I'm really uncomfortable..." before exclaiming that he looks like a "f*cking idiot." He then storms off.
It's not personal or anything, but Vanessa just has a fundamental issue with Andy's personality. "I have no idea what your personality is like because you don't showcase it," she says.
Eventually she concludes that this isn't good enough, and he suggests maybe this can't work.
FINALLY THIS COUPLE IS INTERESTING. THANK GOD.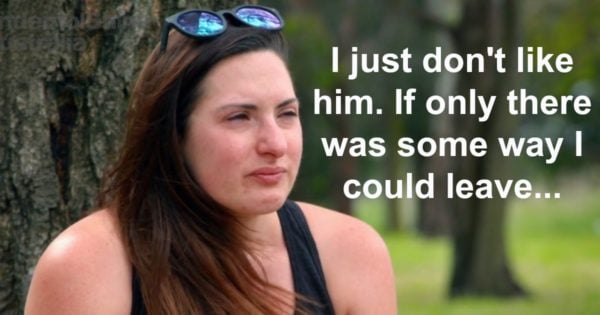 But then Vanessa feels guilty and we have a hunch they will resolve the conflict. Eugh, moving on.
Andrew is meeting Cheryl's dad, and they haven't even left yet and the pair are fighting. It's incredibly interesting watching fake-married-but-not-even-couples fighting about real sh*t. Like the fact Andrew was running late home from the gym and then felt like Cheryl didn't speak to him very nicely. Mmmm. So true.
They finally arrive at Cheryl's dad's house (Hamish) - and something is off.
He tells Andrew he is "so small," which is a bizarre thing to say in pretty much any context.
He also doesn't like Andrew's tattoos. Or his... hands.
The situation is made only more awkward by the fact that Andrew doesn't know if he's joking or not so keeps semi fake laughing while muttering under his breath "what the actual f*ck is going on right now?"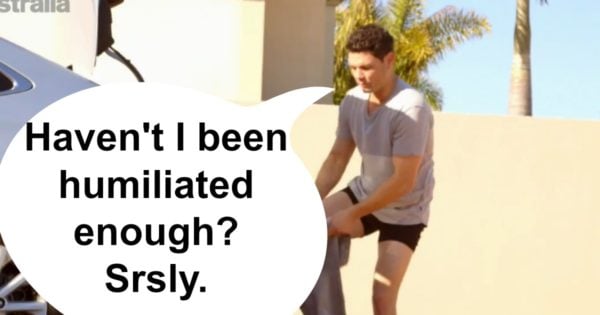 Has this man not been through enough? 
First it was the runaway bride. And then the attempted kiss on the beach situation of which we do not speak. And now...
Hamish decides out of NOWHERE that he hates what Andrew is wearing, which is super similar to what Hamish himself is wearing.
If this is a joke it's not remotely funny.
"You didn't even dress smart," he says with a pointed figure. WHO dresses smart? And FOR WHAT? And WE KNOW WHO YOU'RE TALKING ABOUT YOU DON'T NEED TO POINT.
WE WANT TO DIE THIS RELATIONSHIP IS SO AWFUL.
Hamish then demands Andrew leaves to get changed. Cheryl sort of interjects and stands up for her friend/husband/stranger, but like, not enough.
Cheryl explains that Andrew is a firefighter who mentors kids, but Hamish has "zero care factor," because the producers made him promise to be inflammatory and disagreeable.
"You're just nothing mate," he says to Andrew who has actually had to get changed on the goddamn street.
In the understatement of the century Cheryl says, "Dad I think was a little bit extreme." Yeah...
The episode then abruptly ends because Channel 9 is click baiting us but we love it. 
UNTIL TOMORROW.
You can follow Clare and Jessie on Facebook, here. 
The Recap is the podcast that recaps the shows everyone is watching. Subscribe in iTunes so you're never out of the loop, or catch up here.