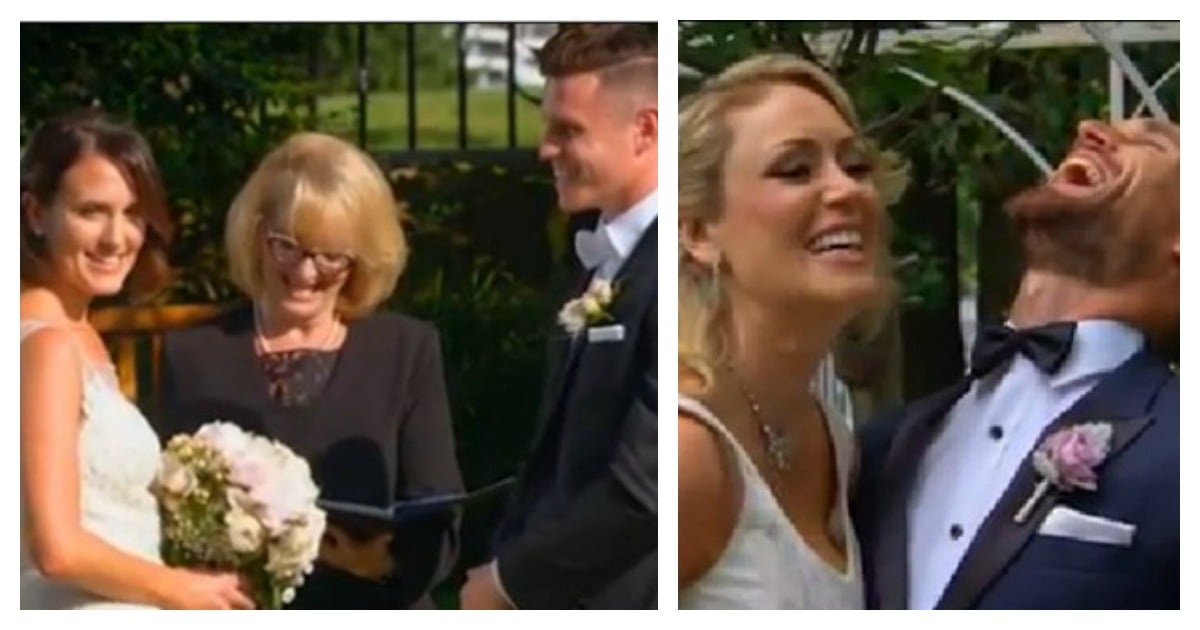 Last night, we watched four complete strangers get married to each other — not in some kind of four-way, though, this show doesn't even have a gay couple let alone experiment with polyamory.
And tonight on Married at First Sight episode two, two more couples are set to make the dubious commitment to not really marry each other on TV.
First, we follow up with Erin and Bryce, who probably definitely did it last night in their hotel room. The morning after, Erin is still in bed swigging water the way she was swigging Champers last night.
Later, once up and dressed, they present a united front, their arms linked as they assure us it's "so far, so good".
There follows a meaningful shot of Erin's discarded wedding dress in the bathroom.
Meanwhile, in Melbourne, Christie and Mark's first night together was somewhat more salubrious. Not for them hastily removed wedding dresses or empty Champagne glasses.
And despite Mark calling Christie "easy" (he meant to get along with), I'm fairly confident they didn't consummate, especially considering the impenetrable pillow fort she constructed between the two of them.
Now it's time to do it all again with the final two couples. The supposed experts remind us this is all done by SCIENCE.
Let's meet them, shall we?
First up is Jono, a tradie who seems to be the ultimate tradie. He reckons in the past he's spent too much time with "the boys" but his priorities have now changed.
He doesn't think it's befitting for a man approaching 30 to go our and spend all his money on beer every weekend. He should instead be building his "castle". His serious intentions are proven by the amount of broccolini on his plate. No man who's not ready to settle down puts that amount of greens with his steak.
The experts say, not in so many words, that Jono will continue to spend all his time with "the boys" and that he is really after a little woman to keep house. So they decide the best thing to do would be to pair him with a strong woman, instead.
Bravo, experts! I actually agree with this tactic, if only to watch Jono implode.
Clare is a 32-year-old recruitment consultant who "tends to attract the wrong type of guy".
We already know Clare -- firstly because she's come out and slammed the show for not having a gay couple this season, and secondly because she beat up a man who tried to attack her on the street. I love her.
She is clumsy (trips over several times during filming), tough (practises boxing and self-defense), and she does this:
I am slain. I will marry Clare immediately. Jono does not seem like he's a big enough personality for this woman.
To our final couple!
Hottie Xavier, 26, who is sick of being judged for his looks. Sorry about that hottie comment, Xav, but you did emerge, glistening-chested, from the ocean. What else was I to write?
"People often see me as a tall ex-football player," he complains.
He is a tall ex-football player. He's been repeatedly cheated on and has a pedanticaly organised wardrobe. These two things are not necessarily related.
He's being matched with Simone, 29, a make-up artist who specialises in weddings.
She is similarly anal about home organisation, and she too has been the victim of an adulturous lover -- and the guy was a man she was nearly engaged to.
Simone talks about being cheated on in the past. Post continues after video...
Clare, with the support of her rad (and perfectly accessorised) pooch, tells her friends and family and there is a full beat of shocked silence before anyone explodes with questions. One man spits out his food.
In Sydney, Simone tells her family and tries to avoid her mother's very direct line of questioning: "To who?"
Her answer does not impress Mum.
Jono, natch, is having a bucks party with the boys. One mate says he has a lot of mirrors in his house, and that if he can love a woman as much as he loves himself, it will be a triumph.
Jono wants to see a small brunette walking down the aisle to him. Clare is a tall blonde.
SCIENCE!
Clare begins to worry her body type won't please her husband-to-be because she's not "stick thin". Don't think like that Clare! You're a star with a hot bod who is strong and has great home decor!
Jono keeps talking about what he wants his wife to look like "fit, and dresses well". UGH.
Both Clare and Jono are concerned he is not going to like what he sees when she walks down the aisle. How come neither of them are concerned about what SHE thinks?
Here comes the moment of truth.
This a-hole actually says, "Aw shit," when he sees Clare for the first time. He keeps looking back at his mates to gauge their reaction.
Rosie Waterland and Monique Bowley talk to Christie from the show. Post continues after audio.
Clare thinks Jono is "cute", and thinks there's chemistry. He thinks she's "not what he ordered".
He is not winning my favour here and could easily earn a disparaging nickname such as MicroPeen, or simply Misogynist.
Anyway, he doesn't want to miss out on his 15 minutes so he says "I do". Clare does too, because she doesn't know him yet. They peck the air next to each other's cheeks.
In Sydney, Simone and Xavier's wedding day dawns, and he says his nerves are "diabolical".
When she finally walks down the aisle he looks extremely smug and pleased with his bride. The way he keeps looking at her is slightly creepy.
"I think she's the most beautiful girl I've ever met in my life," he tells us.
She thinks he's hot, but doesn't know that there's even more to him than that, such as an organised wardrobe.
They "do" and then kiss right on the lips, which is even racier than Erin and Bryce yesterday.
Problem: Simone doesn't know how to pronounce Xavier's name properly, and keeps calling him "Exavier".
The pervy photographer compels them to make out, and so they do and there might even be tongue. They both have huge boners for each other.
Meanwhile in Melbourne, Clare is making Jono laugh because she's cool, and their photo-shoot isn't as awkward as I would have imagined.
At the reception she irons out their plan of action for a zombie apocalypse (shoot one another in the head) which is important for any couple to organise.
He's coming around to her but he's still not OK with the fact she's not a tiny brunette, however he is coached by his mates that she's a "cracker" and a "stunner".
As Clare is telling a friend there might be a spark between herself and Jono, he starts trying to get her attention.
"Hey woifey! Hey woifey! Hey woman! Oi! Woman!"
"If he calls me woman again I'm going to kick him," she deadpans to her mate.
Xavier and Simone kiss AGAIN at their wedding reception, during which they find out they have heaps more boring things in common, such as they both like tuna and brown rice, they both hardly ever drink alcohol, they both rise at 5am to go to the gym, and they both do meal prepping. *nods off*
Xavier declares himself smitten and it's clear that consummation is on the cards. Their first dance is more competent than many more rehearsed ones I've seen.
Come back next week for the honeymoon period, which I predict will be shortlived for all four couples.
SCIENCE!