On Monday night, a very honest conversation between two friends was broadcast on national television.
Sitting in a Gold Coast bar, Married at First Sight star Bella told her friend that despite having spent three weeks living with her "husband" Michael, she was not ready to move in with him permanently once the experiment was over.
"I've lived with boyfriends before, partners in the past, and it hasn't worked out. And I think that's why I was a little bit hesitant to move straight in with him," she explained.
Understandably, Bella's friend didn't really get it.
You've found love, the connection is electric, what's holding you back?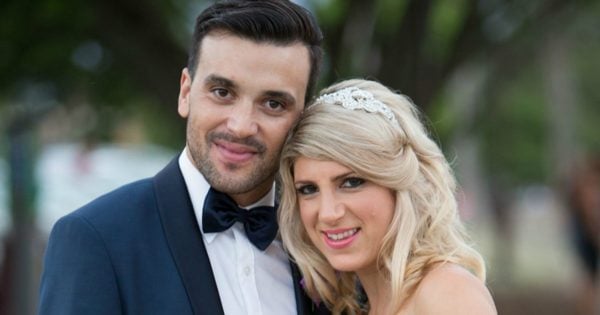 Married at First Sight Bella and Michael on their wedding day. Source: Married at First Sight. 
Watching the episode, I was reminded of a similar conversation I had with two friends about exactly the same thing recently.
Friend One was considering moving in with her boyfriend after just five months of dating and was asking us for our advice. While Friend Two thought it was a great idea, because "true love", I couldn't tell her No fast enough.
Confused by my response, they both pointed out that I had moved in with my boyfriend after just four months, and almost five years later we're still together. So why would I be telling others not to?
What I had to explain to them - and perhaps what Bella went on to explain to her friend - is that moving in too soon was possibly the worst relationship decision I ever made.