Recently, Alice Campbell and I revealed the demographic traits associated with people expressing support for equal rights for same-sex couples using the Household, Income and Labour Dynamics in Australia (HILDA) Survey – a large, longitudinal survey that is representative of the Australian population.
My subsequent analyses of the HILDA Survey point to another important factor: cognitive ability. Specifically, there is a strong and statistically significant association between higher cognitive ability and a greater likelihood to support equal rights between same- and different-sex couples.
This may shed some light on why those who stand against equal rights may not be persuaded by evidence-based arguments in the ongoing marriage equality debate.
Measuring cognitive ability and support for equal rights
From time to time the HILDA Survey collects one-off information from participants. During the 2012 face-to-face interviews respondents participated in three hands-on tests aimed at determining their cognitive ability. Such tests evaluated the degree to which participants were able to:
recall and recite backwards progressively longer strings of numbers;
correctly pronounce 50 irregularly spelled words; and
match symbols and numbers based on a printed key against time.
These tests are not perfect. They may contain some measurement error, may be culturally biased, and may not constitute a complete measure of cognitive ability. Yet they are widely recognised instruments routinely employed in psychological and educational research, and have been shown to be highly correlated with overall intelligence.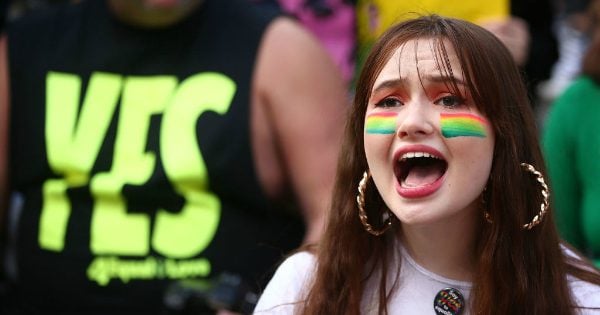 My analysis involved estimating the degree of support for the rights of same-sex couples at different levels of this measure of cognitive ability.
To do so, respondents' scores in the three tests were rescaled and averaged into a composite measure of cognitive ability. Scores ranged from zero (lowest ability) to one (highest ability).
Support for equal rights came from a 2015 HILDA Survey question asking respondents to rate their degree of agreement with the statement "Homosexual couples should have the same rights as heterosexual couples do" on a scale from one (strongly disagree) to seven (strongly agree).