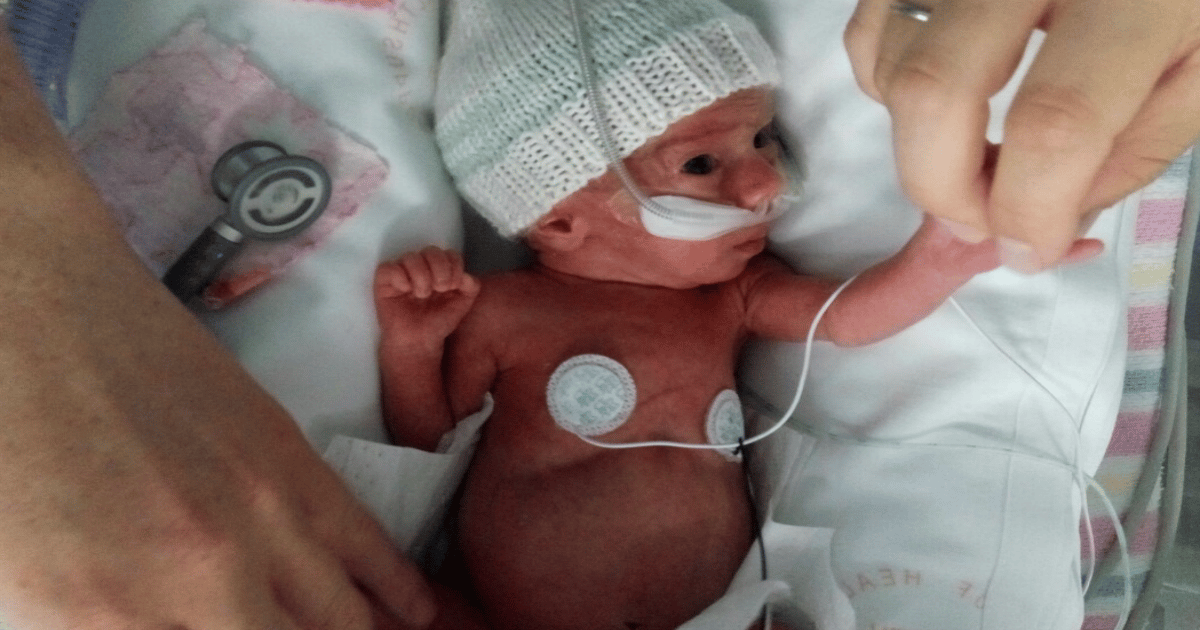 Two parents need $230,000. That's how much it will cost to keep their baby alive.
It's $5,158 a day to pay for the care their son is getting in the Royal Women's Hospital.
It's $5,158 a day that his parents – who were only in Australia for a holiday – simply don't have and that their insurance is never going to cover.
They need $230,000 before they can safely take him home.
Marko was born at 28 weeks. Via GoFundMe.
Travelling musicians Volodymyr Muliar, 38, and Yaryna Kvitka, 30, had never planned on this to happen. When they set out from Kyiv in October 2014, the plan was to cycle 25,000km through 13 countries.
What they hadn't planned on was falling pregnant along the way.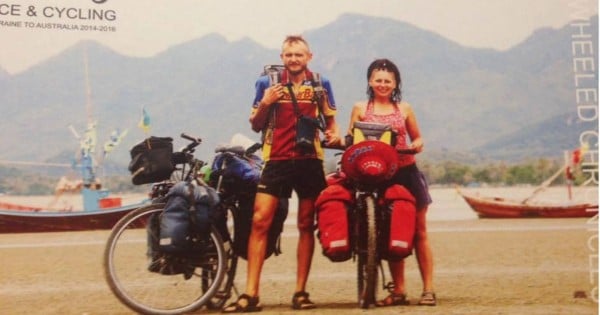 Travelling musicians Volodymyr Muliar, 38, and Yaryna Kvitka, 30, on their trip. Via Facebook.
But when fate intervened they decided they would have their baby in Argentina as they could not afford the related medical costs in Australia, as they were only on tourist visas.
But on April 8th - when Yaryna was only 28 weeks pregnant -  she went into labour.
Yaryna told Mamamia that they couldn't stop him: "We didn't plan to have [sic] baby here. Marko decided to see this world early. We could not stop him."
Baby Marko was born by caesarean section, fragile and clinging to life at just 1.1kg.
"He was so tiny," Yaryna said. "So small."
The couple say they need help. Via YouTube.
Aside from the shock of having their baby so early, they were then confronted with another shock - the cost.
They write on a fundraiser page:
"It is probably unnecessary to describe the state of Ukrainian economy at the moment. But even there we are not wealthy people – our weekly salary in Kyiv was about $60 (US). Having a great passion for music and travelling, cycling and camping was a great compromise for us to do what we love the most.  What makes the situation even worse our visa to Australia does not give us the right to work whatsoever."
Doctors have told the family that baby Marko will need to stay in Australia until December.
The musicians are staying with friends in Sydney and have been making the daily trek to the hospital to visit their son.
Yaryna says it's very important that her son knows his parents are there each and every day. She says that she is there from morning until night, without fail.
"We wish we could just swipe a card and pay for all the medical services our tiny son requires so badly but there is no chance in the world we could possibly do it on our own," they wrote.
"We are trying to find money," Yaryna said.
"We have a fundraising page in Australia and another at home in Ukraine. So far we have raised only $28,000 in Australia and $40,000 in Ukraine."
But sadly it is not enough, they need at least $150,000 more.
The couple are receiving support from the Ukrainian embassy, who have written to the Health Minister Sussan Ley asking for assistance. They say they are still waiting for an answer.
Mamamia has contacted the Health Minister's office and are awaiting a response.
In the meantime, the family are cherishing the moments they have together.
On Mother's Day, Marko was one month old and his father, Volodymyr, who described his son as "very cute and lovely", announced some very exciting news to family and friends following their plight.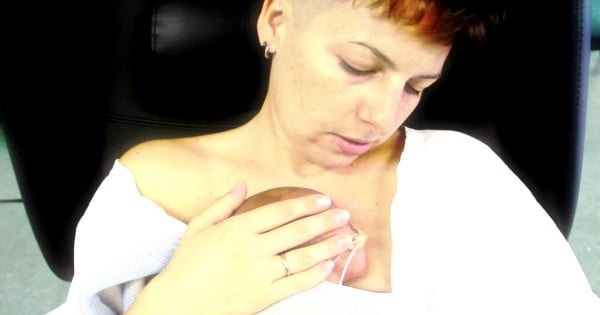 Yaryna having skin to skin contact. Via YouTube.
Yaryna and Volodymyr experienced skin to skin contact with their tiny son and happily posted the news that Marko was now "out of the box."
"And what is most important, Marko is out of the special box now! It means that he is doing well!"
Yaryna told Mamamia that the skin-to-skin contact was an unforgettable feeling.
He is now out of "the box." Via YouTube.
The fundraising page set up to help the family has now raised nearly $28,000 - but is a long way from covering their costs.
The hospital told Mamamia that they were working with the family.
"Baby Marko Havrylets is a patient of the Neonatal Intensive Care Unit at the Royal Hospital for Women, born prematurely at 28 weeks' gestation on 8 April 2016. As most babies are born at 38-40 weeks' gestation, baby Marko requires complex specialist care until he reaches full-term," the hospital said in a statement.
"The baby's parents are residents of Ukraine and are therefore not covered by Medicare or their applicable overseas insurance. The hospital is working with the family to consider appropriate arrangements toward payment for the highly complex care their son is receiving.
"The full cost of the stay is unknown at this stage due to the level of care and length of stay being uncertain," they added.
His parents - while trying to deal with the financial implications of today - are also looking to the future, planning to continue their love of travelling and when he is well enough cycle the world with Marko in tow.
Best of luck baby Marko we are all thinking of you.
You can support them by going to this page here.