… No.
The Save Australia Day ad produced by Mark Latham is the best thing we've personally seen in 2018, and that is a sentence we simply never thought we'd write.
It's one minute and 45 seconds of what a Year Nine English student would be introduced to as 'satire' but… it's not. It's for serious. 
You can watch the ad, in full, above.
We begin with the very ominous question; "What if the Greens and Labor left get their way and abolish Australia Day on 26 January?" which is a) grammatically uncomfortable and b) not at all what's happening. But none of that matters right now. What matters is that an innocent child has created a poster about Australia Day but HER HOUSE IS BUGGED BY THE STATE.
A mum sits on the lounge and reads a magazine which is frankly a scenario that has never taken place, and some little Aryan kid runs down the hallway yelling, "Mummy! Mummy!"
She proudly presents her Australia Day poster, which has clearly been made by an adult to look like a child's work.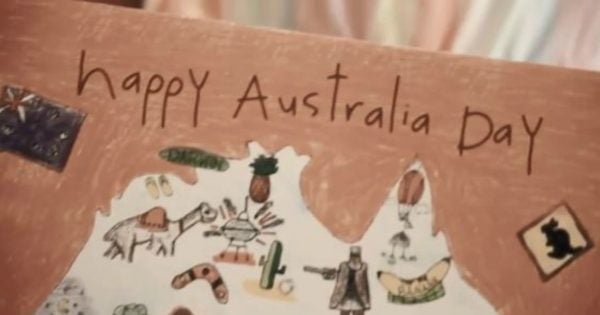 The camera zooms, and her very frazzled mother says, "Um... have you shown anyone else this darling?" while music of doom plays in the background.
Given she just ran from her bedroom with an artwork she just created, the mother's paranoia is... problematic.