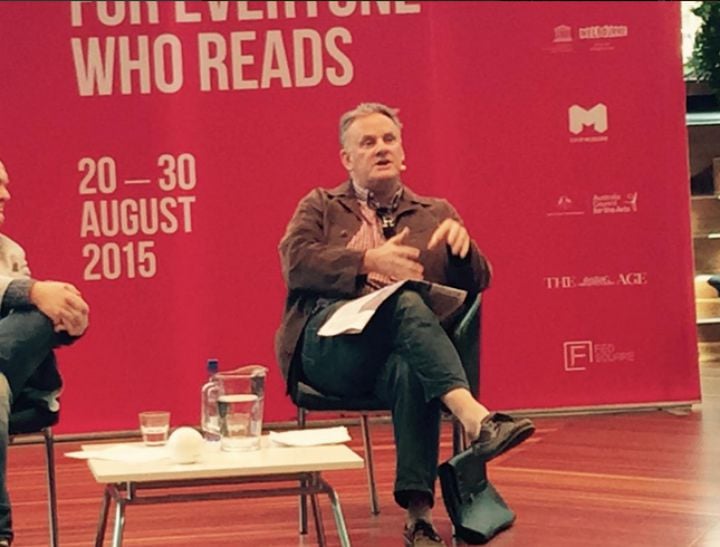 Mark Latham has appeared at a session of the Melbourne Writers Festival – and the event has erupted in chaos.
Mark Latham was interviewed today by the ABC's Jonathan Green on the topic of whether ex-politicians can ever write objectively about politics (or whether are they too tied to the party machine.)
The answer seems to be that ex-pollies like Mark Latham can't say much of anything objectively, after an expletive-laden event which saw walkouts, booing and concerns about defamation.
It's been a big week for Latham, in which he purportedly resigned as a columnist for the Australian Financial Review. On that, Latham told Green: "The last eight days have been wonderfully hilarious… The theatre of absurd in Australian politics."
Watch some of Mark Latham's controversial session at the Melbourne Writers Festival. Post continues below. 
Latham told festival goers what they were seeing was "Latham unfiltered" and if they didn't like it: "You can fuck off" (he then said, "Let's get into it – fuck, cunt, poo, bum", apropos nothing).
He refused to answer the question whether the Real Mark Latham twitter account that has been harassing prominent women for months, saying it's "commercial in confidence" to talk about it.
But before too long, Latham was berating Green, calling him an "ABC wanker" and refusing to speak further to him unless he admitted he was a "deviant". He later referred to Green as a "bigot" and "a non-stop bagger and sneerer".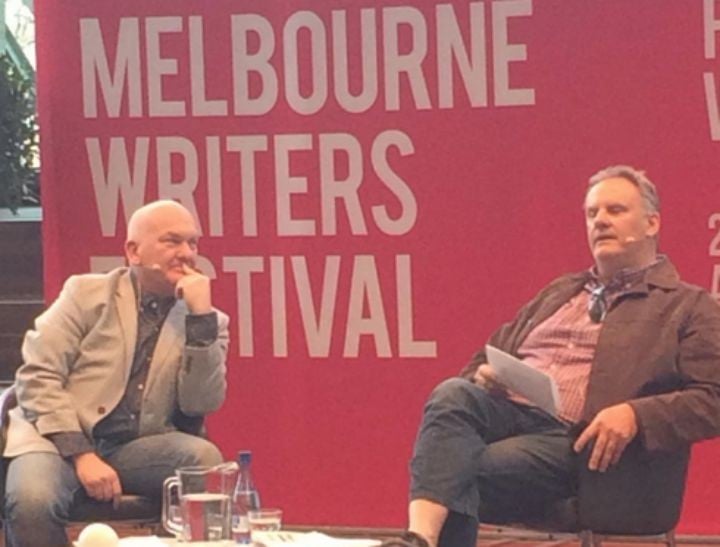 Green persisted, asking why Latham continued in public life if he had such "thin skin". Latham denied the thinness of his skin, lamenting the loss of the capacity of free speech in this country.
Latham made some particularly offensive comments about Clementine Ford, Sherri Markson and Cate McGregor. The comments were so crude, that journalists in the audience were loath to report them due to concerns about defamation.
I'm not sure I can tweet what Latham just said. So much defo. #MWF15

— Josh Taylor (@joshgnosis) August 22, 2015
People who have been following Latham's agenda will be familiar with his favoured topics. Without prompting, he maintained that the "anxiety thing" is "over-inflated" in Australia. He claimed that he was not a misogynist, because he "stayed home and raised his daughter and supported his wife's career". One man clapped at this response. Latham blamed negative media about him on "privileged elites" who have been running a "campaign" to suppress his "democratic opinions".
Specifically he blames "lefty feminists" who are "trying to use censorship to shut down opinions they don't want to hear". He said it was particularly "absurd" he can't criticise Rosie Batty. Latham opined that Labor's best chance of success was to quit "symbolic" stuff like marriage equality and indigenous recognition, get on "concerns of suburban Australia".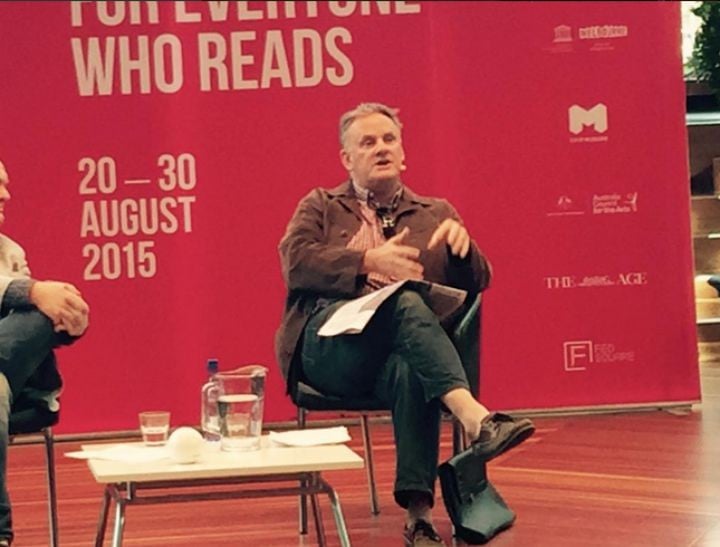 As Latham began to crudely criticise media figures, prominent women and political leaders, people watching the event began to feel sympathy for the former-politician:
I'm sure I'm not the only inner-city leftie feminist hoping he gets some help. #MWF15

— Jessica Rudd (@Jess_Rudd) August 22, 2015
Some were less sympathetic:
I don't know if you can give Mark Latham a platform to speak freely in public and then be surprised when he is just a giant dick #MWF15

— Hayley Ashman (@bythetorchlight) August 22, 2015
Latham sat at a booth to sign books after the event, but his signing was not as popular as some other festival drawcards:
Think this is the only book Latham was asked to sign after his #mwf15 session today pic.twitter.com/8xlloaG3lM

— Dan Harrison (@DHarrisonAgeSMH) August 22, 2015
  Ultimately, the Melbourne Writers Festival apologised for the event:
We're disappointed in Mark Latham's #MWF15 appearance today. Not the respectful conversation we value. — MWF (@MelbWritersFest) August 22, 2015
If you want to watch parts of Latham's address today, Josh Taylor recorded some of it on his phone. You can find his recording here.
Did you attend today's event? What do you think?
For more on Mark Latham, try these…
Mark Latham no longer writing for the Financial Review after tweeting controversy.

Jessica Rudd has some very choice words for Mark Latham. And we applaud her.

Attacking Rosie Batty? Mark Latham, you've sunk lower than anyone thought possible.