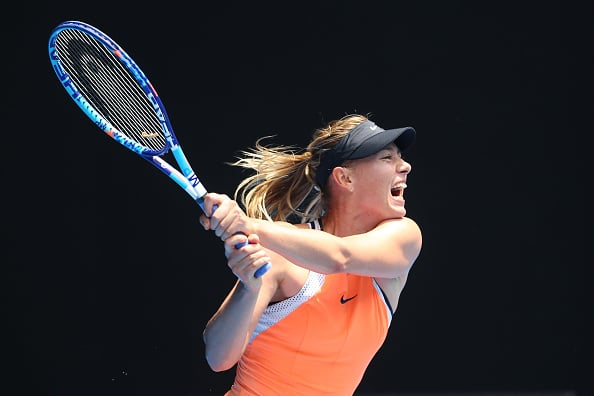 We've rounded up all the latest stories from Australia and around the world – so you don't have to go searching.
1. Maria Sharapova given two-year ban for failed drugs test.
Maria Sharapova has received a two-year ban from tennis after testing positive for a banned substance.
The International Tennis Federation (ITF) have backdated the punishment, meaning the ban will end on January 25 2018.
A test taken from the Russian tennis superstar at the Australian Open in January was found to contain meldonium.
The maximum punishment for her violation would have been a four-year suspension.
The ITF found "no diagnosis or therapeutic advice" for Sharapova to be taking meldonium.
The 33-page report of tribunal's findings said "the ITF accepts that the player did not engage in conduct that she knew constituted an anti-doping rule violation", but it rejected her assertion that there was no "significant" fault on her part.
"She was the sole author of her own misfortune," it said.
In a statement from Sharapova on Facebook she says what she did "was not intentional."
"While the tribunal concluded correctly that I did not intentionally violate the anti-doping rules, I cannot accept an unfairly harsh two-year suspension. The tribunal, whose members were selected by the ITF, agreed that I did not do anything intentionally wrong, yet they seek to keep me from playing tennis for two years. I will immediately appeal the suspension portion of this ruling to CAS, the Court of Arbitration for Sport."
Meldonium was added to the World Anti-Doping Agency's (WADA) list of banned substances at the start of the year after evidence that it boosted blood flow and enhanced athletic performance.
The ban means she will miss this year's Wimbledon championships and the Rio Olympics.
Sharapova's career earnings amount to $US36 million ($48 million) while her off-court earnings, according to Forbes, are around $US200 million ($268 million) reports the ABC.
2. 16-year-old stabbed to death in NSW town of Wagga.
A man has been charged over the violent stabbing death of a 16-year-old boy in the NSW town of Wagga.
Bryce Cliff, 29, appeared by video-link in Wagga Wagga Local Court on Wednesday charged over the death of the Year 11 student whose body was found in a home in the suburb of Kooringal about 8pm on Tuesday.
Police say the 16-year-old had suffered multiple stab wounds.
Acting Superintendent Andrew Spliet told reporters it was not  "a random incident."
Cliff was also charged with aggravated break-and-enter and taking and driving a conveyance without consent and did not apply for bail.
He was arrested about 20km away from the crime scene, after allegedly fleeing the scene in a stolen car.
3. Coalition accuses Labor of exaggerating benefits of childcare package.
Education Minister Simon Birmingham has accused Labor of getting the numbers wrong in its childcare package.
On Sunday, Labor announced it would increase the cap on the childcare rebate from $7,500 to $10,000 if elected, and boost the means-tested childcare benefit by 15 per cent, which it said would leave some families better off by up to $31 a week.
But the government has analyzed five case studies used by the Opposition and claims Labor has come to over-estimate the figures in three of the five scenarios.
The government also claims all five families would actually be between $1000 and $3000 better off under the Coalition's childcare plan reports News Limited.
In one case study that Labor put forward  "Sarah" and "Jasvinder" who have a combined annual income of $100,000, two children in child care for five days a week and pay daily fees of $95 per child.
Labor says the couple would be $3,658 better off a year under its plan, but the Coalition's analysis showed they would gain $6,846 under its policy.
Education Minister Simon Birmingham said it was a "giant con"
"Mr Shorten is either deliberately misleading Australian families or doesn't understand how the childcare system works," Senator Birmingham said.
"Even the families Labor has highlighted in their own policy document would be around $2000 a year better off under the Turnbull ­Government's comprehensive reforms.''
4. 80 women have come forward alleging prominent doctor sexually assaulted women.
More than 80 women have come forward with complaints about a Newcastle doctor accused of sexually assaulting with female patients at his clinic.
Immunologist and GP Dr Jeremy Coleman has a voluntary ban on practising after allegedly sexually assaulting female patients between 2003-2012. One victim was aged just 11.
Newcastle Local Court heard yesterday he was facing 12 charges involving nine alleged victims and detectives are now talking to at least 80 complainants reports The Daily Telegraph.
A Medical Council of NSW spokesman told the report that Dr Coleman agreed to a ban on practicing medicine until his charges have been heard.
"During the earlier period of investigation by the police, Dr Coleman had been permitted to practise, with the safeguard imposed on his registration by the Medical Council in 2014 that necessitated the presence of a chaperone when seeing ­female patients," he said.
5. Aldi chaos over flat screen TVs.
Shoppers have descended upon supermarket chain Aldi in drives this time over flat screen TVs.
The scenes were similar to when Aldi launched its girls' Collette Dinnigan clothes range and when it has its ski sale.
The chaos took place in the new Aldi store in Kwinana in WA where bargain hunters were snapping up 48-inch, Ultra HD 4K Smart TV's – for $549.
WA Today reports that TV's were flying off the store floor quicker than staff could replace them.
It is the first Aldi store for WA with 20 more to come.
6. Baby born to brain-dead mother after almost 4 months.
Doctors at a Lisbon hospital have delivered a baby almost four months after its mother was declared brain dead.
Lisbon's Sao Jose Hospital said in a statement the healthy baby boy weighing 2.35 kilos was delivered Tuesday by c- section after 32 weeks.
The 37-year-old mother was declared brain dead in February, but doctors found her unborn baby was healthy. The statement said the hospital's ethics committee, the baby's father and mother's family all agreed with the procedure.
Luis Graca, the head of the Portuguese Society of Obstetricians, said Wednesday the birth was "an extraordinary feat."
In a similar case last year, a healthy baby was born to a woman in Omaha who'd been kept alive for nearly two months after being declared brain dead.
7. Pakistani woman burns daughter alive.
Pakistani mother has been arrested after dousing her 18-year-old daughter with kerosene and burning her alive, allegedly because the girl had defied her family to marry a man she was in love with.
Police official Sheikh Hammad says the killing took place on Wednesday in the eastern city of Lahore.
Parveen Rafiq confessed to tying up her 18-year-old daughter Zeenat Rafiq to a cot and with the help of her son, Ahmar Rafi, poured the oil on the girl and set her ablaze.
Nearly 1000 women are killed each year in so-called 'honour killings.'
8. Parents let daughters stay up late to watch Hillary Clinton become first female US Presidential nominee.
Twitter has erupted with scores of parents posting about how they moved bedtime so their daughters could witness history.
In her speech declaring victory as the first female major-party nominee Clinton drew the moment together to generations of women in the United States and in her own family.
On Twitter Clinton said:
Later parents across the US began to tweet about the historic moment.
Do you have a story to share with Mamamia? Email us [email protected]