It doesn't matter if you're an Oscar-nominated actress, little brothers will always be a pain in the butt.
Just as Margot Robbie lost the Oscar for Actress in a Leading Role at this year's ceremony, her younger brother Cameron Robbie was getting sassy on Instagram halfway across the world in Melbourne.
While internationally he might be the lesser-known Robbie, his three-part Instagram burn began with a shot of him holding a glass of wine with the caption, "And a message for Margot," before pouring all the salt into a relatively fresh wound.
"Not good enough are ya. I'm still mum's favourite I guess," it read – which in all fairness was a tough call being the child that didn't take mum as their plus one to the Oscars.
It's a younger sibling thing isn't it?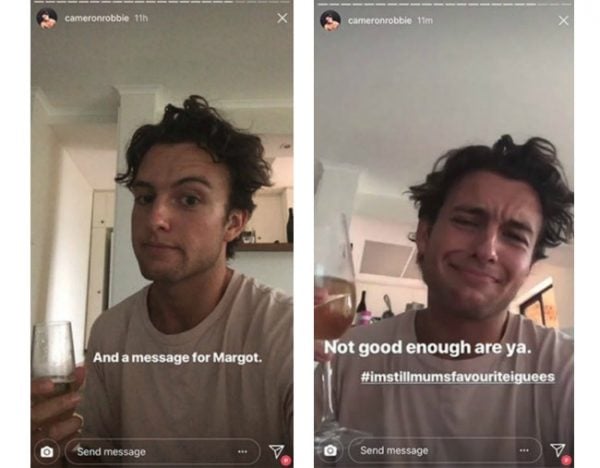 Of course all this was done in good humour, and he very quickly corrected himself.
"Not a dry eye in the house," he shared with his 49.6 thousand followers.
In reality, Cameron and Margot are actually very close and when Margot was nominated for the Oscar she posted this photo of the two hugging.
The pair were also backpacking across Europe together when Margot got a sudden email asking her to audition for Focus alongside Will Smith, which meant she had to leave him in Croatia and fly to New York. But sometimes sacrifices have to be made.
Cam and Marg are also share another brother and sister, so in reality this is probably commonplace in the Robbie household.
Anybody with a sibling can relate.
Shout out to all Dads.
Here at Mamamia we are always looking for ways to make Mamamia even better. Dads, we need you to help us do that by filling out this quick 15 min survey for us. Click the button below for your say.