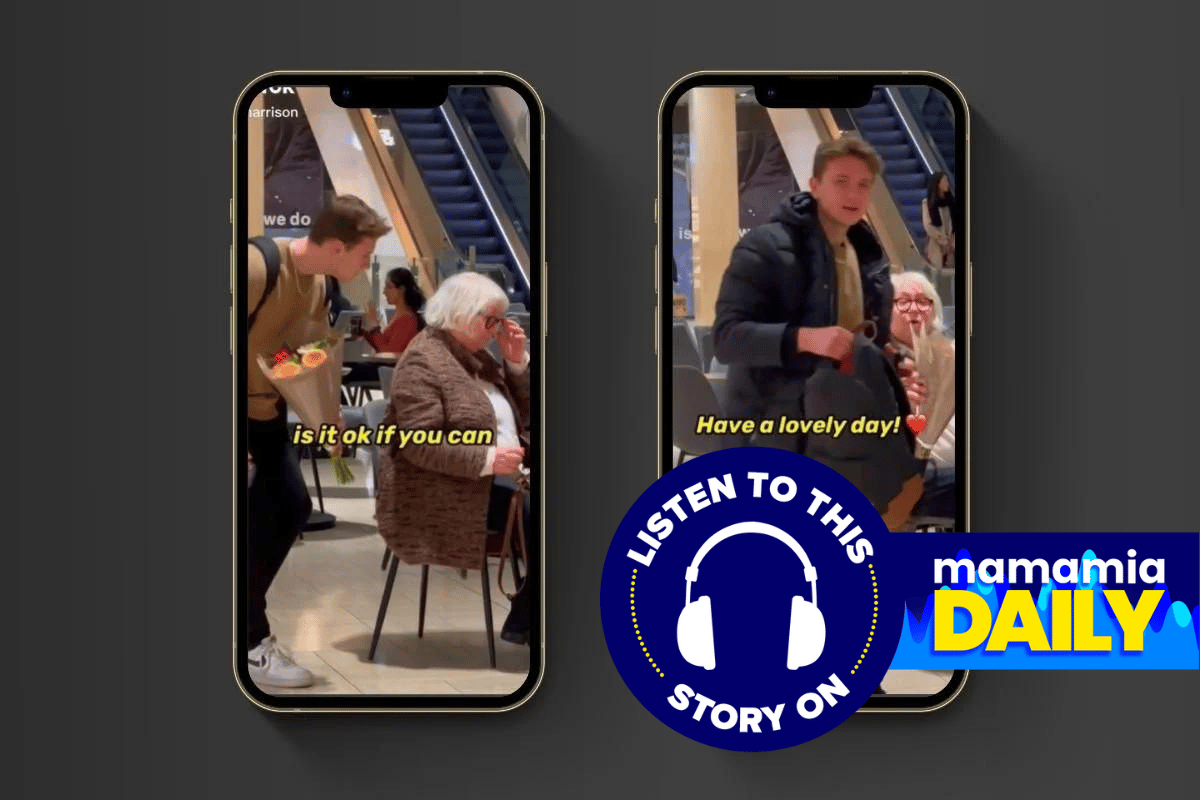 Listen to this story being read by Gemma Bath here. 
Last month, a video filmed in a Melbourne shopping centre food court was uploaded to TikTok. 
A young man walks up to an older woman minding her own business over a cup of coffee, and asks her to hold a bunch of flowers for him while he rummages around in his backpack. 
He pulls out his jacket, zips up his bag and then tells her "have a lovely day," before walking away. 
The camera zooms in, and the emotional Sam Smith song playing over the top hits a crescendo as the woman realises they were meant for her. 
At the time of writing, the 19 second video has 59.6 million views and more than 33,000 comments. 
"Me crying with her," one reads.
"She needed those flowers," says another. 
Watch: the video. (Note Mamamia has decided to include the video for context.)
The video is just one example of a growing genre of 'kindness porn' going viral on the social media platform. Another popular trope is paying for people's groceries when they're not looking. 
These videos usually feature younger creators (in this instance, 22-year-old Harrison) trying to cheer up or surprise older people. People who they deem - just by looking at them - might need some brightness in their day. 
But as Maree pointed out in an interview with ABC Radio, she didn't want any of this; the flowers, the random act of kindness, or her face going viral on a social media platform she's not even a part of. 
"He interrupted my quiet time, filmed and uploaded a video without my consent, turning it into something it wasn't, and I feel like he is making quite a lot of money through it.
"It's the patronising assumption that women, especially older women, will be thrilled by some random stranger giving them flowers," she said. 
What that video fails to show is that Maree realised after he walked away that she was being filmed by a group of people a few feet away. But when she asked them if they were filming, they told her 'no'. So she asked them if they wanted the flowers.