Welcome to the latest edition of awkward TV interviews involving feuds we don't really understand.
Tonight celebrity chef, Marco Pierre White, will appear on Channel Seven's Sunday Night program.
He will be interviewed by Melissa Doyle and things won't go exactly to plan.
In fact, things will get super awkward when Doyle brings up White's infamous feud with Matt Preston during a clip that will be aired on tonight's episode.
In case you missed it, White and Preston have been a-feudin' since last year when Preston made some comments about White's son on the radio.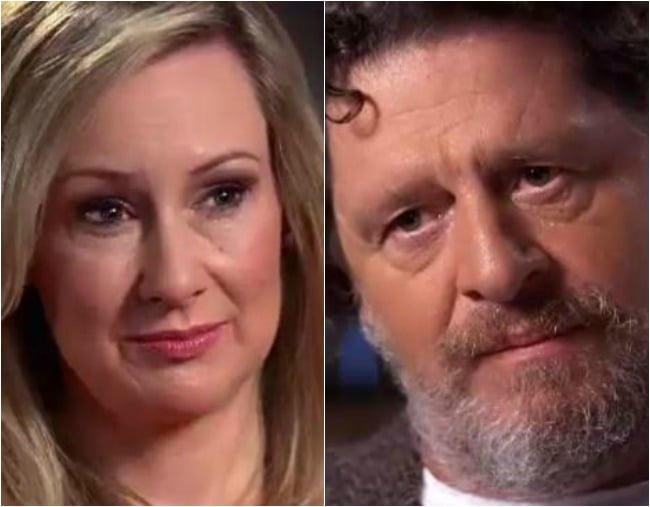 Preston was appearing on KIIS FM's Kylie and Jackie O show when the conversation turned to Marco Pierre White Junior, who had just appeared on UK Celebrity Big Brother.
During his time in the Big Brother house, White Junior was filmed having sex on camera with a fellow housemate.
"I think it is that terrible thing when you have kids that go off the rails, how do you deal with it?" Preston told the radio hosts.
"I mean any dad would feel that whenever your kid goes off the rails the first thing is: 'What could I have done better?' I think Marco is no different."
Preston then suggest that White Junior had a drug problem.
"I think there is absolutely nothing wrong with your children having a highly evolved social life but I think the drugs might be a little bit of a worry!"
Obviously, White Senior was not impressed with Preston's comments.
He would later tell a newsreader the comments were the reason he decided against appearing on Masterchef and instead went on to star in Channel Seven's Hell's Kitchen.
"The things he said about my son ... were disgraceful," White told the newsreader.
"No one should ever say that about someone else's children. I will never forgive that man."
This week on @sundaynighton7, @melissadoyle discovers that Marco Pierre White - the fearsome TV chef and fiery King of the British culinary scene, is a very different person away from the cameras. Tune in this #Sunday at 7:00pm on @channel7. #SN7 pic.twitter.com/TIpLcaoiv9

— sunday night (@sundaynighton7) January 4, 2018
According to News Corp, during her interview with the chef Melissa Doyle brought up the feud and it didn't go down well.
When Doyle asked whether Preston had crossed the line, White simply replied: "You know the answer to that".
"I don't have to get involved. Don't ask me a question I'm not going to answer and don't try and draw me into something I won't be drawn into," he continued.
He was, however, prepared to be drawn into a conversation about Gordon Ramsey, another celebrity chef he likes to feud with.
The pair now have a fractured relationship but Ramsey once trained in White's kitchen.
"We never fell out, really," White tells Doyle.
"He just happened to turn up to my wedding with a film crew that were hidden in the bushes, filming my children and my friends and my family. And then that appeared in his next food show.
"Would I ever turn up to somebody's wedding with a camera crew hidden in the bushes? Would you? Because I'm very simple. If I can't enrich you're life and you can't enrich my life, why should we know each other?"
Well, we can't bloody wait for the next exciting episode of celebrity chef feuds.