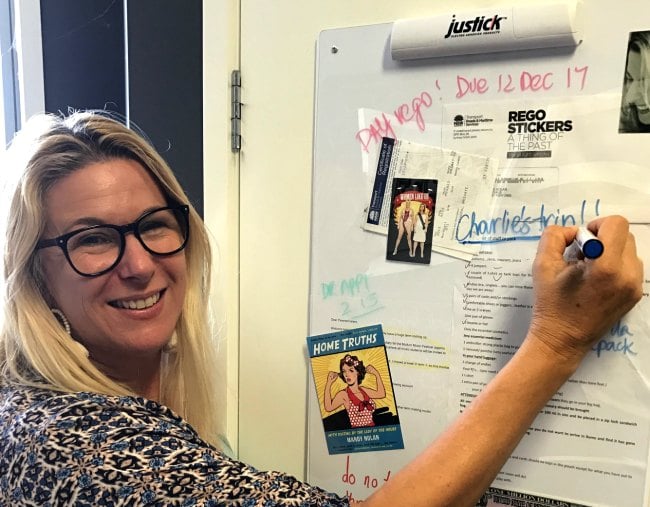 I have school notes on the fridge. Piles of mail on the kitchen bench. There's reminders to pay bills on my office desk.
I've got canteen lists from two different schools blu-tacked to the pantry wall. Recipes torn from magazines are randomly strewn on my kitchen counter. Some lurk as crinkled surprises in my handbag. I have pathology requests, radiology referrals. Lists of items to pack for my son's school trip. Birthday invitations I haven't RSVPed to yet that catch the wind and drift like giant confetti onto the tiles. Another party my kids will miss out on (oops).
I have stuff everywhere, but one item stopped me from being on Hoarders. The Justick Mini.
Politely positioned in my kitchen, this is not just any ordinary noticeboard. This is the future of noticeboards. No need for glue, or tape, or magnets or thumbtacks. No more evil encounters with stray thumbtacks laying in wait for fleshy feet to pierce and torment. Unlike most people in my life, Justick doesn't disappoint. Justick does what is says it does. It just sticks.
For someone like me who hates the visual disorder of random bits of paper sent from the universe to command me to action, Justick is a very modern solution. I can keep my notes and keep my surfaces paper free at the same time! How? Well let me explain.
Discreetly designed to hang on your wall, the Justick Mini magically holds your notes neatly behind a plastic overlay. The board kind of suctions them on. You just lift the plastic cover and pop your notes in. Nothing falls out. Nothing is lost. And best of all, no more dust collecting canteen notes curling in the sun.
Usually I am the woman who loses notes. Sometimes by accident. Sometimes on purpose. I have these crazy throw-everything-out days – and that includes school notes because they're ugly and hard to tidy – so my kids are the ones who turn up on swimming days without their costumes. They get awards at assemblies that I've missed out on attending. Last week my phone got cut off. Not because I couldn't pay. Because I threw out the bill.
My eight year old is so used to me ditching notes she recently added a warning in to the bottom of a note she had detailing time and dates and outfits required for a school concert she is supposed to perform in. 'Do Not Throw Out' it reads.
No Mummy won't throw that one out darling, misspelled threats in red pen make notes like that keepers! Forever! Thanks to the Justick it's still in pristine condition. And when it's finished it will be going straight in her memory chest.
My Justick Mini has the most important job in the household. It keeps this mother of five and stand-up comedian organised. It's my little PA.
Justick, or Juzzie as I like to call her (yes she's a girl), is currently charged with the responsibility of holding a list of what my son needs packed for his upcoming trip.