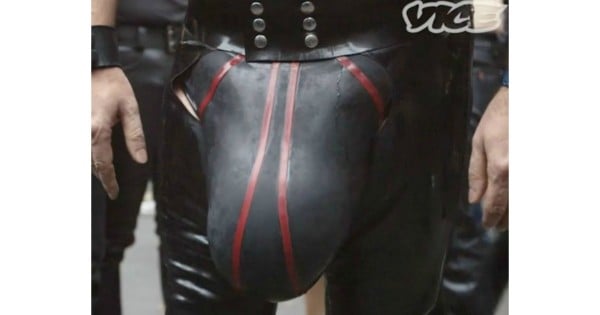 This story is huge.
Meet Micha (or should I say meat?). He is 45 years old, lives in Berlin and is extremely well hung.
But he wasn't always enormously endowed, a few years ago Micha underwent an irreversible penis enlargement.
His penis now measures a whopping 9 inches in length and 3.5 inches across, which for us sods still using the metric system is nearly 23cm long and 9cm wide. Aka: fucking enormous.
"Whether it weighs 7.5 pounds of 9.5 pounds, I can't say right now," he says.
"I just know that my kitchen scale, which shows up to 6.6 pounds, hasn't been enough for a while."
Remind me never to borrow your scales for baking, Micha.
Concerns about standards of food preparation aside, Micha is now the the subject of a new documentary from Vice called, wait for it, Monster Meat. Because his giant appendage really does just need to be seen to be believed.
Did you catch it?
The documentary is both fascinating and actually quite moving. Because behind his giant bulge, Micha is just a shy guy looking for love and self-acceptance.
"I didn't have my penis enlarged because it makes me feel more beautiful," he tells the camera, "but rather because it makes me feel better."
The film explores the underground world of penis enlargement, dangerous procedures, extreme implants and the biggest question of all… Does size really matter?