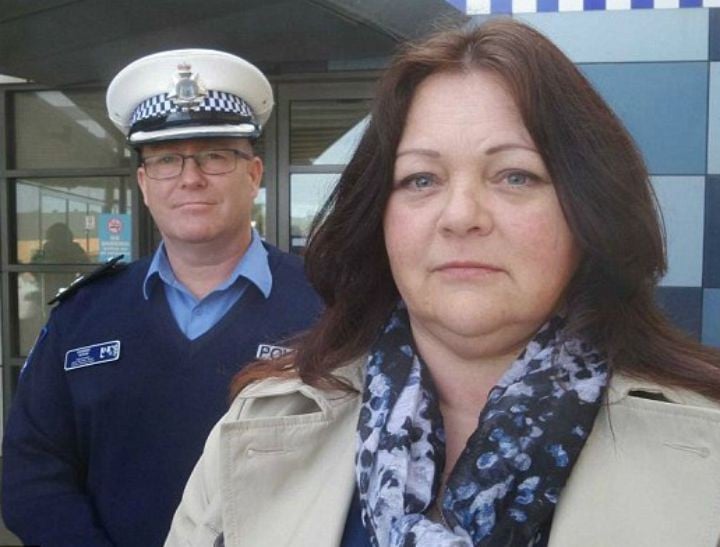 Trigger warning: This post deals with domestic violence, including footage of one distressing incident.
The footage begins with an unremarkable image of a blue minivan driving along a quiet road.
But before long, the video takes a chilling turn.
Seemingly from no where, another car aggressively zooms towards the blue vehicle from behind, billowing smoke.
After several seconds of tailgating, the car violently rams the minivan off the road, causing it to flip twice before coming to rest on its roof.
The women in the flipped blue car was Sandra Wolfe. The man driving the car that hit her was her husband.
It sounds like a scene from a horror film. But the real-life incident occurred in Albany, Western Australia in June last year – and happened to be captured by a dashboard camera.
Luckily the victim, Sandra Wolfe, escaped with only minor injuries.
But she was left "gob-smacked" when the perpetrator, her abusive husband Mark Burt, was sentenced to only five years for his crimes.
ABC News is reporting that 48-year-old Burt pleaded guilty to more than 20 charges in Albany District Court. The charges included a staggering 17 breaches of a domestic violence restraining order.
But he will be eligible for parole after three years – and will have to serve three before he is eligible for parole, according to ABC News.
The Daily Mail reports Burt had allegedly tried to influence witnesses by calling his sons from jail, asking them to convince their mother to drop his charges.
Related: How to get a violence intervention order.
Burt had been tormenting Ms Wolfe for more than 20 years at their Mount Barker home, but the car-ramming incident was the final straw that caused the terrified woman to seek legal action.
Unfortunately, Ms Wolfe's experience with the courts has left her feeling "let down".
"The courts let us down badly. That's so wrong on so many levels, I can't even find the words to express it," she told ABC News.
"This is probably the reason why women don't actually come forward at all, because you do and then it feels like nothing is achieved by it… The main thing they kept saying was there was no other evidence of violence between Mark and I because I'd never approached the police before."