To celebrate Sydney's Gay and Lesbian Mardi Gras, Mamamia is proud to launch our complete 50 most kick-arse LGBTQI women list.
We're here to celebrate the women who inspire us. The women we admire and want to be friends with. The women we want to date. The women who are changing the game.
If you missed the first groups of women, click here, here and here. You can read all about the last of these amazing women below:
Lauren Foy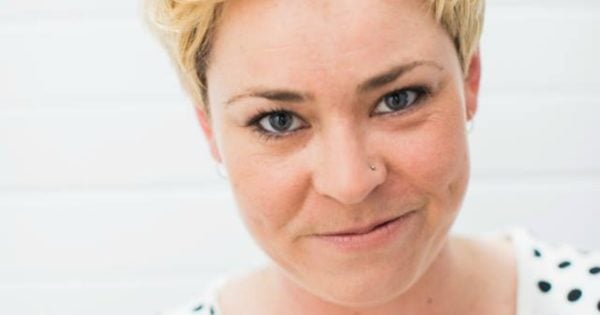 Lauren is an LGBTI rights lobbyist, social worker and policy change maker. Lauren works for the Bobby Goldsmith Foundation with people living with HIV, and is Co-convenor of the NSW Gay and Lesbian Rights Lobby. Lauren found herself in LGBTQI advocacy after realising she could no longer sit back and continue to allow herself or others to be treated as second class citizens. Foy is passionate about making sure the terms 'gay' and 'lesbian' no longer spark controversy; she's also a football player for the Newtown Breakaways Women's AFL team.  
Margot Fink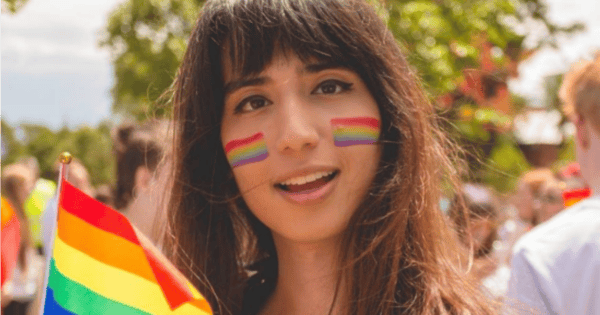 An Australian of the Year nominee in 2016, Margot Fink is doing amazing work ensuring transgender and queer kids don't have to experience the same sense of isolation and loneliness she felt in her youth. In her role as communications manager with national LGBTQI youth organisation Minus18, Fink has driven life saving campaigns such as Gender Is Not Uniform, which educates young people about gender diversity in schools, and All Of Us, the country's first nationally approved LGBTQI teaching resource.
Gemma Cowling
Adelaide teenager Gemma Cowling became the first Australian-born transgender model to become signed to an agency when she partnered with AZALEA models in 2016. Taking inspiration from other successful models like Gemma Ward and Andreja Pedric, Cowling isn't interested in being the 'token trans model', instead proving transgender people can live their lives just like everybody else.
Listen: Country music star Beccy Cole on finding love. Post continues...

Jordan Raskopoulos
Jordan Raskopoulas publicly came out as a transgender woman in early 2016, and has been using her platform as a comedy genius to spread the word about what it's like to go through the gender reassignment process ever since. Raskopoulas' announcement, which was made via a Facebook Live video, 'What Happened to Jordan's Beard?' is a perfect example of how using wit and humour to tackle social issues can promote awareness and understanding, making these discussions more accessible to a broader audience.
Ollie Henderson
A model and activist, Ollie Henderson is changing the attitudes of youths one T-shirt at a time through her advocacy fashion and events social enterprise, House of Riot. Taking the message to young people in a way that speaks to them, Henderson's not-for-profit fashion label is focused on engaging teens in social issues through fashion with her slogan T-shirts, all of which campaign against LGBTQI prejudice.
Kylie Kwong
Born into a fourth-generation Australian-Chinese family, Kylie Kwong learnt to cook at her mother's side before honing her skills in some of Australia's most renown restaurants. With her own restaurant in Surry Hills, Billy Kwong, along with a string of successful cookbooks and television series, Kwong is focused on enhancing the understanding and appreciation of Chinese culture within Australia through her food.
Fran Kelly
One of Australia's most experienced current affairs journalists and political correspondents, Fran Kelly is currently the host and radio presenter of the ABCs agenda-setting Breakfast, a position she has held since 2005. Identifying herself as a proud feminist, Kelly's advocacy spans issues including marriage equality, women's rights and standing up against poverty.
Magda Szubanski
Coming out publicly during an appearance on the Project in 2012, Magda Szubanski continues to delight audiences as one of Australia's most loved actresses, comedians and authors. Szubanski has voiced her opinion on the same-sex marriage plebiscite, and thrown her support behind LGBTQI initiatives like the Safe Schools project, stating our politicians need to start reflecting the values of the Australian people.
Vicki Harding
As the Director for the Inner City Legal Clinic, Vicki Harding is leading the way in ensuring LGBTQI legal rights are represented. The ICLC are working with parents of transgender children with applications for medical procedures, and helping LGBTQI individuals expunge historical criminal offenses for a number of now decriminalised offenses.
Caitin Stasey
Caitlin Stasey is a passionate feminist dedicated to making the world a better place. She launched website Herself.com, a place featuring interviews with "ordinary" women about topics like masturbation, pornography, reproductive rights, sexual identity and the female body. The Please Like Me actress is also a champion of getting more LGBTQI characters on TV and the #FreeTheNipple campaign against social media's sexist guidelines.
Ali Hogg
Convenor of marriage equality group, Equal Love, Ali Hogg is at the forefront of LGBTQI social change. Hogg is a longstanding activist who believes in taking her activism beyond the barriers of metropolitan cities and into more rural communities. Hogg is also an accomplished photographer whose work captures the intensity, passion and power of social justice demonstrations (and a few parties, for good measure).
Kim Leutwyler
US-born but Sydney-based since 2012, artist Kim Leutwyler's current painting work deals with images of beauty, gender and queer identity. Her artwork has been exhibited in multiple galleries internationally and locally and she was selected as a finalist in the 2015 Archibald Prize. Leutwyler's painting was also the hero image for the LGBTQ Festival in Melbourne last year.
Jax Jacki Brown
Jax Jacki Brown is a writer, spoken word performer, sexuality educator and disability and queer rights activist. Brown works within and outside the community to raise awareness and smash presumptions about the LGBTI experience. Her work has been published in a variety of media outlets such as, Junkee, Daily Life, The Feminist Observer, Writers Victoria and ABC's Ramp Up. Brown has also guest lectured at universities across Australia in order to teach others about disability.
To see Mamamia's complete list, scroll through the gallery below.