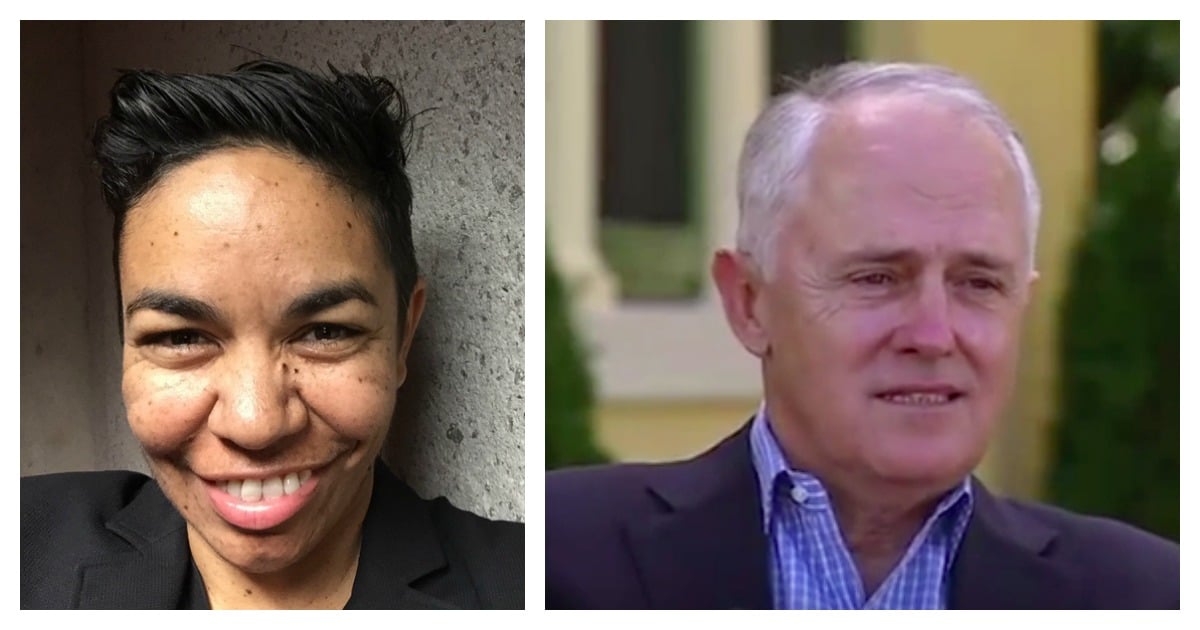 Earlier this week, Prime Minister Malcolm Turnbull was been moved to tears while telling journalist Stan Grant the story of an elderly Indigenous woman who recalled her mother singing to her in the dying Ngunnawal language as a child. He heard the story while preparing for his speech to Parliament at the start of February when he spoke the language of the traditional owners of the land around Parliament House. It was the first time an Indigenous language had been spoken in the Federal Parliament.
Cara Kirkwood writes for Mamamia about what the PM's tears mean for the future…
"The thing that's so sad is to imagine that mother singing that story to her [child] at a time when you're losing culture," said Malcolm Turnbull. "The last thing that baby was, was safe. That's why it made me sad."
The words above are the last of a snippet from an interview with our Prime Minister, Malcolm Turnbull and Stan Grant, possibly our soon to be announced Indigenous candidate (but for now our NITV Interviewer and Indigenous Affairs Editor of The Guardian),
Watch part of Turnbull's interview here. Post continues below. 

"..and the last thing that baby was, was safe."
Let's imagine the baby to be policy relating to Indigenous peoples in our shared nation. And for Aboriginal & Torres Strait Islander people, who have been ruled by paternalism since invasion (and Federation subsequent to that), this is no stretch of the imagination. Failed policy, after failed policy has been encountered and goal posts have been continually shifted. Disturbingly, short term solutions have been deceptively celebrated, or so it feels. The Rudd apology of 2008 felt like bursting midday sunflowers… for the first year.
In a reconciliationist moment of whimsy, I feel I ought to interject here and in my best Downton Abbey accent pronounce: "We shant be defeatist dears, for it is very middle class!" (I apologise for any confusing cross-cultural references but being a direct descendant of assimilation policies, things can be both "gammon" and "terribly beastly")
There has never been a better time for Indigenous discourse, with players like Nyurpaya Kaika-Burton, Rachel Perkins, Nova Peris, Brenda L Croft, Gary Foley, Trisha Morton-Thomas, Sam Watson, Larrissa Behrendt, Adam Goodes, Ken Wyatt and Nici Cumpston. Add to this list Chris Sarra, Noel Pearson, Yami Lester, Hector Burton, Rosalie Kunoth-Monks, Jonathan Jones, Adam Briggs, the Dodson brothers (they could start a band!), Stephen Gilchrist, Stan Grant and Black Comedy with its verbal contortions of the great mainstream narrative. This list is but a few of the exceptional voices describing the landscape within their own cultural context and there are countless others who stand beside them.