Malcolm Turnbull was last night forced to defend controversial changes to Australian citizenship laws on ABC's 7.30 program.
The Prime Minister was grilled by host Leigh Sales about what prompted the sudden overhaul, announced on Thursday by the Federal Government.
Under the changes, successful applicants will need to have been a permanent Australian resident for four years, demonstrate greater English language proficiency, prove their commitment to the nation and honour "Australian values", though it remains unclear how the latter will be assessed.
Opening the interview on Thursday evening, Sales posed a simple, pointed question to the Prime Minister: "What is the actual problem you are trying to fix here?"
"What we're doing is reinforcing the citizenship which is at the foundation of our nation, ours the most successful multicultural society in the world…" Mr Turnbull replied.
"If it's so successful, what's the problem?" said Sales.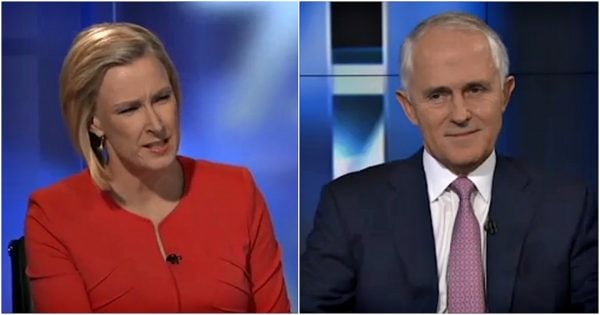 Pressing the Prime Minister on the motivation for the changes, Sales raised a speech he gave on multiculturalism in February, in which he reportedly made no reference to issues around English language proficiency or "Australian values" among new citizens.
"What's changed in the 10 weeks since then, other than your growing need to shore up your political stocks?" she said.
Prime Minister Turbull dismissed the question as "cynical".
"I'm disappointed that you're so cynical but I'm used to it," he said, going on to argue that "the vast majority of Australians" support the need for action on those issues.
"It's been very carefully considered, I can assure you," he added.
The new measures, which according to Turnbull have been developed by cabinet over "months", will require applicants to demonstrate that they have integrated into Australian society, for example by joining clubs or by providing evidence that their children are enrolled in school.