Sunrise host Samantha Armytage could be forgiven for thinking the Prime Minister is screening her calls — and she's not the only one.
For weeks her people have been calling his people to no avail, with Malcolm Turnbull continually refusing her offer for an early morning chat on breakfast TV.
"We should point out we have asked Prime Minister Turnbull to appear on this show throughout the later stages of this election campaign," she said, voicing her frustration on air today.
"His office always says no. We ask every day, they decline every day."
And it's not just the folks at Channel 7 who can't seem to track down the PM, The Project team at Channel 10 haven't heard a peep form him and neither have we here at Mamamia.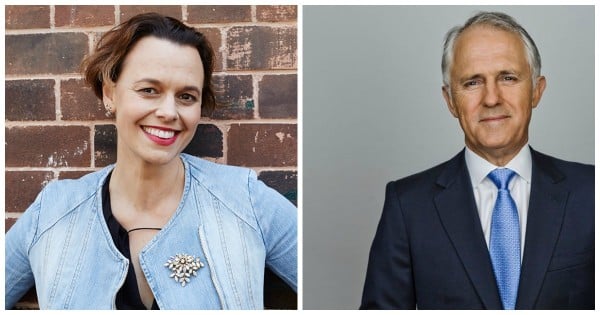 Our Publisher Mia Freedman and Prime Minister Malcolm Turnbull. Source: Facebook
"The day Malcolm became Prime Minister, we put an interview request in with his office," said Mamamia Women's Network's Mia Freedman. "They jokingly said they'd be back to us sooner than three years — that's the amount of time we spent asking for an interview with the Minister for Women, Tony Abbott when he was PM. At least I thought it was a joke. Maybe the joke is on Australian women and it's the whole Liberal party who don't want to talk with us."

"For the past six months we have put in more than a dozen requests via phone calls and emails, offering a wide variety of different ways Mr Turnbull could talk to our audience, via one of our podcasts, a written interview, him writing something for us to publish (as many other Prime Ministers have), a Facebook Live chat, lots of options."
But the answer was always no. Or there was no answer at all. Just like Sunrise and The Project.
In fact, our podcast team were so desperate for a chat with Mal, they were forced to cobble together a final election pitch on his behalf (and we thought we'd hit rock bottom when we wrote Tony Abbott a haiku):
Mia Freedman: "We obviously ramped this up when the election was called including as recently as yesterday. But nothing. No interview and often not even a response from his office. This is a huge contrast to Bill Shorten who has always made himself available."