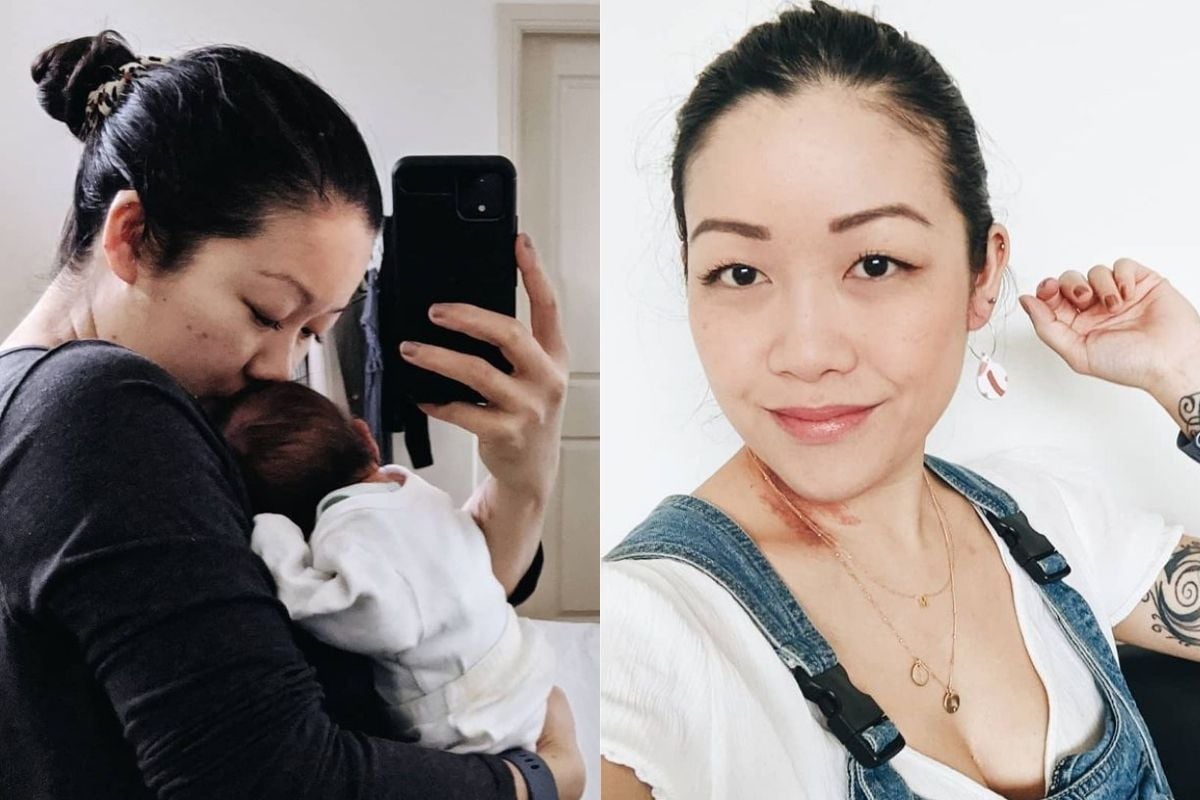 I'm 30 years old and I'm only just learning to do things for me. To embrace my true and raw self. To have confidence in my bare, makeup-free face. But it's been a journey - and one that hasn't come without its challenges.
To give you a bit of a background, I'll start at the very beginning with 15-year-old me, excitedly going with my mum to the Napoleon Perdis makeup counter at David Jones.
Foundation, mascara, eyeliner - I ended up walking away with the whole kit and kaboodle. It was here that the catchy tagline "not to prime is a crime" was drilled into me.
Although makeup wasn't allowed at school, it didn't stop me from wearing a smidge of foundation and a lick of mascara. It was the norm, and we all know how brutal school can be when there is a "norm". 
Watch: Are celebrities that go makeup-free "brave?" Post continues below.
Makeup quickly became a crutch that was directly linked to my confidence; a way to hide the adolescent breakouts and to be "one of them" - one of the cool girls who broke the rules and wore makeup to school.
The mentality that I had to wear makeup every day so I could feel confident to face the world was something that stuck with me right up until my mid-20s, until I became a mum to a baby girl. 
It was then I realised that I didn't want my daughter growing up with the same toxic thoughts I had about myself and knew I had to change. 
It wasn't easy, considering I had body issues growing up, combined with the unfamiliarity of my body post-baby - but I forged through. 
Slowly, I began to feel comfortable in my own skin and felt confident enough to embrace my bare face.
But as this transformation and shift in my mind began happening, I was battling with a new demon. I was being told by my partner - someone who should've supported me - that I had to wear makeup for activities as simple as a walk around the block or the grocery run. 
I was told that I had to dress up for even the most insignificant things because it reflected on him. I was told my bare face wasn't good enough. That I wasn't good enough. At that moment I could feel myself losing the incredible mental battle I had been fighting for years. 
All the work I had done to get to that point was slowly evaporating. My body, once again, felt foreign to me. Once again, I felt I needed makeup in order to be seen. In order to be accepted.
The seed that was planted saw me pack my makeup kit (I'm talking the full kit, not just BB cream) into my hospital bag when I was expecting my second baby. A part of me didn't want to take it with me, but I took it "just in case".