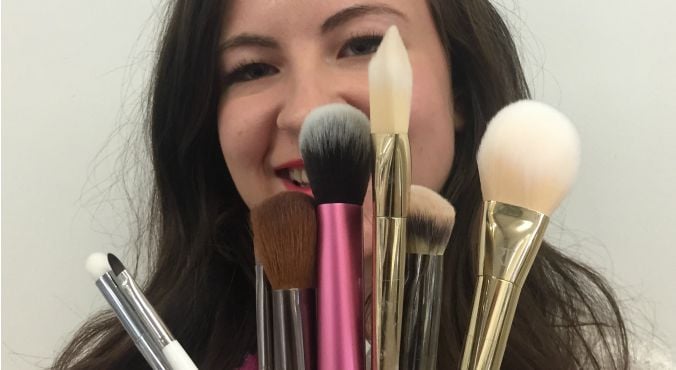 Image: supplied.
Yes, your fingers are capable of applying your makeup, but good brushes are also essential if you want to get the most out of your products. Nude by Nature makeup expert Clint Dowdell believes an artist is only as good as the tools they use.
RELATED: What's the "beauty blender" everyone's using and is it really worth all the hype?
"People often ask me why they'd use a brush when they have perfectly good fingers. My response is if you were going to paint a wall, would you use your fingers or a brush? Same applies to foundation," he says.
For most of us, the biggest problem is knowing where to start. What are the essentials and how do you build on them? Whether you're looking for one or a few, here are the basic and buildable brushes you'll definitely use.
1. A fluffy brush
If you're looking to invest in just one brush, Dowdell recommends going for a wider fluffy brush.
"These kind of brushes are perfect for loose powder application as well as buffing in liquid formulas. A little squeeze on the brush head makes it perfect for contouring as well," he says.
Try: Nude by Nature Mineral Brush, $14.95, available here (Dowdell swears by this one – and I love it too).
RELATED: A foolproof guide to applying perfect foundation (yes, every time)
2. Blush Brush
A blush brush is another handy and versatile option. A little looser, it's great to apply blush, bronzer and finishing powders.
Try: Real Techniques Your Finish Perfected Blush Brush, $24.99, available here. (Post continues after gallery.)
The Glow's favourite brush brands
3. Large Eyeshadow Brush
If you want just one eye brush, look for a larger bristled one, which you can use for simple eye looks and blending the edges of eyeshadows. It can also double as a concealer brush.
Try: Napoleon Perdis g12 Full Coverage Brush Eyes, $28, available here.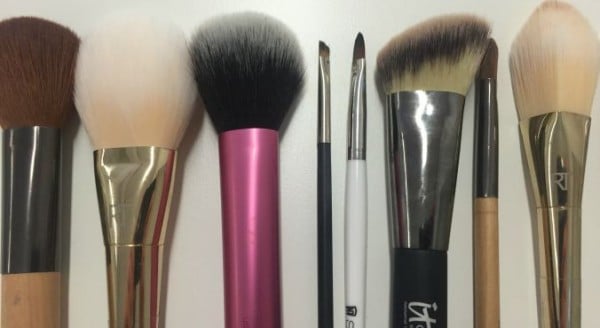 4. Liquid Foundation Brush
You'll be amazed at the difference applying your foundation with a brush will make. Proper buffing gives a really even and flawless-looking complexion.
Try: Charlotte Tilbury Foundation Brush, $60, available here.
5. Concealer brush
To round up the five worth choosing first, Dowdell advises choosing a concealer brush. Not only can you use it on any dark circles, pimples, redness and imperfections, but it's also great at blending out eyeliners thanks to its densely packed bristles.
Try: Models Prefer Concealer Brush, $9.99, available here.
What's your favourite brush and brand to use?
The Glow team's favourite primers