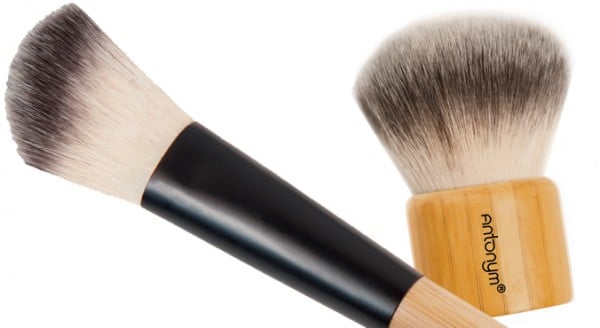 Valerie Giraud of Antonym Cosmetics uses one of her famous brushes on Carla GS. (Source: Supplied.)
Makeup brushes are a beauty kit staple. But how do you know which brush to purchase? And don't even get me started on how to clean them!
When I was given the opportunity to interview makeup brush expert and designer Valerie Giraud, founder of Antonym Cosmetics, a certified organic beauty line which is available exclusively at Sephora, it was like a much-needed Makeup Brushes 101 lesson.
Related: Running late again? Here are our 5 best "on the run" beauty tips.  
Makeup brushes
What is the cheapest, most effective way to clean your makeup brushes?
"I personally use dishwashing detergent. That's the cheapest way. I put a little bit in my hand, I swirl the brush in the detergent, I rinse the brush and everything gets out of it right away. That's one of the advantages of synthetic brushes – they clean very easily. To dry then, I just put them flat on a paper towel.
There are a lot of brush cleaners available. When I work on set, I use them, because I have to have a clean brush for everybody. But brush cleaners aren't good for brushes, because they contain alcohol. Alcohol dissolves the glue that holds the bristles to the brush itself. That's how you damage your brushes."