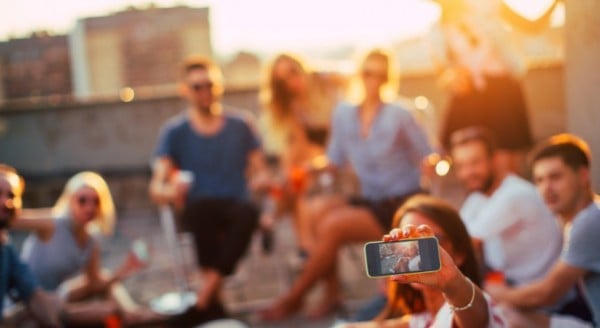 Image: iStock. By Winona Dimeo-Ediger for Ravishly.
Two years after moving away from where I'd grown up and lived my whole life, I came back to visit. I had a fabulous time, which is why, on my third day there, I found myself on the verge of tears in a coffee shop with my friend Celeste.
"I just miss everyone here so much," I said, staring dejectedly into the foam of my chai latte. "My new friends in my new city are great, but people here know me so well. It's so easy with you guys. I miss that."
Celeste assumed the sweet, reassuring-but-also-assertive "pep up, soldier!" tone that she's so good at. "Listen," she said, looking me straight in the eye. "Your friends here? We're like mutual funds."
"Ummm . . . where are you going with this?"
"I mean we're your safe investments. We're the foundation of your portfolio. There's little to no risk with us. We're always going to be here. Your new friends? They're your stocks. So go buy some stocks you didn't think you'd ever buy. Take a chance on some new ones. And know that you can afford to take those risks because your old friends aren't going anywhere." (Post continues after video.)
VIDEO
Celeste's words struck a chord with me and not just because I had no idea she was so well-versed in financial planning. She was totally right. I didn't need to spend all my time worrying that my new friends could never compare to my old ones; if anything, the strength of my old friendships should help empower me to make new ones.
When I got back, I dedicated myself to my new friendships with renewed zeal, keeping Celeste's words of wisdom in mind. I made plans with a wide variety of people, and put a ton of time and energy into building connections.
I made new friends and strengthened the ones I had already started. When things didn't work out with a potential new friend, I'd get bummed, sure, but I'd also think, "Hey, not every high-risk stock trade is going to pay off." (Post continues after gallery.)