1. The 'disgusting' Instagram comment that got Married at First Sight's Troy into so much trouble.

Married at First Sight's Troy Delmege has put a, er, metaphorical foot in his mouth, by angering his fans and Indigenous activists.
Oh. And it was all captured on girlfriend Carly's Instagram stories… *puts palm on face*.
Saying goodbye to their fans at Melbourne International Airport, Troy said that they were excited to head to Bali to "get some heat on us after being in Melbourne for a few weeks." So far, so good right?
Unfortunately he kept on talking and said, "I'll be dark, but she'll be darker like an Aborigine."
With good reason, it's stirred outrage amongst followers, with Tarneen Onus-Williams being one of them.
Bloody annoyed that my brother had to film with these too. Troy saying he's going to be tan like a real 'Aborigine'. The fact he's laughing about being Aboriginal is disgusting. pic.twitter.com/0K59ZcSYfX

— Tarneen (@Tarneen) April 27, 2018
Comments on Carly's latest Instagram post which she shared two days ago were similarly outraged, with some users calling the couple "racists".
"Let me guess.. A ignorant Racist!" said one user.
"Your Instagram story is so disgraceful!! As a marketing manager shouldn't you know better,"
So far neither Carly nor Troy have responded.
2. The touching story behind Prince Louis' name.

While eagle-eyed royal watchers had their bets that the third royal baby was going to be named Alfred, Alexander or Albert, last night we had official confirmation that UK's latest prince has been named Louis Arthur Charles.
And now that we're 276 percent sure of how to pronounce the name, FYI it's 'loo-ee' not 'loo-is', we've also learned the touching story behind his royal moniker.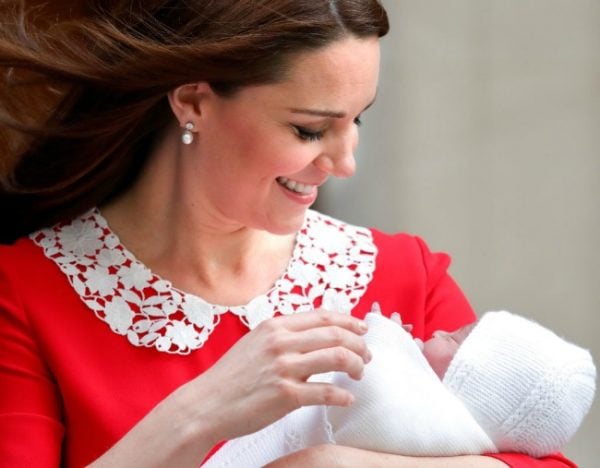 It's believed that Prince Louis was named after Prince Phillip's uncle, Earl Louis Mountbatten, who was like an "honourary grandfather" to a young Prince Charles. Unfortunately, Earl Mountbatten passed away from an IRA bomb in 1979 while he was at his summer home in Mullaghamore in Ireland. Prince Charles was 31 at the time.
Keeping up with the family tradition established by Prince Charles, Louis is also one of the middle names of Prince William (William Arthur Philip Louis) and Price George (George Alexander Louis).
3. "It's just so messed up." Kim Kardashian has spoken for the first time about what Tristan Thompson did to her sister.
Kim Kardashian has spoken for the first time since all the general effed up-ness of Tristan Thompson cheating on her sister Khloe.
During an appearance on the Ellen Degeneres Show on Monday, the 37-year-old was predictably asked how Khloe and her baby girl True are going.
"I don't even know how to describe it besides it's just so f*cked up," she said.
"You know she's so strong and she's doing the best that that she can. It's a really sad situation all over."
But rather than sharing some choice words about how she no doubt really feels about her niece's father, Kim explained the Kardashians have made a pact when it comes to speaking about ex-Kardashian partners to the public.
"I made this rule with my brother [Rob, following his break up with Blac Chyna that] if there's a baby involved I'm gonna keep it cute and keep classy and not talk too negative. Because one day True's gonna see this and it's just so messed up."
True, indeed.
4. The bride with a $200,000 dress: The heiress to Aussie Home Loans, just got married.

Soooo the heiress to Aussie Home Loans, Deborah Symond got married this weekend.
Which is kind of like, meh, until you see the photos.
If you thought Nicole Warne's wedding prep was extra, how does a $200,00 wedding dress sound?
The daughter of John Symond married Sydney social person Ned O'Niel surrounded by 120 guests over three days. They hired out Hamilton Island's Qualia resort and it was all very luxe and lavish.
Have a good perve at all the pictures below:
5. Bachelor In Paradise's Grant Kemp has taken an awful swipe at Ali Oetjen.
In the words of Taylor Swift, Grant Kemp and Ali Oetjen are never, ever getting back together. We don't think. This is Bachelor In Paradise, so it's anyone's guess, really.
After being accused of dating Ali just for "fame", Grant has defended himself by saying if that was the case, he would never have chosen the one girl on the island who wasn't famous. Charming.
"If I was trying to chase fame by dating someone, I wouldn't have dated the girl who hasn't been on TV for years," he told Daily Mail.
Charming.
Catch up on the rest of the Grant Kemp and Ali Oetjen drama in our full story here.