By now you've probably seen the image of Nadia from Married at First Sight buying a pregnancy test.
Because what else could be going on in the world apart from reality TV contestants who may or may not be knocking each other up, and may or may not be staging the photos to prove it? (The answer is, a lot. A lot is going on in the world. But this is all we're here to talk about.)
For those who missed it, this is the image in question: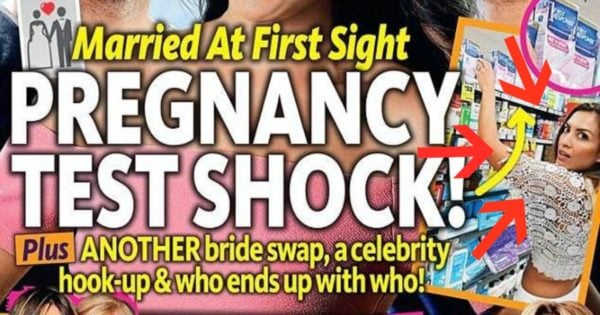 Despite multiple accusations that the photo looked staged and not at all like a candid paparazzi shot, Nadia took to the airwaves on Brisbane's HIT 105 breakfast show with Stav, Abby, Matt and Osher Gunsberg to defend the images.
What resulted was a convoluted defense that dodged the main thread of the questions being asked.
Initially, Nadia denied being pregnant.
"Yeah, so, um, that's obviously — I'm not pregnant, that's number one — number two, who hasn't ever bought a pregnancy test? How they got those photos, I don't know. That's the thing, it's a situation where photos do get out, you know, when you go on these shows."
So did she actually think she was pregnant? (Because naturally, a pregnancy test is the first thing you buy the minute you don't think you're pregnant.)
"Well, you know, as I said. I can neither confirm nor deny," she said.
Despite the interview finishing, five minutes after she said her piece, Nadia was invited back onto the airwaves. It appeared there was a witness.
A listener, Brooke, claimed her friend actually worked at the supermarket in question, and saw the photo being taken.
According to the friend, Nadia had walked into the store with another woman close behind her. A publicist, Brooke's friend thought. Maybe even a friend with "a camera around their neck". She added the pair made "a beeline" to the home pregnancy test aisle, and left straight afterwards.
Nadia's response to the accusation didn't quite make sense.
"Oh my God ... That's right. OK! So there are people watching. Thanks Brooke," she laughed.
When pressed again by the hosts whether the photo was staged, she finally was concrete in her answer.
"I definitely did not stage the photo, can confirm that."
And that's all there is. Make of it what you will.