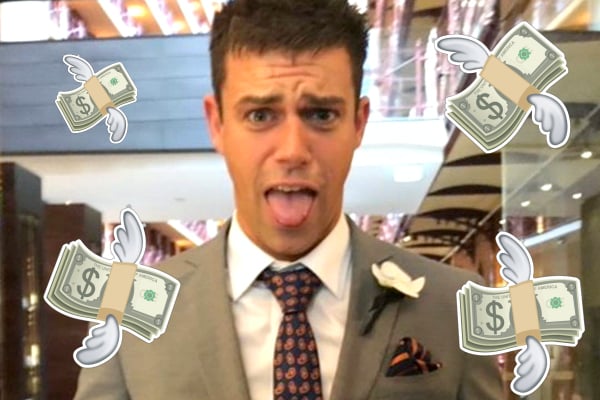 To catch up on all the MAFS 2020 recaps and gossip, check out The Twins recaps and visit our MAFS hub page. And sign up for our Recaps newsletter to get them straight into your inbox.
In the vicious landscape of entertainment journalism, sometimes you come into work and your editor asks you to investigate the multi-million dollar business of MAFS contestant, Michael Goonan.
And to this, I say: challenge accepted.
Yes, I'm talking about Michael Goonan who is the 'Company Director' of Adelaide Ice. Paired with mum-of-two, Stacey Hampton, he says he's been working since he was 12, before becoming a millionaire at 24.
"I can't remember a week since when I was 12, a week when I wasn't working. I'm the director of a cold-storage and food manufacturing business," he tells audiences in his MAFS introduction package.
"When I was 24 years old, I was able to afford a property over one million dollars."
In short, he's rich. Like really, really, crazy rich.
But we needed to know more and so we Googled. A lot.
MAFS Experts: UNCUT. Exactly what goes down behind the scenes (not really). Post continues below.
The LinkedIn search
Covering our initial bases, we got on LinkedIn.
However, nothing came up. Disappointed but unperturbed, we continued.
Next up, Google.
A quick Google search revealed a few articles mentioning the name Michael Goonan and Adelaide Ice. This was when we made our first discovery: THERE ARE TWO MICHAEL GOONANS.
From what we can gather, Michael Goonan (from MAFS) also has a dad called… Michael Goonan. It looks like his dad was a Scottish businessman who went from running nursing homes in the UK to owning South Australia's biggest ice-manufacturing and distribution company – Adelaide Ice.