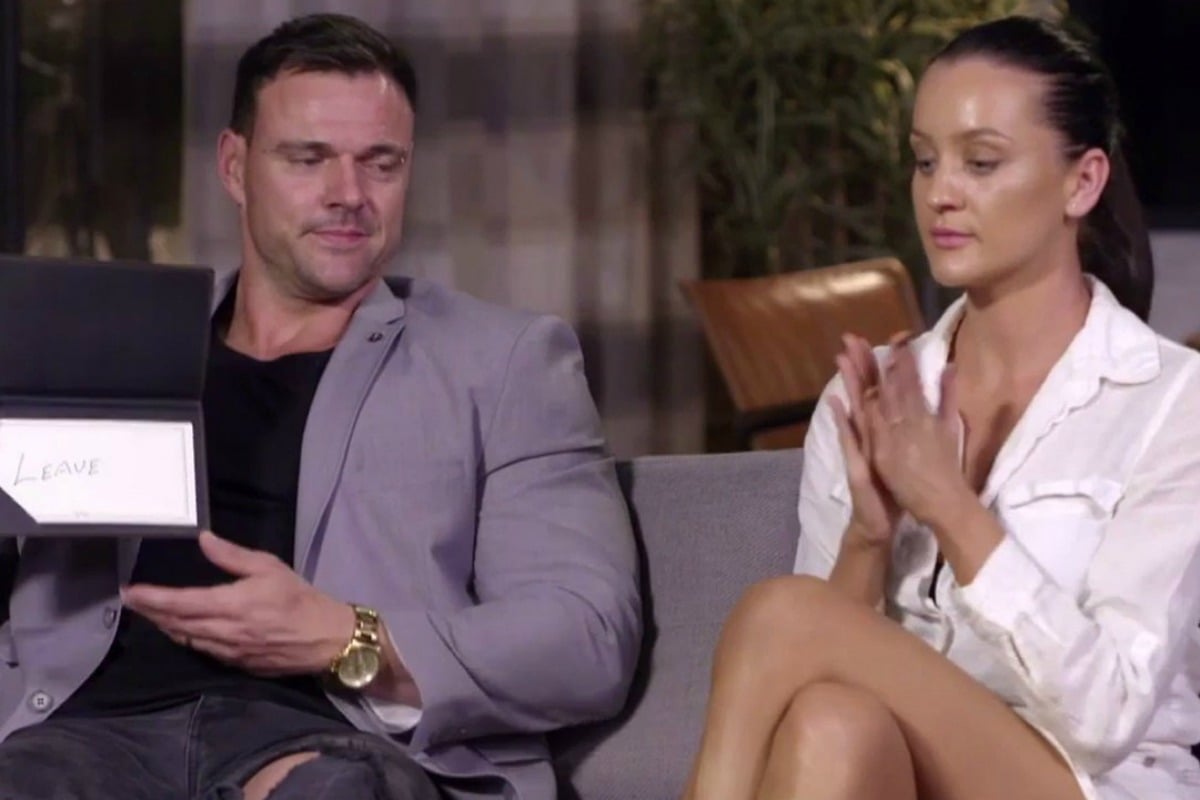 When both Bronson and Ines decided to leave Married At First Sight during Sunday night's commitment ceremony, most of us were just relieved the stripper's torture was now over.
But some fans noticed what they thought was a plot hole during the epic episode, one that may have even been proof that the "affair" between Ines Basic and Sam Ball was staged.
Bronson Norrish had been saying all week that the relationship was going well and he was only shown to have found out about Ines' betrayal during the ceremony and after his decision had been made. Why then had he written "leave" on his card, fans asked?
Well, fellow contestant Melissa Lucarelli has just given us the explanation that clears the conundrum right up.
Speaking on Hit 92.9's breakfast show Heidi, Xavier & Ryan on Monday, Mel said that fans weren't shown a quick chat Ines had with Bronson before the commitment ceremony.
"From my understanding, Ines told Bronson before the commitment ceremony that she was going to write 'leave' and that's why he wrote 'leave'," she explained.
"It's not acted or scripted or anything. That's why he did that flip I believe."
If that's true then although Bronson knew his TV wife wanted to leave, he didn't know that had anything to do with her secret rendezvous with Sam.
Bronson did seem taken aback during Sam's on-the-couch revelation he had "caught up with Ines".
"Did you guys kiss. Did you bang?" Bronson asked Sam, shaking his head.
Later, when he sat down next to Ines, who said she doesn't regret anything, he revealed he wrote "leave".
We're not taking Mel's words as proof that the affair between Ines and Sam wasn't scripted or encouraged by producers though.
After all, there's still the door that changed numbers, the underwear that changed colour and the insider gossip from Sam's current girlfriend.
To catch up on all the Married at First Sight 2019 recaps and gossip, check out the Twins recaps, visit our MAFS hub page and join our 'Married at First Sight Lols' Facebook group. We've got you covered.