Look, I'm sorry Anthony, you tried. You really did.
But there's only so long you can be the number one villain on Married At First Sight before someone else takes your place.
READ: The twins recap the latest episode of Married At First Sight.
It's just… TV science. ¯\_(ツ)_/¯
Last night's episode of MAFS saw Andrew steal the crown after what can only be described as a bizarre and completely unnecessary rant against his second fake TV 'wife' Cheryl.
Listen to Clare and Jessie Stephens on The Recap: The podcast to listen to after you've watched Married at First Sight.
During a 'night with the boys' (because #FUN) Andrew let loose on how he really feels about being married to Cheryl.
And, it wasn't very nice.
He criticised how fast the 25-year-old spoke, and also poked fun at her driving skills.
"You talk about the affection being too much…the conversation seems too much for Cheryl," Andrew said to his fellow grooms.
He also appeared to suggest that he looked at her breasts instead of her face whenever they engaged in conversation.
That's charming, Andrew. Really.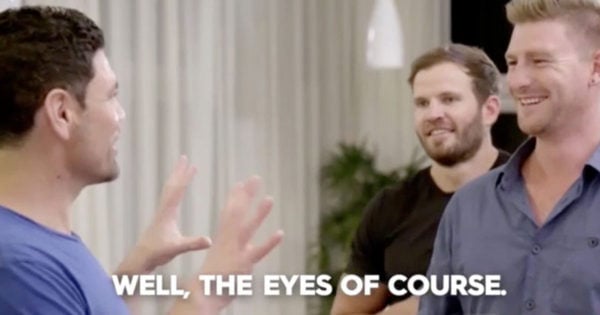 Needless to say, those watching at home weren't too impressed.
#9married.....most hated man in Australia (Anthony) has now got a fast approaching competitor in andrew.
I hope EVERYONE wakes up to them.

— Stacey (@RockinRosi) March 5, 2017
#9married Have lost all respect for Andrew, I think there's prob a dam good reason for him being single in the first place!!!!! #teamcheryl

— Kaitlin Reardon (@kaitlin_reardon) March 5, 2017
Wow. Well it's just become crystal clear why Andrew was single! What a jerk. #9Married

— mummabump_com_au (@love_mummabump) March 5, 2017
Andrew there may be a reason why neither of your fake wives liked you #9married

— Merryn Porter (@Merryn_Porter) March 1, 2017
Thankfully, it's not all bad news.
As the men stood around laughing at Cheryl's expense, two heroes emerged, rising like a pair of glorious phoenixes from the ashes.
Take a bow, Simon and Sean, because as Cheryl was being roasted on national television, your faces were doing this:
Never a more unimpressed pair did anyone ever see.
"I don't think Cheryl deserves to be spoken about in such a manner," Simon said, adding that he didn't feel right engaging in the conversation.
"Put it this way, I'm not there with a beer in my hand clinking glasses saying, 'Yeah, yeah boys, tell 'em off, bag the sh** out of her.' No way."
Later in the evening, Sean added that he wasn't impressed with Andrew's behaviour.
"They're not the sort of people I want to be around with - have a bit of respect," he said.
"It was all about bagging Cheryl, and I thought it was pretty f***ing sh** actually," he said.
And Australia agreed.
the disgusted expressions on Simon and Sean's faces when Andrew speaks, mirrors all of Australia's watching right now #9Married

— Sarah Miller (@saremillerr) March 5, 2017
Sean,Simon - Outstanding lads. Stand up. Speak out. On behalf of the decent men of Australia, that was embarrassing. #9Married. pic.twitter.com/nRPqR4TRGZ

— Matt de Groot (@mattdegroot_) March 5, 2017
But on the plus side I just found out that Sean and Simon are the real gentleman of this show! #9married

— David Tua Jr (@Tuamanation) March 5, 2017
Catch up on The Recap here.