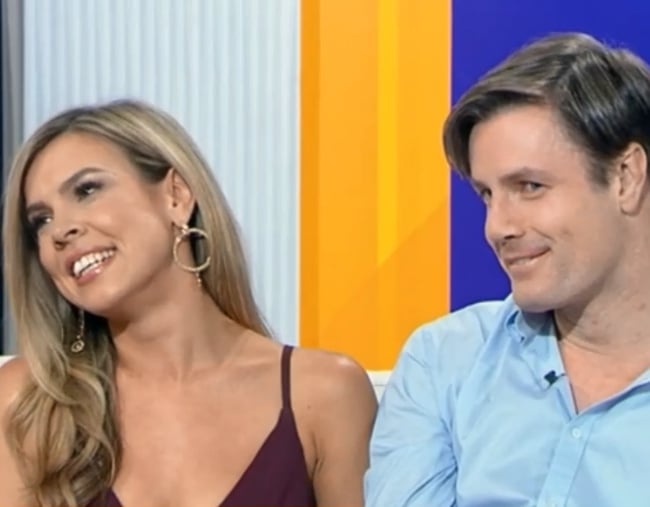 Now we've had a chance to scoop our jaws off of the floor after last night's Married At First Sight finale, the dissecting of every couple swap and betrayal can commence.
One of the biggest yet not surprising at all developments was the relationship between Troy Delmege and Carly Bowyer who both struggled to find love with their respective faux husbands and wives.
Doing the post-coital publicity rounds on Thursday morning, the couple are clearly digging each other. They even pashed on Karl Stefanovic's request on live TV. Eww.
But most importantly, they also said they really can't understand why Troy's former fake wife Ashley Irvine is so bloody upset about them being in love.
Watch Carly and Troy debrief on The Today Show in the video below.
Debriefing with Georgie Gardner and Karl Stefanovic on The Today Show on Thursday morning, Carly and Troy said they weren't expecting Ash's, erm, strong reaction to their relationship.
"She was a lot angrier than I expected," Carly said. "The reunion was filmed six weeks after the final show so there'd been significant time at that point, so yeah her reaction was surprising."
Troy added, "I know her, so (I thought) it was within the realms of possibility."
But when asked by Karl Stefanovic if his former wife was only upset because he'd found someone else, Troy said, well, yes.
"I'd say it's the ego hit, she didn't have any feelings for me, she said leave at the final commitment ceremony so she'd drawn a line and said that's it we're not continuing this outside the experiment. It was pretty final."
Speaking to TheFIX on Tuesday, both Carly and Troy said they always tried to be respectful of their ex-partner's feelings.
"She reacted worse than I expected. A lot worse," Carly said.
"You guys (Troy and Ashley) both chose not to continue the relationship, so I thought she'd be shocked, but I didn't realise she'd be so angry about it… We were always concerned about Ashley's feelings."