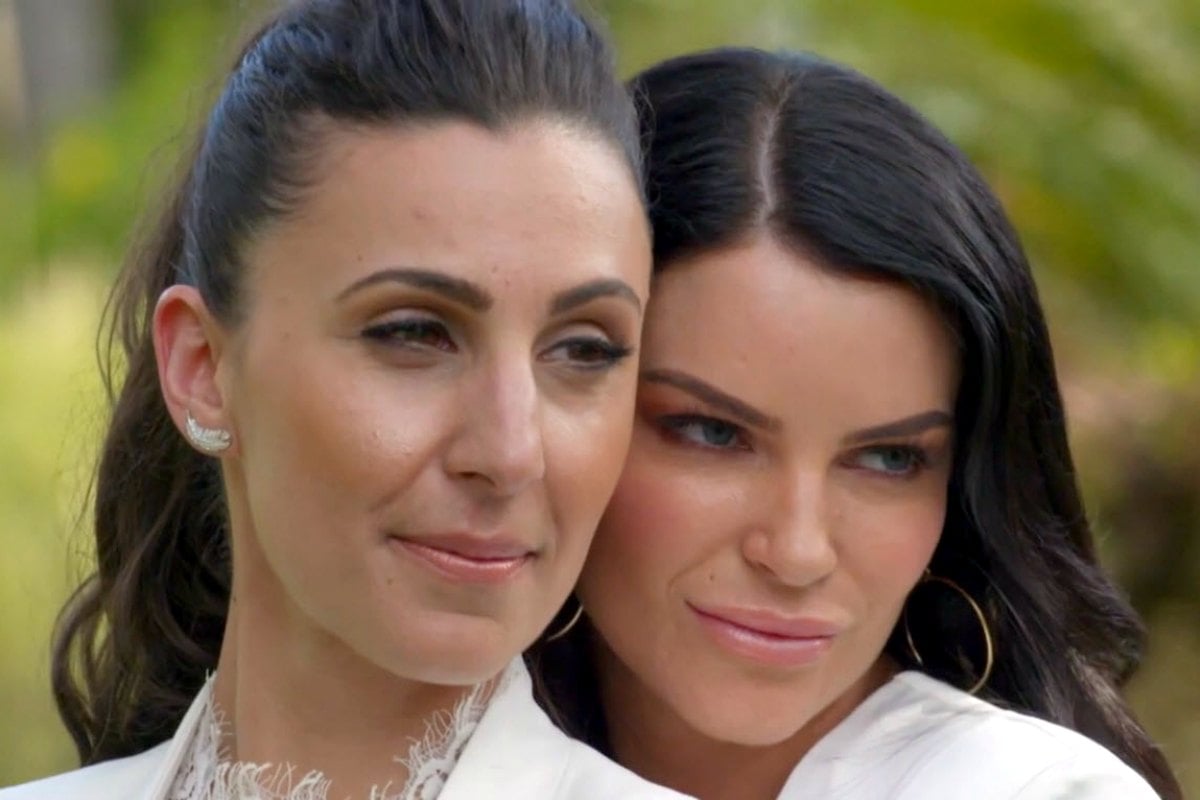 To catch up on all the MAFS 2020 recaps and gossip, check out The Twins recaps and visit our MAFS hub page. And sign up for our Recaps newsletter to get them straight into your inbox.
With two weddings down and another eight to go, tonight we see couples Amanda and Tash and Natasha and Mikey tie the knot.
In her intro package, Amanda says "I tend to go for straight women" and is this the season where 'couple swapping' gets taken to a whole new level?
Their wedding is genuinely a bit of a tear-jerker. We may have even cried during Amanda's speech and we almost regret our wife swapping comment. But also this is MAFS, so we'll see you in week five.
Watch a snippet of Amanda's wedding vows to Tash. Post continues below.
Then we have Natasha and Mikey. Boarding school-educated Mikey drinks beers on yachts while talking to his friends, but insists that he's still #humble. Natasha, on the other hand, is a dominant, successful businesswoman who also seems to have deeply-rooted father issues and a habit for dating older men.
"I've accepted the wrong long because it was missing from my childhood," she says in her intro package and sweetie, you don't need a fake marriage to feel better.
Both couples get undermined by their overly involved best friends. Tash's bridesmaids grill Amanda who hints Tash went on the show after breaking up with an ex-girlfriend. She then tries to comfort Tash by telling her that she "applied for the show the night they broke up" before delivering the old line about being "here for the right reasons". It seems to work and Tash's bridesmaids are fuming.
Meanwhile, Natasha's hairdresser (sidenote: ???) tells Mikey to be more of an "alpha" to impress his new bride and we demand that boy be given his own reality TV show. Mikey insists he is an alpha before escaping the conversation by going to the bathroom. Later Mikey's brother tells Natasha that he took their disabled Aunt Lou to his "first-ever formal" which wins her over. We admit it's pretty adorable.
All in all, two successful marriages that have yet to go tits up. Onwards.