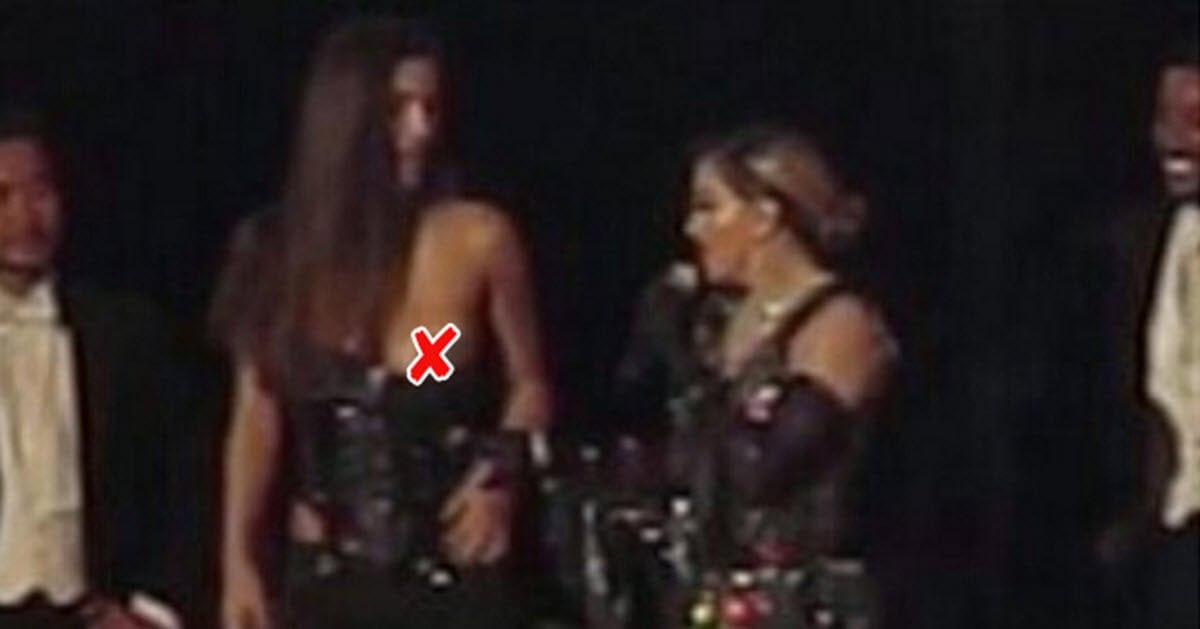 Last night, Madonna, 57, performed her second stadium show in Brisbane after hundreds of peeved fans walked out of her first one when she was hours late.
She was reportedly two-and-a-half hours late, again, stumbled around on stage as if drunk, and most controversially, pulled down a fan's top, exposing her breast.
"She's the kind of girl that you just want to slap on the ass and pull…" she said pulling down the woman's top.
"Oh shit. I didn't, I didn't. I'm sorry, sexual harassment," she said, wrapping an arm around the woman. "You can do the same to me," she added.
To be fair, it looked as though Madonna didn't actually mean to pull down the woman's top — and the woman herself didn't look particularly concerned.
In fact, she told 3AW's Peter Ford she was "thrilled and proud" about the whole thing.
Madonna's 'victim' is "thrilled & proud" to have had her breast exposed by her idol last night. More details @RadioLIVENZ next hour.

— Peter Ford (@mrpford) March 18, 2016
Watch the incident here… post continues after video.
However, the critics have been damning; we are witnessing the end of Madonna, apparently.
Ever since Madonna's first, incredibly late, wildly eccentric Tears of a Clown show in Melbourne, the headlines have been questioning whether she's suffering some kind of breakdown.
Is she drinking? they speculate. She's not coping with her son's defection to live with his dad in London, they opine. She's showing the strain from an exhausting eight-month world tour, they reckon.
Madonna's behaviour has always been shocking, in a mainstream, commercialised way. There were the SEX book, the conical bras, the Britney and Christina pashes, the time she dropped the f-bomb 13 times in an interview with David Letterman, her banned Justify My Love video. Everything she's done in Australia has been business as usual.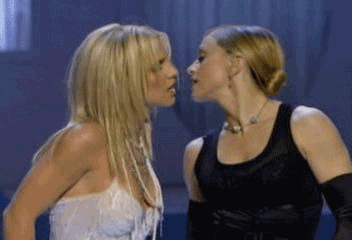 Despite this, fans are unhappy with the Madonna who is currently in Australia after a 23-year interval.
Brisbane fan Nick Sowden told the ABC that he waited for the Wednesday night show but ended up leaving before midnight.
"Most of the songs in that time were from the new album, which is pretty horrendous," he said.
"As we were leaving, she mentioned something about her not being late but everyone being early. I thought that was a bit crude as people had paid good money to see her from jobs that they will need to be at this morning.
"She lip-synced a good amount of songs too. It wasn't worth the wait."
Watch Madonna clowning around before her Melbourne show… Post continues after video.
In anticipation of Madonna's unexplained tardiness (she's been hours late for every Australian show), her touring company Live Nation posted on Facebook before last night's show.
"Madonna's Rebel Heart performance will proceed this evening in Brisbane. Following a late start last night, fans should note, the timing for tonight's performance may also be delayed," the statement read.
"We encourage concert goers to keep this in consideration when making arrangements to get home safely."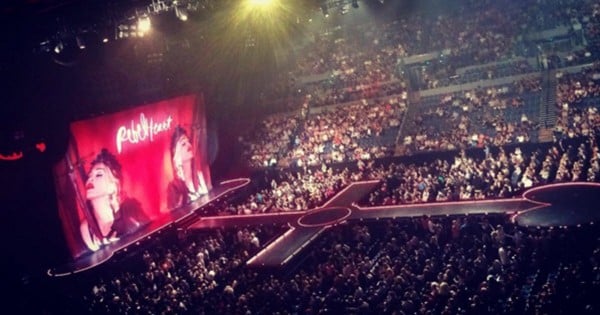 The last train from the stadium leaves just after midnight, leaving concert-goers without a means of public transport to get home.
Many fans, with the advanced warning, sought refunds on their tickets instead.
"It's you people that get here early that's the problem," she told fans once she finally appeared on Wednesday night.
"Stay home, do your hair and makeup, have a tequila. Roll yourself a fat one … no, I don't believe in that shit. Just come late and I won't have to come early. We've got three more shows and we want to fix the problem."
Whatever the problem is, it's been plaguing Madonna's whole tour. According to Fox News, she was two to three hours late for her shows in Atlanta, Nashville, and Louisville.
She's vehemently denied being drunk on stage or using drugs.
Madonna winds up her epic tour in Sydney on Sunday.