Across every major media outlet this morning is a story about Madonna.
She made a speech, you see, whilst accepting the Billboard 'Woman Of The Year' Award for 2016. A very good speech. It's gone viral.
It was a rousing battle cry for women worldwide as she tackled sexism, feminism, homophobia, and ageism; all while discussing shocking details about her life in a frank and candid fashion. It was brave, it was heartfelt, and even the trashiest celeb rags are giving her a standing ovation this morning.
But Madonna best enjoy her moment as the reigning queen of feminism while she still can, because it's a title that's unlikely to last long.
Why? Because Madonna – like so many other women in the spotlight – is a bad feminist. A botoxed, rich, sexual, loud, flawed feminist. And for so many of us, that puts her into a category we just can't quite get our head around, even if there's a bloody good chance that we are a 'bad feminist' ourselves.
I didn't coin the term 'bad feminist'.
It's been around for a long time, and has been used by many women to describe many experiences. Hey, even Madonna borrowed it in her Billboard acceptance speech.
"I remember wishing I had a female peer I could look to for support," said Madonna, when describing the backlash she received in her post-divorce years as she released her Sex book, and Erotica album.
"Camille Paglia, the famous feminist writer, said I set women back by objectifying myself sexually. So I thought, 'oh, if you're a feminist, you don't have sexuality, you deny it.' So I said 'fuck it. I'm a different kind of feminist. I'm a bad feminist.'"
Watch Madonna's acceptance speech below. (Post continues after video)
The idea of feminism still seems to be rooted in a hairy armpit, bra burning, serious-political-academic-type that has been around since the 1970s.
So despite the fact that Madonna has a career that's lasted longer (and has been more successful) than many men, despite the personal and professional hurdles she's surpassed, despite being a multi-millionaire, mother-to-four, charity-founding icon – she's not that much of a feminist because she's had plastic surgery and often doesn't wear pants.
She might be a feminist, but she's a bad feminist.
Another pop icon who's danced across the front page news lately is Mariah Carey.
Mariah, who we didn't really care that much about until she started dating James Packer. The total boss who has made such stratospheric amounts of money (around $500 million) that she can afford to pay people to CARRY her from the stage to her dressing room.
But who cares about that, because the minute she started dating a billionaire, she became a shameless gold digger.
The Sydney Morning Herald actually ran a story titled, 'How Mariah Carey, China and a tax bill made 2016 a year to forget for James Packer', referring to the $50 million "inconvenience fee" for their engagement break-up and the $10 million, 54 carat engagement ring.
God, Mariah. Can't you see what a pain you were to poor Packer?
Mariah, the bad feminist. How quick we were to overlook her 25+ year career in which she emerged from a struggling single-parent household to fight her way to the top. We also forgot how she managed to maintain a career without so much of a flinch as she raised two children, divorced her husband, and remained relevant as wave after wave of tweens struggled to push her from her perch.
But because Mariah likes to wear sunglasses inside, and hobnob with the rich and famous, she's not a good feminist. She's a diva.
In 2014 Roxane Gay published a series of personal essays under the title 'Bad Feminist'.
As a woman of colour who identifies as bisexual, Gay struggled to align herself with the 'traditional feminist' who she saw as white, older, serious, academic. Her essays jump between everything from her relationship with other women to body image as she tries to figure out why she can't find her way into the feminist narrative.
"Pink is my favorite color," she writes.
"I used to say my favorite color was black to be cool, but it is pink—all shades of pink. If I have an accessory, it is probably pink. I read Vogue, and I'm not doing it ironically, though it might seem that way. I once live-tweeted the September issue."
*Gasps audibly*
What Gay manages to pinpoint is the idea that there is no such thing as a 'good feminist'.
It doesn't matter if you have hairy armpits or ones that have been lasered and fake-tanned within every inch of their life, the core of feminism comes down to something bigger than that. It comes down to feminism being a sisterhood, a motley crew of all makes and models.
Listen: Mamamia Out Loud discusses self-proclaimed 'bad feminist' Roxanne Gay.
"I embrace the label of bad feminist because I am human," says Gay.
"I am messy. I'm not trying to be an example. I am not trying to be perfect. I am not trying to say I have all the answers. I am not trying to say I'm right. I am just trying—trying to support what I believe in, trying to do some good in this world, trying to make some noise with my writing while also being myself."
A bad feminist.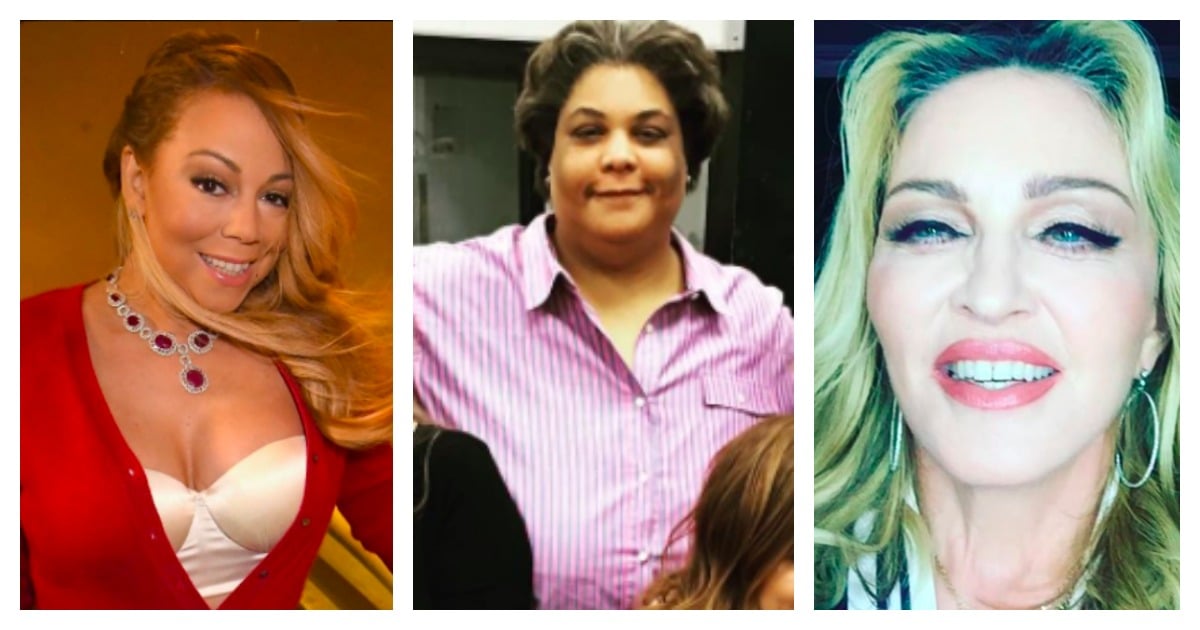 Any woman who calls herself a feminist would be lying if they said there wasn't a moment they asked themselves - would a feminist do this?
Whether it's getting botox, or buying expensive underwear to surprise the husband, or gossiping with girlfriends over a bottle of rosé; we all have moments where we compare ourselves to the 'good feminist'.
But Roxane Gay is spot on when she reveals feminism not to be a fixed identity, but as something fluid and open to interpretation.
Madonna, with her fishnets and frozen face, is a good feminist. Mariah, with her pink sequinned stage outfits and popstar antics, is a good feminist. Anyone who is proud to stand up against the status quo to carve out long, successful, and fierce careers, is a good feminist.
Today, the world has realised it is impossible to criticize Madonna's rousing speech at yesterday's Billboard awards.
But by tomorrow there will be plenty of people who will remember how much easier it is to criticize her outfit, her face, or her lifestyle instead.
Great speech, bad feminist.