This one should be filed under "poorly thought-out joke that should never have been made public".
A university student in the UK has received widespread criticism after jokingly claiming she was missing British girl Madeleine McCann.
The Manchester student, Harriet Brookes, made the claims in a private group message with her friends. It was later shared online by more than 30,000 people.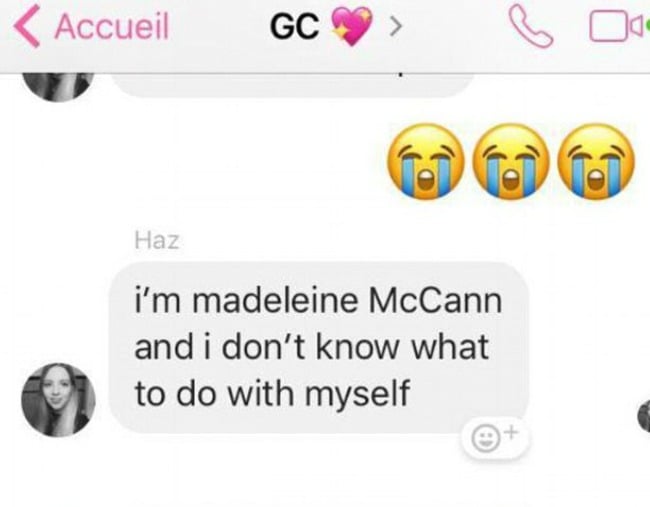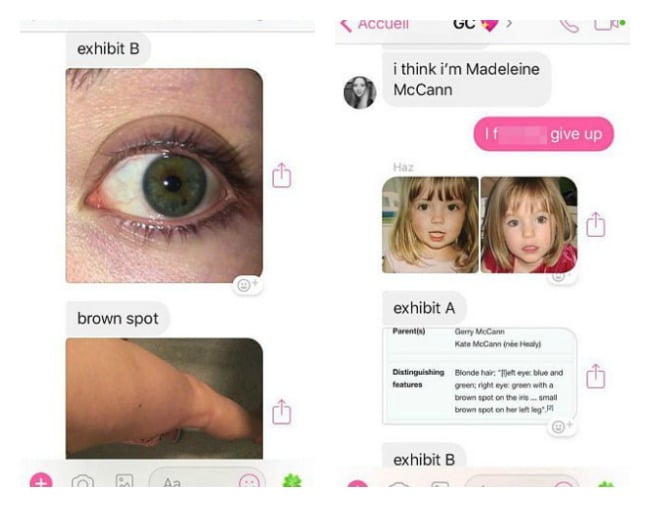 "Right guys. I don't usually believe in conspiracy theories but honestly I think I'm Madeleine McCann," Brookes began in the group chat.
She then shared photographic evidence of the marks on her eyes and legs which are similar to McCann's.
After her friends laughed at her claims, she said: "I'm Madeleine McCann and I don't know what to do with myself".
Screenshots of the group chat were then shared online by one of her friends.
Obviously Brookes never intended for this joke to be made public and she probably didn't think about the far-reaching ramifications if it did.
i know!! obviously i dont think i'm madeleine mccann, media just take everything out of context ahahahah

— harriet ✿ (@Harriet_Brookes) November 25, 2017
except i didn't post it, my friend did ????????‍♀️ it was supposed to be a private conversation between 5 people not for the entire world to to give their opinion on! if you'd read the article properly you would know that

— harriet ✿ (@Harriet_Brookes) November 25, 2017
if this gets any more retweets i'm deleting social media and going into hiding

— harriet ✿ (@Harriet_Brookes) November 23, 2017
i'm changing my name when this is all over, dying my hair, getting surgery, the lot

— harriet ✿ (@Harriet_Brookes) November 25, 2017
Of course, a lot of people are unimpressed with Brookes' joke and would like her to be accountable for her actions.
@Harriet_Brookes
Have you thought about the hurt and upset you will create by suggesting you could be Madeline..are you that desperate for attention?

— Neil S Aspinall (@NeilAspinall9) November 25, 2017
Are you even Madeline or are you joking why the hell would you joke like some thing like that man

— Ashleigh Cc (@ashleigh_cc) November 25, 2017
I reiterate this is one of the downsides of social media - like it or not, there is no such thing as a private conversation, all it takes is for one person to share, and it's out there for all - including the press - to see - you should learn a lesson from this surely ?

— Diane (@Diane89888343) November 25, 2017
I think the lesson here is: keep your group chats private and never joke about anything you wouldn't want the whole of Twitter to get a hold of.
For what women are talking about this week, listen to the latest episode of Mamamia Out Loud.