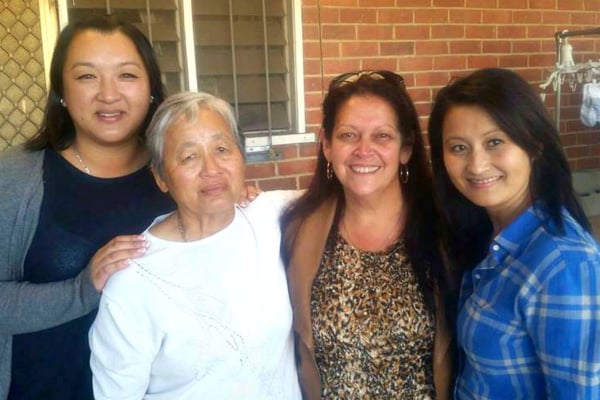 Imagine being told that you have three months to live and without a double lung transplant you will die.
I lived a very healthy life, was a non-smoker and so was absolutely shocked when told I had a terminal lung disease, Idiopathic Pulmonary Fibrosis (IPF). I had never heard of this disease and after researching it, I was so heart broken and scared. How could I tell my two children that I was so ill that without a double lung transplant they would lose their mum?
My husband and I sat down with our children and told them the earth-shattering news. How proud I was of them for their reactions. We as a family decided that we would tackle this illness head on, fight it to the end and stay positive.
Tracey Slatter's message to the family of the woman who saved her life.
I maintained this disease for 18 months until I rapidly declined. I ended up in a wheelchair, on oxygen 24/7. I couldn't bathe myself, let alone go to the toilet on my own. Even eating is difficult when you can't breathe properly. During the day I would sit in my lounge room all day, every day and just watch the world go by. This wasn't living, this was existing. I was so depressed. I went from being this independent, strong woman, the backbone of my family, to being totally reliant on my family for everything. Could I keep going?
Eventually it got to the stage that I was transferred to the transplant team to be assessed for a lung transplant. The thing that scared me the most was that you don't just get a transplant, you need to be fit enough to survive the surgery. Luckily for me, I passed all medical tests and was placed on the transplant waiting list.
It was incredible to be on the waiting list, but would I survive the wait? Most patients with IPF die waiting. Another emotional hurdle was moving to Brisbane, to better my chances of receiving an organ. This meant I had to leave my home and my two children to begin the life-saving wait. How traumatic it was saying goodbye to my children at the airport, wondering if I would ever see them again.
After 15 days on the waiting list, on the morning of the March 6, 2014, the transplant team called. I heard those words, "we have lungs". It seemed the earth stood still for just a second and I realised what I had heard. All I could think about was this was my second chance and possibly a new life.