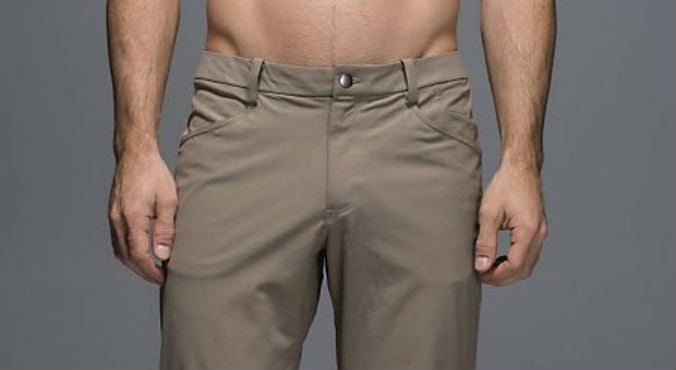 Image: Via lululemon.com.au. Behold: The Lululemon Anti-Ball Crushing Pant. Yes, they're actually called that.
Rarely do you witness males getting excited about exercise or leisure gear. The universal gym outfit for the entire male population usually involves a T-shirt or singlet and black mid-thigh length shorts.
So why are these Lululemon male pants selling off the charts? And at $129 a pop no less?
Related: Would you pay $800 for these second-hand Lululemon gym pants? 
It's got everything to do with the comfort of a man's testicles.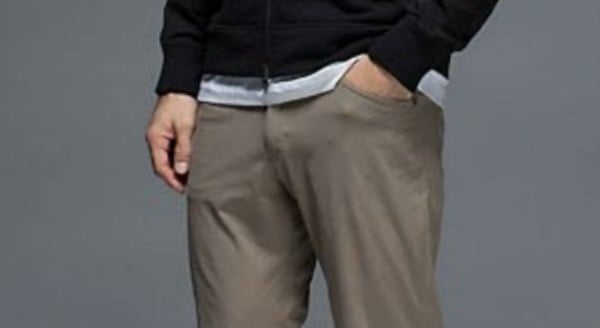 These pants are literally called the Anti-Ball Crushing Pant, or ABC Pant for short. One glance at them and it is clear that yes, a man's testicles would be more comfortable in there. There's none of that, "Ugh, what's THAT?! I can't look away!" effect that one experiences upon spotting a young man who has squeezed his "area" into a sperm-killing pair of ultra-tight skinny jeans.
Related: How often should you wash your jeans?  
The product description on the Lululemon site states, quite specifically, that the pants feature "a wide inner-leg gusset [which] makes space for your junk". The pants are also made from "Warpstreme" fabric, which is a special Lululemon fabric with a four-way stretch. FOUR! WAY! STRETCH! Imagine all the jiggling one's nuts could do in THAT fabric!