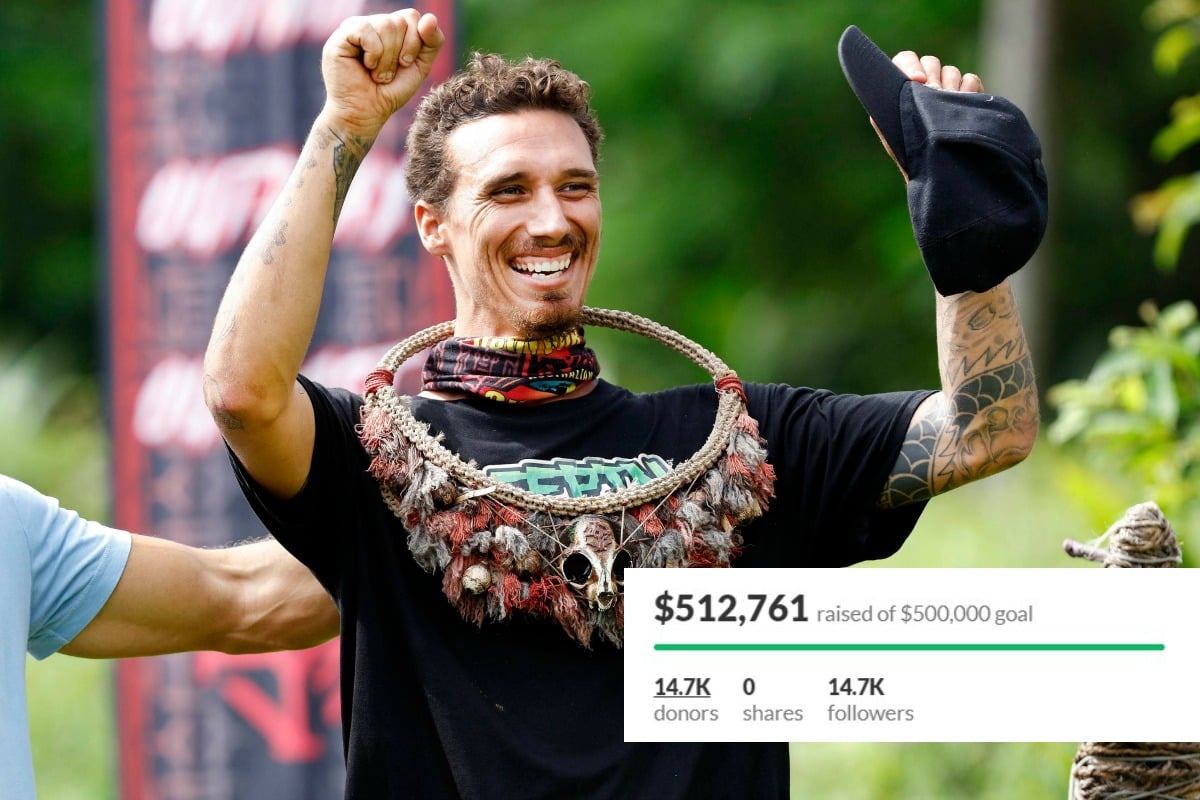 On Monday night, Australians nationwide wept.
Survivor fan-favourite Luke Toki was brutally eliminated; his flame flattened.
Actress and Survivor contestant Pia Miranda was left with the heart-wrenching deciding vote, that ultimately saw her write down Luke's name during Tribal Council – denying him the $500,000 prize money that is awarded to the winner.
Listen: We interviewed Luke from Survivor and he talked about Pia, his daughter's health, and the GoFundMe. Post continues after. 
A nation in mourning, fans of the Channel 10 show have set up a GoFundMe page for Luke to raise the prize money equivalent.
Luke's reasoning for being a contestant on the show was powerful.
When he left for Fiji, he was leaving his wife at home with their three kids, including their six-week-old daughter born with cystic fibrosis.
"I'm definitely here to win it for my family. I've sacrificed a lot to be out here this time… my daughter was six weeks old [when I left for Fiji]," he said during the season.
"She's been diagnosed with cystic fibrosis, so it was worst-case scenario for me, leaving. I'm definitely here for the money because obviously, the money will help my family – every move I make in this game is super critical."
Watch our interview with Luke Toki below, post continues after video.
Luke and Mary are also parents to two sons. Their eldest son, Lennox, was diagnosed with autism at the age of three, and their middle child, Nate, was diagnosed with a condition called Global Developmental Delay (GDD).
His desire to better the life of his family resonated with fans. In less than 48 hours of being booted off, Australians have raised a staggering $500,000, with the amount growing by the second.
The fundraising page was set up by Survivor superfan Dave Skow, who has assured Australians that he has been in contact with Luke's wife, Mary. The Toki family's bank details have been provided, with all funds being directed to their account.