Two contestants on opposite Bachelor/ette shows have dated before, and it's a complete coincidence The Bachelorette's frontrunner Luke McLeod has confirmed.
He – who we're currently watching compete to win Sophie Monk's heart – and The Bachelor winner Laura Byrne dated before either of them were considering reality TV as a pathway to love.
"We did date for a couple of months, I swear to God it was a complete coincidence," McLeod told The Daily Telegraph.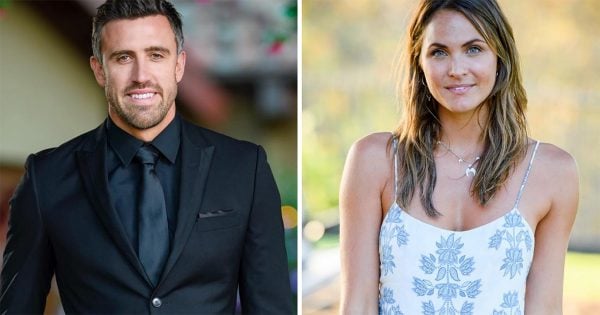 Byrne, a jewellery designer, was chosen by Matty J in the season finale of this year's The Bachelor and has not yet responded to the news.
"She's an amazing woman," McLeod said. "We dated for a couple of months and realised we were better off being really good friends and that's where things are at now. She's been so supportive of my journey."
Listen: Zara McDonald and Michelle Andrews debrief on the latest episode of The Bachelorette. (Post continues...)

McLeod said the pair started dating soon after he came out of a 10-year relationship. He's now in the running to woo pop star Sophie Monk's heart on this season of The Bachelorette.
He said he "couldn't believe it" when he saw Byrne on the Channel 10 advertisements for the show. And that he reached out immediately.
"I wish her all the best," he said.