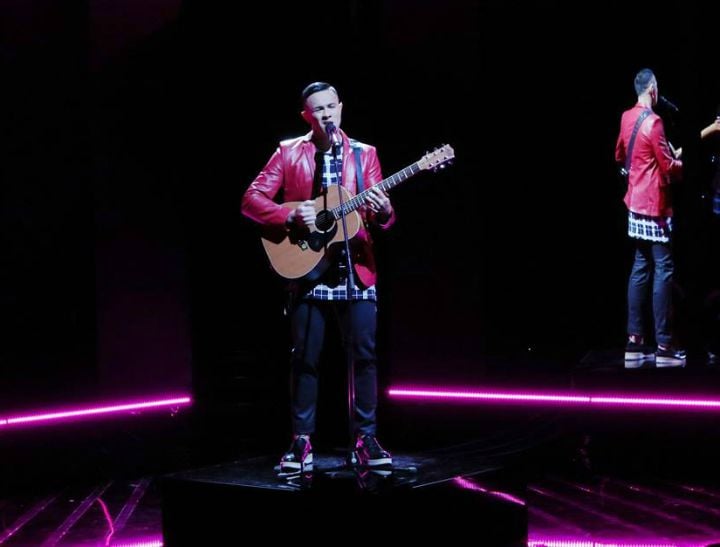 Being the host of a reality TV show can be a tough gig. You have to be witty, sharp and funny all the time. If you slip up, the show can dive into chaos. No pressure.
Last night the host of X Factor Australia, Luke Jacobz thought he had a witty question to ask one of the contestants after their performance. But, instead the joke kind of stumped everyone.
Contestant, Cyrus Villanueva performed Justin Bieber's hit song, Boyfriend and recieved a lot of praise from the judges. He was feeling pretty stoked about his performance.
Jacobz came on stage to do his usual post-performance interview with the contestant but ended up leaving Villanueva confused about how to answer it.
"Cyrus, I have a question for you," Jacobz started with. "Will you be my boyfriend?" he asked.
There was a pause from Villanueva and a silence that hushed over the crowd. The contestant replied with a confused, "Yours?"
While the studio became silent, social media started asking questions. Fan Sam Foote took to social media and asked if Jacobz had just 'come out' on national television.
Villanueva's coach, Chris Isaak chose the Justin Bieber hit song for his contestant to perform on the X Factor during it's launch party episode.
Here's Cyrus performing on the 5 Seat Challenge (Post continues after the video)...
All of the judges loved his performance.
Although Jacobz' question was slightly awkward, there were still viewers who saw the humour he was trying to use.
Chris Gordon-Walker tweeted, "@lukejacobz knows how to make things awkward on live TV. I laughed though."
Who's your favourite contestant on the X Factor?
TAP ON THE IMAGE to see the X Factor Australia contestants...
GALLERY: X Factor contestants.