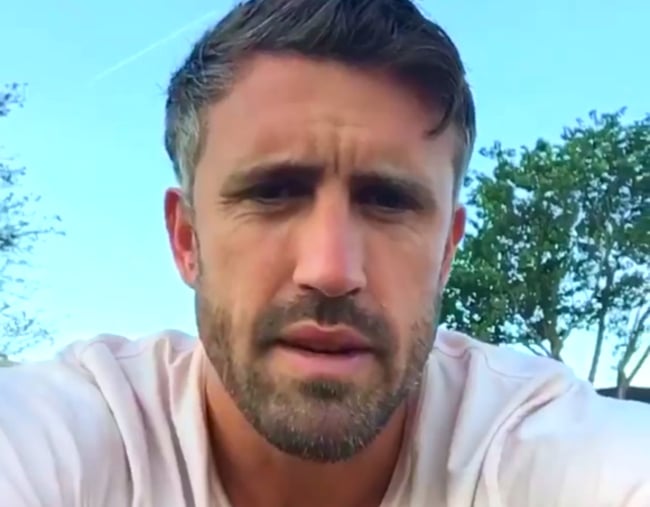 UPDATE: For all your Bachelor in Paradise Australia gossip in one convenient place, check out our Bachelor in Paradise 2018 hub.
In under 24 hours, Bachelor in Paradise's Luke McLeod and Lisa Hyde went from being the most stable couple on the island to the most talked about on home soil.
On Monday night's episode we saw the couple leave Fiji together with the hope of taking their grown up relationship far, far away from rose ceremonies and Osher's watchful eye. Moments after the credits rolled, Lisa, 31, shared they were no longer together, partly because Luke, 34, had cheated on her on the outside.
Yeah. We're devastated.
Even though we hardly saw any of their relationship on-screen – presumably because of a lack of drama and mango daiquiris – it was clear from night one that these two were genuinely looking for love.
Now, Luke has spoken about cheating on Lisa after what's been a "really tough, really difficult" few days and why, despite news focused on his alleged 'hookup' with a 19-year-old woman, there's a side to this story we may never know about.
Watch Luke and Lisa's final moments together on Bachelor in Paradise below. Post continues after video.
Both Luke and Lisa have been discreet about the exact details of their relationship breakdown – Luke doesn't want to "get into a debate around 'she did that' and 'I did this' out of respect for her".
But he admitted there were a number of things that led to a lot of pressure on both himself and their relationship to succeed.
"There's always two sides to the story and there's reasons that led up to things breaking down, but I don't want to get into that. I'd rather out of respect for her, just to say sorry and try to move forward,"  the Soul Society founder told Mamamia.
"But it was tough [going home after the show], because you know you can't even get the same flight back, we had to get separate flights and then you get back and you can't be seen together in public so we had to try and secretly make your way around. We tried to find time and moments but it was hard.
"We couldn't be a normal couple and do normal things. That in itself was unhealthy and it created pressures, I put a lot of pressure on myself."
Luke also said the last 72 hours since new broke of their split have been especially tough.
"This is really difficult to talk about."
"I have a lot of respect for Lisa and I don't want to drag the details on that up, but all I want to say is: I let her down, I stuffed up and I'm sorry. I'm trying to take responsibility for my actions and I'm trying to move forward.
"It's really hard and hopefully people can see this as a lesson that everybody makes mistakes."
He also addressed the leaked screenshot from a group chat involving his breakup by a fellow contestant, saying "it was really disappointing that someone who we thought we trusted [would do that].
"It's hard enough trying to deal with this now, Lisa and I wanted to try and go about this in the most mature way and civil way possible, and for [the screenshot] to come out from someone who had gone through this experience and knows how difficult these situations can be – it really is disappointing."
"You just have to kind and try and see it from why they did it – but I don't know why they did it and I definitely don't know who."
Bachelor in Paradise was Luke's second attempt at finding love on reality TV – we first saw him last year on Sophie Monk's season of The Bachelorette. Obviously both situations didn't turn out the way he (and we) wanted, so it's highly unlikely we'll see him on anything Bachelor related again.
"Yeah… I'm done [with reality TV], but the reasons why I went into these experiences were genuine."
"The first opportunity was to really push myself out of my comfort zone with the aim of meeting someone incredible, that didn't quite work out. The second time, I honestly thought I could meet someone who had gone through something similar to me and I could relate to them on that level, and that was difficult and obviously didn't work out.
"Ohhh, it's tough. Right now I'm just trying to get through and throw myself back into work. And when I'm ready, what will be, will be."
Zara McDonald and Michelle Andrews debrief on the Fijian storm that is Jarrod and Keira's relationship on our Bach Chat podcast below.
Rather than prepare for Bach in Paradise 2019, Luke said he'll be, for a second time, doing what every normal and mature person does after a breakup – throwing himself into work and living his best life with the people who know him best.
"Having the support of my friends and family has been incredibly important. It's so important to have those people who know you and know who you really are," he said.
"It's a shame that one mistake can put myself in this sort of position. I try to be a good person and everyone makes mistakes. I'm lucky that I do have a supportive family and close friends that I can talk to and try to get through all of this with. That's what matters right now."
Two of those people are Sam and Tara, who right now seem the most likely candidates for the season finale proposal Network 10 have teased us with. Yeah, Luke thinks so too.
"I love Sam and Tara – they're two people who are my close friends and they're people I trust. To see how that is forming and how that's coming together is a beautiful thing. That's what a relationship should be, it works and they just connect and you can feel that."
"I hope it's a happy ending for them. I'd love nothing more than to see that."
As for what he'd like Bachelor in Paradise fans to take away from he and Lisa's short-lived relationship – "understand that some things aren't meant to be".
"Be true to yourself and understand that some things aren't meant to be. Try not be too harsh on yourself and realise that people do make mistakes, but how you deal with that when they happen is what matters."
"That's how I'm trying to go about things now."
What do you think of Luke's response to cheating claims? Do you think he and Lisa would've made a great couple?