Lucy Durack is the princess – or perhaps the Good Witch – of Australian theatre.
Most famous for her on-stage roles as Galinda in Wicked and Elle Woods in Legally Blonde, this mum says there's one role she loves the most.
Being a mum.
Listen to Lucy Durack explain what it's like to be one of Australia's most successful performers and a new mum. 
34 year-old Lucy and her husband Chris have one daughter, named Polly, who is two years old. This little lady completely flipped Lucy's whole life upside down. In a good way.
Her advice to other new mums – in or out of showbiz – is priceless.
NO SLEEP? GET HELP.
Lucy Durack hired a 'sleep angel' for one night. But then she struggled to follow-through with the techniques on her own … so, their 'sleep angel' came back for a second time and stayed for three nights.
"I feel sick even talking about it. I'd read all this stuff [saying that] if you do [a cry-out] … they might have anxiety and depression later on which really bothered me as it would bother any mum but I was at my wits end.
"I was desperate. Absolutely desperate. I felt like I was losing my mind. I've never felt anything like it.
"I found it quite traumatic but it ended up giving us our lives back".
MARRY A SUPPORTIVE PERSON
Lucy's work is mostly project-based, work that comes in short intense periods and is soon over. She says she couldn't do any of it without her husband, Chris.
"Chris is incredibly supportive and we talk through everything that comes across the table …"
GET YOUR PRIORITIES STRAIGHT
Lucy loves to work. She also loves to strike the best balance she possibly can.
"I think motherhood makes you a lot picker [when it comes to extra work] because you have clear priorities, which are your child or children. I have said no to a lot of things".
CREATE A VILLAGE
Wow. She makes it all sound easy, huh? Well, exhale and know this: there's quite a village involved in Lucy's life.
Because there has to be. When Lucy is filming, she doesn't get her schedule until sometimes only one week before she has to be on set. She's also currently filming all over the country.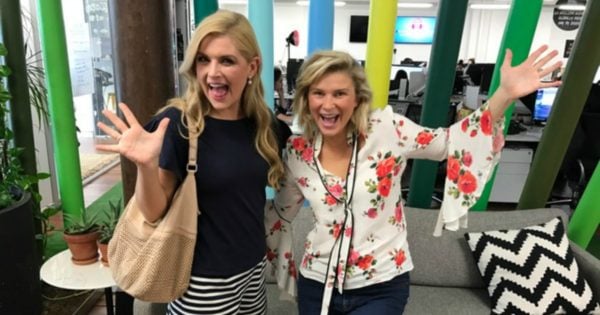 "We have an au pair, because my new role is in a new TV show called Sisters, which films in Melbourne and we live in Sydney. Sometimes, Chris will be working in Brisbane and Sydney during that time so we have this amazing au pair that I've found.
"My mum is also a big help … mum is a God send. She generously flies in and out of Perth, where she lives, to help us out.
"It's a real village. I have a handful of amazing babysitters, I have an amazing au pair, my mum and Chris are incredible too."
And that's not all!
"We have a cleaner and she's awesome and I couldn't live without her".
EMBRACE SCREEN TIME
Little Polly is a typical two-year-old and Lucy reckons without the Gogglebox, her fussy-eater daughter, wouldn't eat a thing.
"I do let her have a bit of screen time because meal times are so difficult with Polly.
"I figure if that's what's going to work … we let her watch whatever is on ABC2 or Peppa Pig or The Wiggles … while she's having dinner because it will ensure she's distracted enough to eat something nutritious, hopefully. Maybe."
HIT THE GYM … BUT DON'T WORKOUT
Like so many gyms, Lucy's local one has a crèche. And she uses it. A lot. But not for the reasons you might think.
"I have a gym across the road from me that has a great crèche which has been the source of many of our wonderful babysitters.
"You can book your child in for two hours at a time … I'm not going to work out for two hours. Like, HELLO? I'm not that person.
"So, I work out for half an hour, maybe … and then take the rest of the time to properly wash my hair and dry my hair and I often listen to a podcast, like a mindfulness calming podcast. It's such a luxury."
GET A LASH LIFT
It's as simple as that.
"I've been reading Zoe Foster Blake's book Amazinger Face. I used to always get false lashes. But a lash lift is just like a perm. It lasts for 6-8 weeks and there's no upkeep so I'm going to have to do that from now on.
GET YOUR ROOTS DONE
If it's going to make you feel good, do it.
"I get my hair done fairly regularly … do whatever makes you happy. I feel happier having freshly dyed hair. I don't get the full blow dry every time because I'm not made of money, but even that is so nice … and the head massage."
BE GRATEFUL
From early on, Lucy learned to be grateful. After a tough period of not knowing who she was or what she wanted to be, she discovered a way to live a better, whole life.
"If you've got a minute or two, think about the day and be grateful. I think gratitude or being grateful for what you've got this minute or always, does the trick.
"It's the thing that always works … I think … I have arms, I have a good brain, I'm able to walk around, I have a beautiful family".
And that's all that matters to Lucy Durack.
It certainly isn't about being known for her TV appearances or her on-stage roles.
However, I do suspect there's a little more Glinda in Lucy Durack than most of us. And it's a joy to watch her shake a little magic over the mysteries of motherhood.
Listen to the Full Episode Here: 
You can buy any book mentioned on our podcasts from iBooks at apple.co/mamamia, where you can also subscribe to all our other shows in one place.