It's here. The first teaser trailer for the highly-anticipated Love Actually sequel (which is actually a ten minute charity film for Red Nose Day) has arrived.
And, look, we're not going to lie. It's short. 20 seconds short.
But that doesn't mean it doesn't tell us a whole lot about what we can expect from the mini-movie come Friday, March 24.
Plus, I've always been told good things come in small packages, and this teaser trailer is no exception.
The trailer re-creates one of the most iconic (or most controversial, depending on how you view it) scenes from the original 2003 film.
You know, the one where Mark (Andrew Lincoln) shows up on Juliet's (Keira Knightley) doorstep, and tells her to lie to her husband while he confesses his undying love for his best friend's wife in a series of handwritten poster boards.
Even though Mark tells himself "enough now" after the classic scene, the new trailer shows us he was very much NOT DONE with his giant-sign-writing days.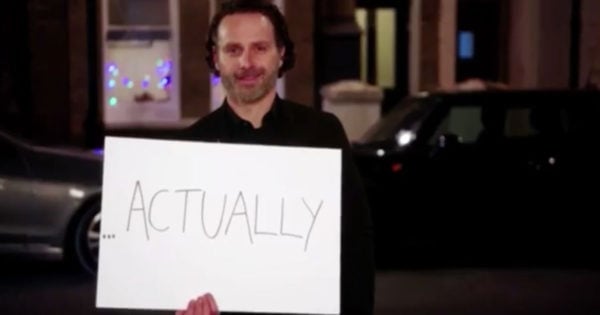 Mark - looking a little older and scruffier - is the only character featured in the new trailer, holding up a series of signs asking viewers to join him to watch the special when it airs on the BBC on Red Nose Day.
(Did you even have to ask, Mark? OF COURSE WE WILL.)
But there's something else we need to know: does this mean Mark and Juliet are secret lovers? Is he set to pull another doorstep love confession?
It was 13 years ago. There is more facial hair now. But he still loves her.... #rednosedayactually pic.twitter.com/0Zhz341Jj4

— emma freud (@emmafreud) March 8, 2017
Will the whole story be told in signs?
Guess we will have to wait until next week to find out.