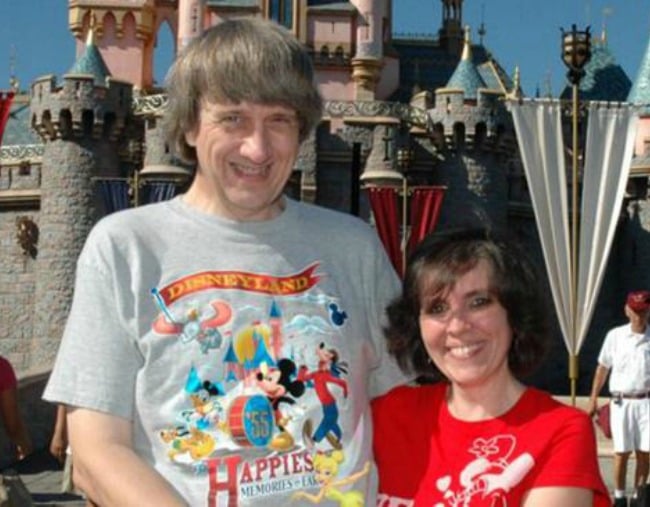 With AAP.
1. Turpin case takes strange twist after sister of accused says mother Louise was 'sold to paedophile' as a child.
The sister of Louise Turpin, the woman accused of torturing her children in what has been dubbed the 'House of Horrors', claims as a child, Louise was a victim of systematic sexual abuse.
In an interview with The Sun, 37-year-old Teresa Robinette alleged her late mother, Phyllis, allowed a rich paedophile sexually abuse her and her siblings as children in exchange for cash.
"Our mum should have been protecting us — but she sold us to a wealthy paedophile," she told the news outlet.
"He would slip money into my hand as he molested me. I can still feel his breath on my neck as he whispered 'be quiet'.
"We begged her not to take us to him but she would simply say: 'I have to clothe and feed you'. Louise was abused the worst. He destroyed my self-worth as a child and I know he destroyed hers too."
David and his wife Louise Turpin were arrested in January after one of their children managed to escape their home.
It was alleged that 12 of the 13 children were severely malnourished before police freed them of their parents' imprisonment, where the eldest child weighed only 37 kilograms upon discovery.
Another of the Turpin children was discovered chained to a bed, covered in their own waste.
Both David and Louise Turpin have pleaded not guilty to all the charges made against them and are awaiting trial.
If you, or anyone you know, are experiencing abuse, call the National Child Abuse Helpline on 1800 99 10 99 or Lifeline on 13 11 14.
2. More citizenship headaches for parliament, with three Labor MPs to quit after Katy Gallagher disqualified.
Three Labor MPs caught up in the citizenship crisis will quit parliament on Friday vowing to recontest their seats, after the High Court disqualified senator Katy Gallagher.
Labor's Susan Lamb, Josh Wilson and Justine Keay signalled on Wednesday they would quit, along with Centre Alliance's Rebekha Sharkie, sparking fresh elections in their seats.
All five MPs were British citizens when the writs for the 2016 election were issued, which the High Court ruled made Ms Gallagher ineligible.
Attorney-General Christian Porter demanded the four lower house MPs resign after the ruling, and one-by-one they announced their decisions to quit and run again.
Here is my statement on the High Court decision today. pic.twitter.com/QgRalkpttD

— Katy Gallagher (@SenKatyG) May 9, 2018
Five by-elections are now due, with Labor's Tim Hammond also set to quit his Perth seat on Friday for family reasons.
They are likely to be held on the same day, with June 16 the earliest possible date for a by-election Super Saturday.
It will be an expensive exercise for the major parties which no doubt would rather be saving their pennies for the federal poll due next year.
The Liberal Party emailed its supporters on Wednesday night seeking contributions for a "by-election fighting fund".
Meanwhile, Ms Lamb plans to run again in the Queensland seat of Longman, but she is still technically a British citizen.
"She's going to renounce her citizenship (before nominations close)," Opposition Leader Bill Shorten told reporters.
Longman could be a tough by-election for Labor which holds the seat by the razor-thin margin of 0.8 per cent.
Ms Keay will run again in Braddon, but it won't be against former senator Jacqui Lambie, who ruled out a tilt at the Tasmanian seat.
The government accused Labor of failing to act on their in-doubt MPs earlier and falsely saying the party's checks of candidate backgrounds were thorough.
Mr Shorten, who last year said "We have a strict vetting process. There is no cloud over any of our people", said he always acted in good faith, relying on Labor's legal advice, but the court had set a new precedent in the Gallagher case.
Mr Porter said the court had not set a precedent, but rather gave a "crisp and crystal-clear clarification of the law" as it stated in the case of government minister Matt Canavan last year.
Ms Gallagher, who represents the ACT, argued she took every possible step to renounce her British ties before the 2016 election.
But the High Court found that despite Ms Gallagher's efforts to renounce her citizenship, she was not eligible under section 44 of the constitution to sit in parliament.
3. Damning report finds certain factors of Perth hospital may have led to baby's death.
A new report into a Perth hospital has found several factors involving the hospital may have contributed to a baby's death, Perth Now reports.
In February, a heavily pregnant Maricel Prado was admitted to Fiona Stanley Hospital with what she thought was a healthy, full-term baby.
Upon arriving at the hospital, Ms Prado, who was 38 weeks along, was given some morphine for her pain.
"She asked me if I wanted morphine and then I said yes, I didn't ask anything at all after that because I trusted her," she told the news outlet.
Two hours later - after being told she was going into labour - Ms Prado's baby daughter was dead, having been delivered stillborn.
The paper reports a subsequent internal investigation found 'communication between staff, patient assessment, and environmental stressors contributed to the outcome'.
It's believed at the time Ms Prado was admitted, staffing levels were not adequate to deal with the influx of women giving birth that day.
"This may have led to a missed opportunity for closer monitoring, of Mrs Prado and her baby, although it could not be determined if this would have changed the very sad outcome," clinical services director Dr Paul Mark told the news outlet.
4. North Korea frees three US prisoners ahead of meeting with Trump.
US President Donald Trump says three Americans detained by North Korea have been released and are on their way home with Secretary of State Mike Pompeo.
Trump, who described the action as a "positive gesture of goodwill", said he will greet Pompeo and the Americans when they land at Andrews Air Force Base outside Washington at 2am Thursday morning.
"I am pleased to inform you that Secretary of State Mike Pompeo is in the air and on his way back from North Korea with the 3 wonderful gentlemen that everyone is looking so forward to meeting. They seem to be in good health," Trump wrote in a post on Twitter.
South Korea heralded the move as positive for upcoming talks between Trump and Kim and called on Pyongyang to also release six South Korean detainees.
Trump said details of the meeting with Kim would be released within days, but it would not be held at the demilitarised zone between the two Koreas.
Pompeo had arrived in the North Korean capital, Pyongyang, earlier on Wednesday from Japan and headed to its Koryo Hotel for meetings.
The three US detainees being released are Korean-American missionary Kim Dong-chul, Kim Sang-duk - also known as Tony Kim - and Kim Hak-song.
"We are very grateful for the release of our husband and father, Tony Kim, and the other two American detainees," the Kim family said in a statement.
Until now, the only American released by North Korea during Trump's presidency has been Otto Warmbier, a 22-year-old university student who returned to the United States in a coma last summer after 17 months of captivity. He died days later.
Warmbier's death escalated tensions already running high at the time over Pyongyang's stepped-up missile tests.
The upcoming summit has sparked a flurry of diplomacy, with Japan, South Korea and China holding a high-level meeting in Tokyo on Wednesday.
However, North Korea reminded the United States on Wednesday there still was tension between them, warning it against "making words and acts that may destroy the hard-won atmosphere of dialogue," the North's state media said.
5. Accused murderer's menacing notes excused as "crazy talk" by Sydney defence lawyer.
A Sydney builder accused of murdering a neighbour was delusional when he wrote "bizarre" notes about torturing the missing man, a jury has been told.
Elefterios "Terry" Fantakis previously testified his writings were "ludicrous", while his lawyer on Wednesday said they came from "a mind that is detached from reality".
"It is crazy talk, ladies and gentlemen," defence lawyer Iain Todd said in his final address to the NSW Supreme Court jury.
Fantakis, 43, has pleaded not guilty to the August 2011 murder of 52-year-old Elisha Karmas, whose body has never been found.
Andrew Keith Woods, 41, and Derek Cheng, 26, deny being an accessory after the fact of murder.
Prosecutor Lou Lungo alleges Fantakis developed a strong hatred for Mr Karmas, who was mediating in a family financial dispute.
The Crown contends he killed him on August 11, 2011, at a Punchbowl home, before his body was disposed of in the Georges River near Campbelltown.
The jury has been told a diary belonging to Fantakis contained entries including: "I kicked him off his feet and punched him in the throat to incapacitate him ... I torture him."
But Mr Todd referred to psychiatric evidence that over time, after Mr Karmas went missing, his client's mental health deteriorated and he was placed on various medications.
He developed delusional psychotic ideas and his "strange and bizarre" writings included notes of people being involved in heinous crimes and thinking a bug was planted in his head.
"None of these writings, I say, can you accept as being factually correct in saying that they are admissions by Mr Fantakis."
The writings were voluminous and obsessive, reflecting his then state of mind.
"We have a series of not only audio and video but written records of Mr Fantakis which don't make sense," Mr Todd said.
Fantakis testified he did not murder, harm or torture Mr Karmas, agreeing the handwriting was his but saying he couldn't believe he wrote those comments and was no longer the same man.
Mr Todd contended the police had tunnel-vision in their investigations into Fantakis, who over time began feeling victimised.
He was not arrested until October 2013, more than two years after Mr Karmas disappeared and after police became aware of the writings.
"There is nothing that leads the police to find any evidentiary material of a forensic nature," he said.
The trial continues.