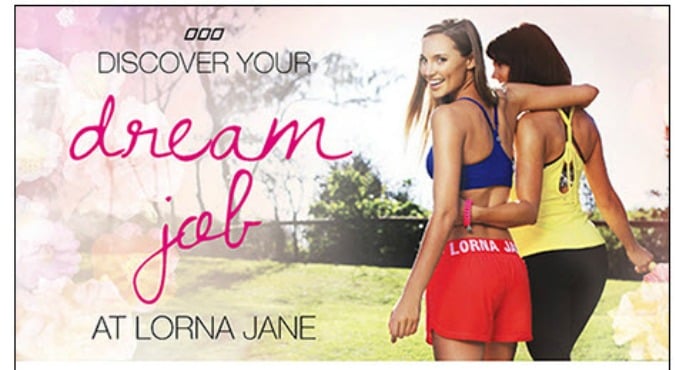 Image: Lorna Jane.
There are certain skills you'd expect to see listed in a receptionist job ad: 'administration and computer capabilities' and 'friendly demeanour' all come to mind. So when Lorna Jane Activewear posted a call out for receptionists last week, complete with job requirements like "Waist: 70-73cm" and "Height: 165cm or taller", it was always going to be controversial.
On Monday, the popular brand/maker of great leggings removed their "Receptionist/Fit Model" ad from the Seek website. Company spokespeople have told local media this was due to an "overwhelming" number of applicants; however, it had also sparked widespread social media criticism since being posted on Friday.
RELATED: How activewear is shaping fashion.
According to the callout, the successful candidate would split their time between receptionist duties and assisting the label's design team as a model for fitting new garments and designs. The ad specified the employee would need to fit a size small in order to "accurately provide feedback on Lorna Jane products", with the following measurements:
After the ad was posted, Facebook and Twitter users were quick to express their dismay, with many accusing the company of sizeism and discrimination.
"Sad for any suitably qualified girl whose dream job with you won't happen because the size of her body doesn't fit with your ridiculous so-called 'requirements'!" one wrote. "Too short and fat to work at #LornaJane despite being a healthy, passionate PT. Sums up all that is wrong with the #fitnessindustry today," another tweeted.
RELATED: Where you can buy awesome fitness gear sizes 16 and up - with change from $50.
Other commenters speculated the 'fit model' caveat was simply a cover for wanting to hire an attractive, slim receptionist.