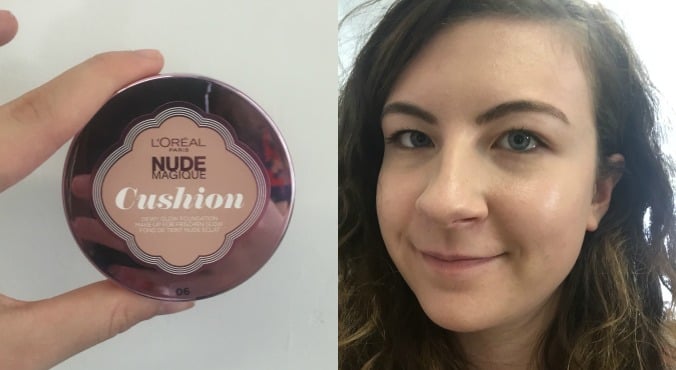 Image: supplied
If I had to pick one trend that truly caught my attention last year, it would be cushion compacts — a foundation-soaked sponge contained in a pocket-sized mirrored compact.
I was convinced that the novelty product was just a passing fad, until I tried it and became hooked.
Bursting onto the scene in Korea before slowly trickling into the Western market under the banner of "the next big thing", cushion compacts' point of difference is offering a professional and natural-looking base of makeup on-the-go.
Forget carrying around brushes and sponges — you simply glide the foundation over the face with the provided applicator, check the result in the compact mirror, and you're done.
While there were only a few of these products on the Australian market at the time, they had one thing in common: they all sat at the $60+ mark. This price tag made the cushion compact a significant investment and leap of faith purchase.
Watch: How the cushion compact works. (Post continues after video.)
Then last month, along came L'Oreal Paris Nude Magique Cushion Foundation, $29.95.
If cushion compacts were the new kids on the block in 2015, they'll be a 2016 handbag essential.
Currently available in five shades (including 'very fair'), the L'Oreal cushion foundation offers a light but buildable coverage. While the colours look worryingly dark in the pot, it goes on much lighter on the skin with a dewy glow — which is great for those who like a little luminosity in their base.
The antimicrobial puff makes it super easy to apply and gives an even finish that you just can't get with your hands (sorry).
While it's great for doing makeup on those days when you don't want to wear a lot, I personally love it for touch ups and doing makeup when I'm in a hurry. You can glide it on in a matter of seconds without having to worry about blotchy or missed patches.
Although the face you're not getting as much product as you do in a bottle remains, I feel a lot better about shelling out $30 for the convenience. I've also been surprised by just how long the product can last, even when it's used on a regular basis. (Post continues after gallery.)
The best cushion compacts.