Lorde has been forced to rectify comments made in an interview with Sunrise on Friday, after news outlets saturated the last 24 hours with stories suggesting her and Taylor Swift are no longer friends.
In an interview with David Koch that aired on Friday morning, the 20-year-old singer was asked about how she "coped" befriending her idols – women like Beyoncé and Swift.
"The second you think too hard about it, you'll just go insane," she explained. "It's best to be like, 'We're in wonderland and it's just what happens around here.'"
"Also," she clarified, "I don't hang out with these people at all."
Koch quickly jumped in, asking how that flies when she is "part of Taylor Swift's squad".
"You know, you make friends in different places. But I think for the most part I'm not, like, calling my idols for advice necessarily."
When pressed on her mentors, she continued to illustrate how much of her influences come from those who live outside the limelight.
"My parents are so inspiring in different ways. We're a close family, and we're very different. My mom's a poet and very emotional; I'm a reader because of her. My dad's an engineer—very methodical and very calm. I take a lot from both of them, I think."
Addressing the furore that came from her elusiveness, the 20-year-old took to Twitter on Saturday morning to clear up the news story that subsequently surfaced, saying she had not "jumped ship" and she "deeply respects" and "admires" her friend Taylor Swift.
"Wow – something of a frustrating thing to have to address online but here we go. Taylor is a dear friend. I love her very much.
"In the interview in question I had just been talking about Bowie and Patti Smith — those were the idols I was referring to that I was saying I'm not friends with, not Taylor!
"I've always found people's perception of this 'squad' idea frustrating in the past; it was never some exclusive club of secret society, but a wide circle of people, some of whom I know, and some who I've never met … forgive me for the mild eyeroll I popped when it was brought up as if we're all blood members of a secret cult," she wrote.
She finished by acknowledging she "f**ked up an interview question", encouraging everybody else to "go sip a beverage and head out on a walk".
Interestingly, it's the second time comments regarding Taylor Swift have distracted Lorde from promoting her new album while on press tour.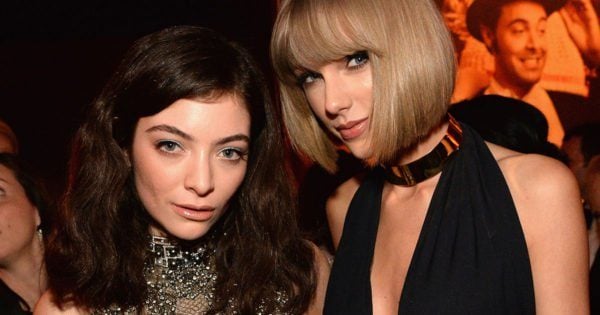 In an interview with The Guardian last month, the New Zealand-born singer was asked whether it was difficult maintaining a friendship with someone of Swift's fame.
"It's like having a friend with very specific allergies. There are certain places you can't go together. Certain things you can't do," the 20-year-old said.
"There are these different sets of considerations within the friendship. It's like having a friend with an autoimmune disease."
Like clockwork, she was quick to apologise after the comments predictably ignited quite a backlash.
"I f***ed up and that was really insensitive. I'm sorry," she wrote on Twitter at the time, seeking to confirm that yes, she's still friends with Swift, and no, she didn't mean what she said.
Either that, of course, or one Taylor Swift has quite a hold on her public image and the stories that surround it.