There's no denying the dizzying excitement of a new relationship.
It's called the 'Honeymoon' period for a reason – everything is new, you see your partner through rose-tinted glasses, you get butterflies in your stomach just thinking about them, and every day is a rush of cute texts, surprise flowers "just because" and romantic, spontaneous dates.
Fast forward 12 months (or less) and the flowers are dead, the only texts are grocery lists, and it's considered a special occasion if you put on undies. Congratulations, you've reached the "comfortable" stage of the relationship.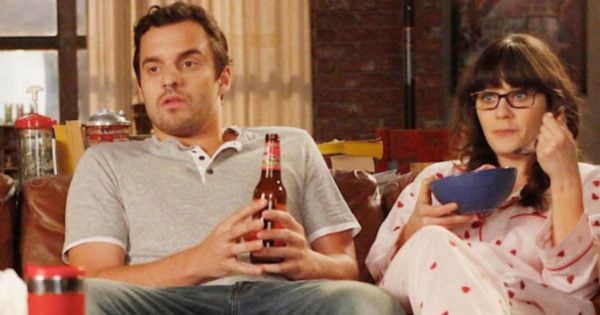 Image: Fox
But before you get nostalgic and glare at every newly loved-up couple you pass in the street with envy, consider that this 'boring' (in comparison, at least) stage is actually far better than those early days.
Here's why.
1.You don't need a team of FBI detectives to decode their texts.
"You know how to communicate with each other," as Katy explains.
You've fully committed to each other so you don't need to read into what he really means by "ok", or whether he's lost interest if he doesn't respond to your text in less than 30 seconds.
2. They 'get' your family.
Or at least they put up with them.
"It's the best when your partner understands all your unspoken family stuff. Like, even though your sister was objectively lovely, they can read all the subtext," says Jane. (Post continues after gallery.)
Our favourite on screen couples.